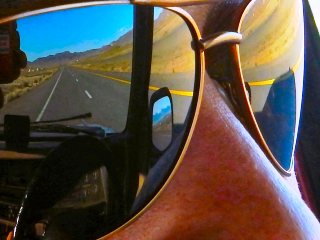 That was an intense two months!  I left for the Denver Fly Fishing Show on January 2nd and didn't look back.  Sure I slipped home a few times, but even when I had a week off I flew to Northern Wisconsin and ice fished.  2014 has been non stop.
The Pleasanton Fly Fishing Show was exceptional.  The show kept me busy with presentations and between talks I decorated Cliff fly Boxes and chatted it up with the Californians, most of which I've known for many years.  Folks love the new products especially the frosted beer mugs.  Our store website is finally working well and orders are off the hook after each show.  The weekend was wonderful and thanks to everyone that paid a visit.
Monday night I spoke about "Saltwater Fly Fishing" to Fresno Fly Fishers for Conservation.  The show went great, then yesterday Granny and I drove straight back to Idaho – a little over 15 hours – 880 miles.  We were absolutely beaten down the last few days even before the drive and we slept until almost 9 today (I rarely sleep past 6 AM).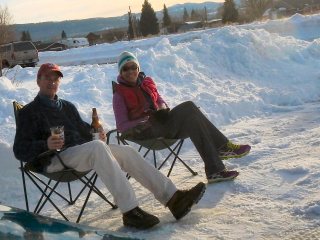 We spent the day shoveling and doing errands.  The day in Victor, Idaho brought on true spring fever with no wind, rich blue sky and a temperature that felt like 50º.  I'm not sure what the temp was but its fantastic to be home – so nice we celebrated watching the sunset from the snowy driveway.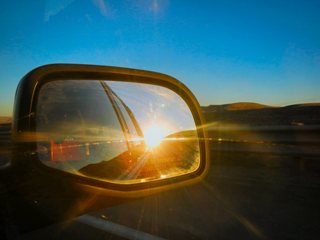 Next on the agenda is catch up, taxes and relax.  The next gig is Wednesday night, March 5, at the Upper Bear River Trout Unlimited Chapter in Evanston, Wyoming.  My presentation will be "Fly Fishing Through Midlife Heaven".