December 26, 2009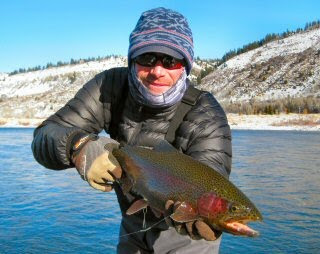 Normally, if you suggested floating the South Fork of the Snake River between Christmas and New Years I would respond with, "Ha! No thanks! Snow and ice covered boat ramps, brutal cold, no fun and no way." I can't stand when my guides freeze up every cast. However, when friend Rob Parkins, a well know fishing guide and fly tier here in Teton Valley, asked that I join he and another friend , Zack Dalton, of Rio Fly Lines, to fish the day after Christmas, I surprised myself when I answered cautiously, "Maybe."
Robs offer to me came about a week or so ago. I said if it wasn't unbearably cold I'd be interested. Assuming that it would be, I never gave much thought to the idea again. But on Christmas Eve Rob was visiting the house and was quick to let me know he and Zack were still going. Since my hunt to Minnesota and Iowa two weeks ago, I've spent most my time hunched over art projects waiting for a new excuse to get outdoors. I knew by now that temperatures for the day after Christmas were predicted to be about 12 degrees Fahrenheit along with sunny skies. Surprising to most, 12 degrees isn't too bad around here as it's generally a dry cold and with sunshine feels considerably warmer. With all that in mind, my response was, "I'm in."
Despite being 5 below zero when I woke up this morning, Rob picked me up at 10am and one could already feel the suns warmth. When we met Zack who was arriving from Idaho Falls at the icy boat ramp at the Palisades Dam, it was already about 10 degrees and continuing to rise. While they did our short shuttle, Dam to Husky, I rigged my 6-weight Ross with 10 feet of straight 0X Rio Flouroflex Plus tippet and attached two flies. Usually my streamer rig is about 18 feet of 0X (Shockingly long to most), however, knowing my fly rod guides were going to freeze, the shorter leader would be easier to handle. When the boys returned I offered to row the drift boat across the river to so they could nymph below the dam.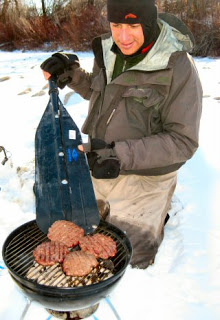 There are huge rainbows and cutthroats taken with regularity directly below the dam on nymphs. If your wondering why I rigged up a streamer it's because I'm not a big nympher. Despite many years of competing internationally and applying European nymphing tactics to my daily fishing, it's not my favorite method. My heart is really in dry fly fishing and I'm known to enjoy chucking streamers. I knew Rob and Zack would cover the water well without my help and until it warmed up I'd be content popping some photos and giving moral support.
Fishing was slower than expected. Although Zack nailed a fantastic rainbow on his first drift with a mysis shrimp, they caught only one other trout and a handful of whitefish. Rather than waste a day there we floated down to another favorite run. I struggled to get more than three casts in a row without having to crack ice out of my guides during the drift. That diminished my fly in the water time and I realized my highlight of the day was going to be lunch.
Rob took charge of lunch putting four huge elk burger patties on the boat size charcoal grill. Both Zack and I felt as though we were on a guided trip and indulged on the delicious lunch. Between eating and cooking, they nymphed the run and I dredged, slowly stripping my two streamers. Zack landed a beautiful cutty but then followed with a hand full of whiteys along with Rob and me.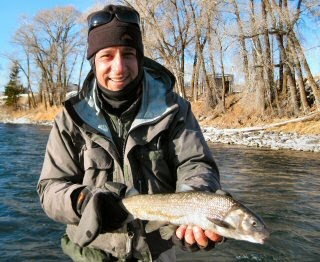 We floated the rest of the short float in an hour hap-hazardly fishing as we drifted along. I avoided a skunk by landing two nice rainbows and Rob nymphed up a good brown and a "mighty whitey". While spending much of December working on art projects, preparing for the show circuit and gorging around the Holliday table, it was great to hit the river again. The thought of floating the last week of December will never again be considered a "not a chance" deal. In fact, I'll just bet there will be another fishing report posted here shortly!