Trout Can't Hide at 33% – Island Park Reservoir
Categories: Uncategorized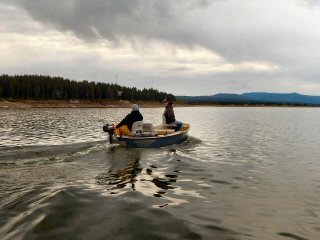 Say the word reservoir to a trout fly fishermen and they run for cover like cutthroat in the radar of an osprey.  Mention furthermore that the reservoir is only 33% full and they envision a dried up cracked earth desert.  Personally, I love fly fishing the reservoirs simply because I know I'll have a body of water to myself.  That's not easy to experience these days.  And if the body of water is at 33% full, which is about where Island Park Reservoir water levels are right now, it means the fish will be easy to find.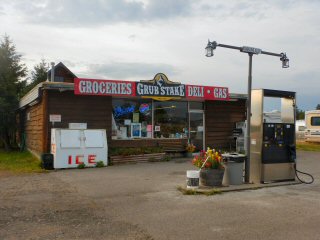 Easy to find they were at Island Park Reservoir (IPR).  We awoke on the banks of the Henry's Fork this morning to warm temps and overcast skies.   We could have ventured back down in the Ranch with such perfect Trico conditions but these conditions make lake fishing equally as excellent.  After coffee and breakfast sandwiches took the edge off, Tim Brune, Ben Smith and his friend Joe and I set off of for IPR with two boats.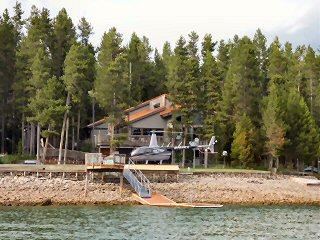 The houses along IPR seem strange.  They're so far up from the water's edge it isn't pretty.  The Henry's Fork has been sending lots of water to central Idaho for farming irrigation which is why IPR is so low.  We can only hope for big snows this winter to help bring water levels to where they need to be.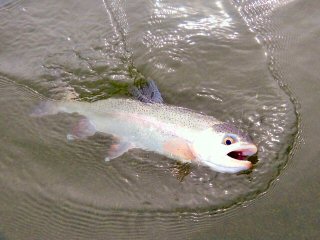 We motored up the lake for about twenty minutes and slid into a bay that was productive for Phil Rowley and me last month.  I was fishing my new 6-weight Winston Boron III Plus and three small leech patterns.  A dark color with a bead head on the point then five feet up, a tan bugger dropper and up top the same small burgundy colored leech that worked when with Phil.  Half way into the first drift I landed the first scrappy lake rainbow.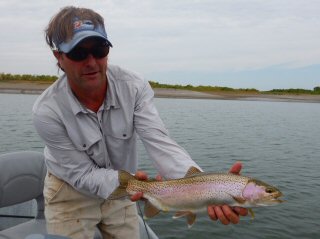 The fishing stayed consistent all day long.  Brune and I went back and forth netting fish for each other.  I saw Ben land a few.  Fishing was so good that I changed from leeches to nymphs solely to change things up to keep the day interesting.  On my third cast pulling nymphs I hooked a crazy fighting rainbow.  He ran and did these funny half jumps.  He changed direction during the fight like I had never seen.  It turns out I had two fish on and naturally they were fighting each other.  Thanks to strengthy 0X SA Flouro I landed both fish – one about 15" and the other an easy 17".  Not bad.
I'm Cubs crazy more than normal this summer so we left for home so I'd be on my couch with a Sierra Nevada in hand for first pitch.  That meant we hoisted the boat on the trailer about 5 PM.  It was a great two days.  Next on the agenda is Blackfoot Reservoir to introduce Gary Eckman to his first mirror carp.