Day 1 of the Worlds Masters Fly Fishing Championships
Categories: Uncategorized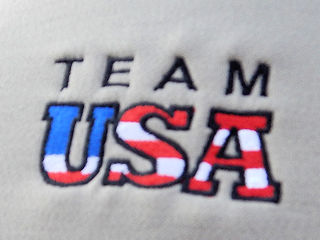 Day 1 of the World Masters Fly Fishing Championships here in Covilha, Portugal yanked me and my teammates out of bed at 5:30 AM this morning. It was official competition time and Mike and I each had two lake beats and Jay and Scott were headed to the Zezere River. All fishing is done from an assigned area from the bank. Even on the lakes. The assigned area is a random draw so you have no idea where you're actually going in advance.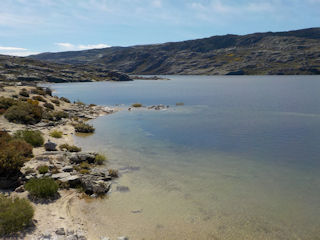 The way the scoring works in the Worlds is this: Each team has four members. Competition consists of four three hour sessions – two on lakes and two on rivers. Each team member is assigned a letter – A, B, C or D. I'm D and today I competed in two sessions against all the other "D" folks from other teams. Meanwhile my three team members fished against their matching letters from other teams.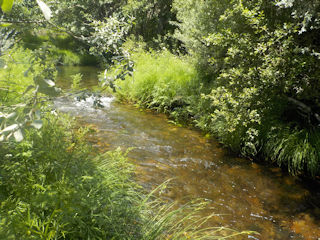 In order to score a fish he must be 20 cm long. It's best to catch lots of fish rather than a couple big ones. There are eight teams so scores after each session range from 1-8. One being the best you can score and eight the worst. The idea is to have the fewest points at the end. So, if you win your session amongst your group you score a 1. If you're second you score a 2 and third scores a 3 and so on. If you're the big looser you score a horrible 8! Or if you don't catch a single fish, even if half your group doesn't catch a single fish, you and they score an 8. The bottom line is you absolutely must not blank in a session because if you score an 8 its hurts the team terribly.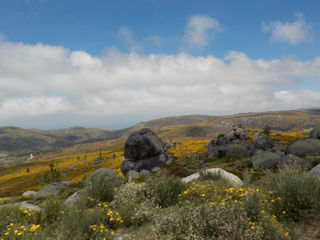 The team with the least amount of points in the end wins and the angler with the least amount of points wins the individual. This is an Olympic style event so winners receive medals with grand champs receiving gold. It's an incredibly challenging yet fun event. And I can tell you, I competed against many of these Europeans back in the day and some are the best anglers in the world.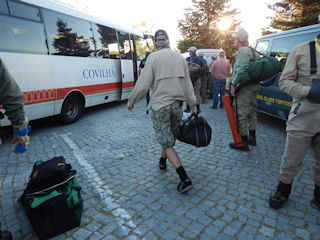 After the early wake up we consumed breakfast as a team then split up on buses and took off to our first venue. I drew the big lake Comprida first, the one I feared after I saw it the first day here in Portugal. Without any chance to fish it or information to study the lake beforehand, this session was a total punt.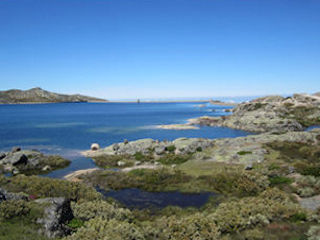 I was prepared for anything a lake may present me with. I had a 4-weight dry fly rod rigged, a 5-weight double nymph rod and on my 6-weight I had my Stillwater Intermediate fly line and a long leader with three flies. I had a heavy bead head olive wooly bugger on the point. My second dropper was a lighter black bugger and my top dropper was a tiny unweighted tan minnow pattern.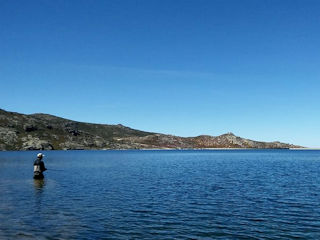 When the gun went off at 9 AM the games began. I had three hours to hammer as many fish as possible. On a big scary lake like this you dream of catching that first. Time management of tactics is critical. My plan was 15 minutes with the dry fly. If I had no success then try the nymphs then start the casting and stripping with the Intermediate line. After I saw the Scotsman catch two quick fish on his Intermediate line off in the distance ten minutes in, I put away the dries early and grabbed my 6-weight. Paying attention to what others are doing is essential.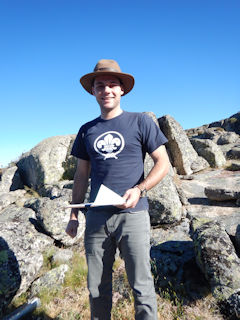 It didn't take long for me to catch that first fish on the Intermediate. It's a wonderful feeling to get him to net. My controller (judge) ran down to the edge of the lake and took what appeared to be a stocked rainbow from me. He measured then released it. Then I initialed the sheet with the time and length of my fish.
I was back at it hard within seconds. Ten minutes later I had my second. It was a thrill because the Finland angler on my left on beat 6 and from what I could see, the Italian on beat 7 and the Portuguese angler on beat 8 remained fishless.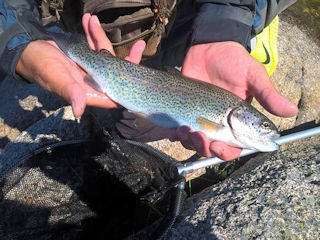 At 10 AM the gun went off to signal a switch. The way they do the lake is every hour you move up three beats. I went from beat 5 to 8. I got unfortunate news during the switch. Beat 8 produced 0 fish. However, the Scotsman on beat 4 that I could see caught four. And beats I couldn't see (1, 2 and 3) had plenty of stocked trout and the anglers that had the lucky draws caught well over five fish each. I was already far behind.
At 10:30 the gun went off and I fished beat 8 for an hour. I knew it produced nothing but fished it just as if it did. Miraculously during my hour I scraped up a fish putting me at a total of 3. At 11:30 the gun went off and I moved from beat 8 to beat 3.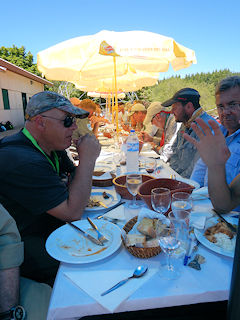 Beat 3 produced ok from 9 to 10 AM with four fish. From 10:30 to 11:30 it only produced one. Fish get smart and like on beat 8 I had a serious challenge. My end result from noon to 1 PM would be one more fish.
Total up my fish from all three hours and it was a mere four. I drew a tough one not getting a chance in beats 1-3 early on. The end results for all competitors in the session were totals of 10, 9, 7, 6, 5, 4, 4 and 1. Unfortunately my four fish were smaller than the other competitor with four and my final score for session 1 was a miserable "7".
This wasn't a good way to start the World Masters Fly Fishing Championships. But I always tell myself that when you draw for positions four different times expect one bad, one good and two that are average. I my mind my bad one was in the rearview mirror and I had to do better in my next three sessions.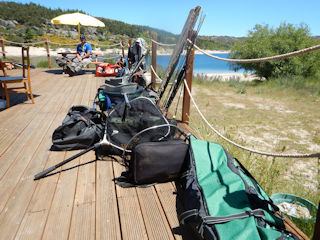 We boarded the bus around 1:30 PM and drove an hour to session 2 which was the other lake – Lake Rossim. We had lunch at a bar with beer and wine. This is a fun event and I made sure not to stress over my bad start. It was hot and sunny and I tuned up my gear for Lake Rossim and enjoyed the sun. At 4 PM session two began.
Lake Rossim was fished in the morning by all the "A" competitors. Word of mouth spread news of how each beat fished in the morning. I started on beat 7 then on to 2 and I finished on beat 5. Rumor had it that beat 7 was horrible and beat 5 was excellent with 2 being average. Before things started I felt like I had a bad rotation again. But I told myself it is what it is and fished my heart out.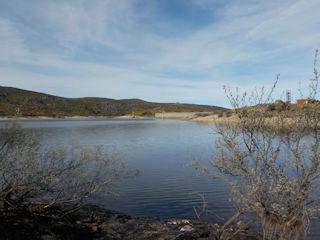 The difference between this morning's Lake Comprida session vs this afternoons Lake Rossim session was that this afternoon I had some rising fish. Dry flies are my specialty and despite my unlucky rotation, I was able to prevail. During the three hours I landed thirteen fish and scored a superb "2".
I could breathe again after session 2. The "2" score not only brought my individual score back to a respectable number but it also helped Team USA mightily. When back to the hotel at 10 PM (LONG DAY!) I quickly learned Team USA was in 3rd place.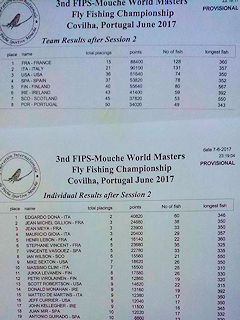 The team was carried today by Mike. He scored a "3" and a "4". Scott was second best with a "4" and a "5" then me then Jay. Honestly, we are lucky to be where we are after three of us doing mediocre at best. We need to do better on Friday during sessions 3 and 4 because 4th – 6th place teams are only a few fish behind us in 3rd place.
Tomorrow is a rest day. We may go on a tour but I think its best we stay back and strategize for Friday so we can hang on to at least the bronze medal. Stay tuned!