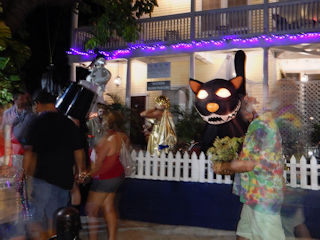 Early morning comes quick especially if you were up checking out Fantasy Fest on Halloween in Key West earlier this morning at 1 AM.  But, when you travel, whether in a foreign country or in a far-flung part of the USA, if you have the opportunity to take in an experience, you do so.  Fantasy Fest was a wild and must see event to say the least.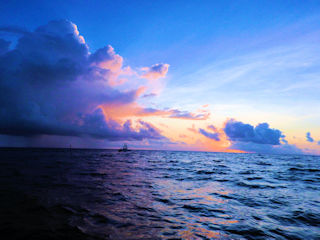 The beauty of late nights during fishing travel is that they easily get brushed aside because fishing in unique places is always adrenaline-charged.  I can't ever remember being overtired from the front of a flats boat or dosing off while casting for some bad ass fish in a jungle.  Today and tomorrow I'm on a short notice trip as the fishing model for a Simms photography shoot down here in the Florida Keys.  I promise you, very little time will be spent sleeping but my body won't accept that it's tired until the flight home.
Earlier today I mentioned our photographer is Brian Grossenbacher.  Brian and I have been friends for about ten years and did our only shoot together back when we met.  Our coordinator of this photo shoot is friend Connor Flanagan who is the Sports Marketing Manager for Simms.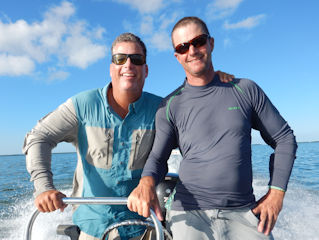 We have guides as well (Capt. Bruce Chard, Capt. Steve Hancock and Capt. Mike Weinhofer).  I'm excited because Bruce happens to be a longtime friend.  Bruce and I met at a Sportsman's Show in Puyallup, Washington nearly twenty years ago.  We hit it off and for years I travelled to the Keys to fish with him and he traveled to Idaho to fish with me.  Like most folks our age, we got busy.  Bruce got busy guiding and with his family while I branched out exploring destinations far beyond the Keys.  I can't believe it but this is our first time fishing together in about eight years.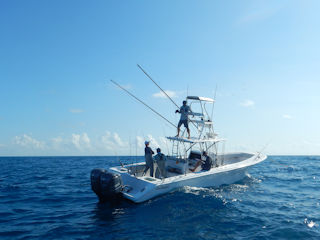 The first shoot of today caught me by surprise but I was excited.  Simms has some superb wet weather and harsh elements gear coming out and we tested it offshore.  Capt. Mike Weinhofer specializes in deep water wreck jigging and led the way and provided two boats.  Being a fly only guy I wasn't in this first shoot yet I had the green light to fish hard and enjoy the morning from the second boat.
We left the Key West dock before 7 AM and traveled about twenty minutes to the reef.  I rode with Steve while Bruce and Connor went with Mike to pose for Brian while jigging live bait over shipwrecks.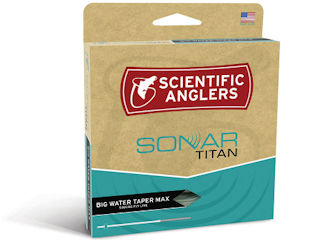 I learned of this being part of our itinerary late Thursday night and had just enough time to put together a deep water fly rig.  My deep water rig consists of my 12-weight Winston SX, my 11/12N Abel and Scientific Anglers new Sonar Titan Big Water Taper Max Sink 700 grain fly line with the 100lb core.  This line drops like a rock and with a huge weighted Clouser Minnow I can dredge down to around 80 feet deep (see last Decembers blog for testing this new line in the Seychelles).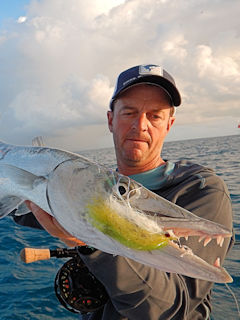 The first stop had us in an easy to handle 30 foot deep area so I not only dredged but I launched some reasonable casts.  My Clouser was an olive and white Ben Byng striped bass concoction.  I wasn't exactly sure what kind of fish to expect because reefs hold numerous species but that's what thrills me on every strip.  I let my fly sink to around 15 feet and stripped fast.  On my third cast I got a yank that reminded me I was fly fishing saltwater.  The fish stopped me dead and took off like scalded dog.  Then came the acrobatic jumps and soon after I landed this jagged toothed barracuda.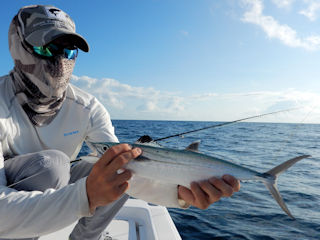 Steve and I followed Capt. Mike to his usual haunts as they did their photo shoot.  Steve is mostly a flats guide for bonefish, tarpon and permit but he knows the deep water as well.  The Clouser went on to catch this Spanish mackerel and several blue runners.  The latter of these fish were enticed from 90 feet down.  One of the blue runners caused a heap of excitement when a large barracuda shot out from under the boat and bit him in half then another took the rest along with my fly.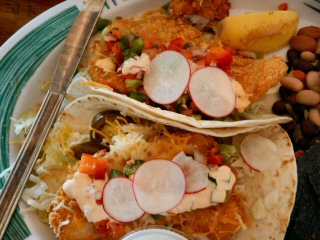 The offshore shoot ended at noon.  We ate hogfish tacos at the Hogfish Bar and Grill.  After, Bruce and Steve grabbed their flats skiffs and we launched from Big Pine Key.  Brian and I went with Bruce while Connor directed more photo set ups from Steve's boat.  We didn't get much fishing in the first couple hours, but Connor turned us loose for tarpon for the last of the afternoon.
I've fished with a lot of tarpon guides in my life and I can promise you I've learned the most from Bruce.  His instruction on how to cast, where to land your fly, how to strip your fly, is clear and concise and best of all, proven.  He knows the tarpon behavior on the flats like I know the rainbows of the Henry's Fork.  I love fishing tarpon with him and we've caught our share together.  But when it comes to tarpon and when it comes to saltwater fly fishing in general, indeed it helps to know a lot, but it doesn't always mean you're going to score big.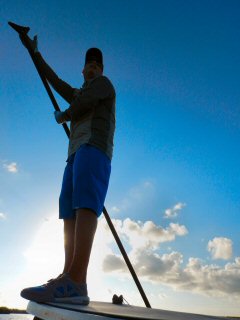 As soon as we began to pole across the flat the low western clouds blocked the setting sun.  Tarpon fishing on the flats is entirely about seeing them and when the clouds block the sun they take away the viewing window.  For two hours we had a total of five minutes of sun.  That being said, I got three close shots.  Two of my casts easily could have landed better but one was on the money.  This cast was to a tarpon Bruce estimated at 175lbs.  The monster fish swam to within five feet of the bow with the fly in his face but he wouldn't eat.  Such a close encounter is a humbling experience that all anglers should enjoy at least once.
I've been in the Keys a mere 24 hours and only have 24 hours before we turn around and go home.  Yes, this is a short one but what a great day.  This morning's fishing was lots of fun and tonight, even though the sun and tarpon wouldn't cooperate, it was a blast to catch up with Bruce and Brian.  I suspect we'll make it happen tomorrow.  Stay tuned. . . .