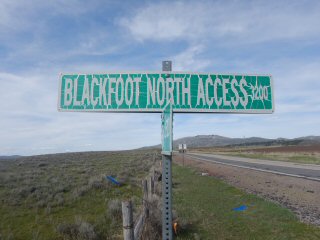 May 3 – 6, 2016
It's refreshing to finally get home, fish at home and enjoy spring.  Of course, it's the start of our spring runoff so our river fishing options are limited.  Most our tailwaters such as the South Fork and Lower Henry's Fork are fishing well but boat traffic is thick.  Instead of joining in on the excellent trout fishing the boys and I opted to hit the colossal mirror carp of Blackfoot Reservoir.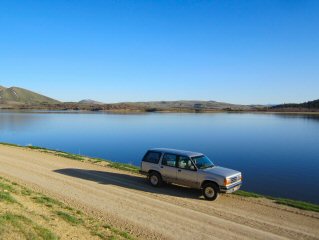 I left home late Tuesday afternoon and arrived on the shores of Blackfoot Reservoir early evening.  It was summer like and not an ounce of wind stirred.  I never rigged my Winston but I stopped at various lookouts and searched for huge copper tails.  There were a few and I marked them in my head and continued my journey to camp to meet up with friend Ben Smith.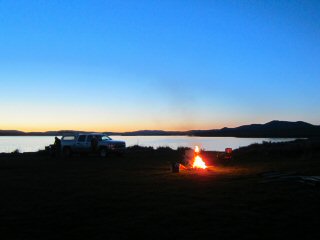 The last time I saw Ben was on my 50th in October.  We caught up over a couple brews and enjoyed a no less than spectacular sunset.  One of my favorite things about Blackfoot isn't only the huge carp but also the birds.  They serenade here like they did a thousand years ago.  We ended the night with a pair of brats each and mac and cheese.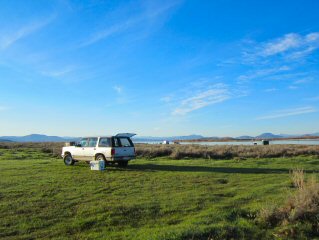 The weather didn't change one iota through the night.  I climbed from the back of my silver Exploder and pressed some thick coffee and settled to my camp chair overlooking the lake.  Benny soon joined and we planned our carp angling strategies for the day.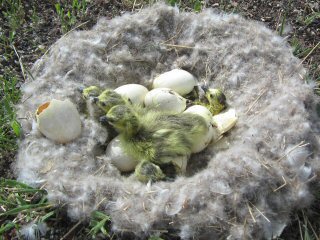 We threw a twist to the day.  Rather than fish the challenging giants of Blackfoot Reservoir we meandered to Soda Springs for breakfast at the historical Geyser View Restaurant then shot south to a smaller carp lake. At this little gem the fish are more abundant and extremely cooperative.  The only downside was getting to the water past an intimidating hissing goose protecting its nest.  The goslings were literally tapping from their eggs!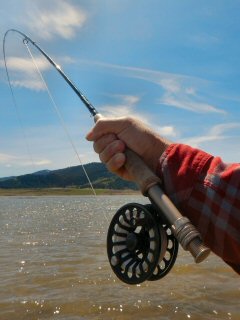 I fished my 5-weight Winston and my new Bauer RX2 reel with a floating line.  My best fly for this lake is usually a size 14 red Copper John.  Sure enough I opened up my box to find none.  This is good sometimes however because it forces you to experiment and learn.  I went with a brown rubberleg Girdle Bug and this fly absolutely smoked the strange looking mirror carp/common carp combos.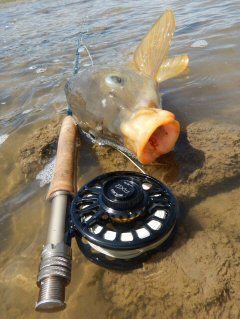 Between Ben and me we landed more than 25 carp.  Numbers like this are unheard of when it comes to fly fishing for carp especially in the short four hour period we fished.  The water level of this lake happened to be slightly lower than usual which in turn created a knee deep sand flat for a mile.  Visibility was the best I've ever seen and I never went more than a minute without a target.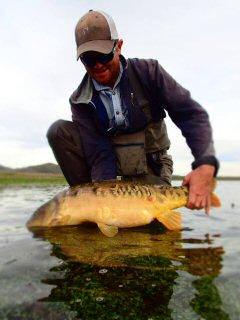 The forearms were wore out when the clock struck 3.  Ben and I returned to camp on Blackfoot and the rest of the gang showed up.  It was like a family reunion of anglers that came out of hibernation.  After a short celebration we took to the flats near camp.  Blackfoot fish are much harder to catch but Boots Allen managed fool the first hefty one of the weekend.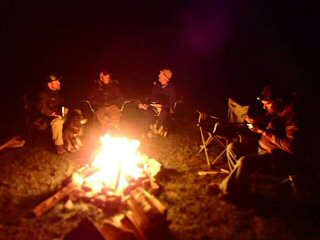 This annual adventure is usually the Blackfoot Carp Tournament known as the Carp Classic but folks lost interest the last couple years.  Now we go ourselves for three nights of camping and a couple days of fishing.  We hung around the campfire until way too late but it was fun with beers and a feast of elk steaks, more brats and more.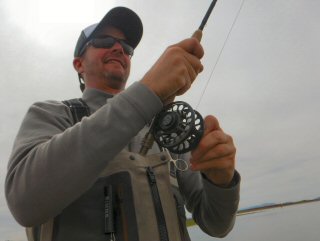 Fly fishing for the huge carp of Blackfoot energizes you.  There wasn't time to be overtired by morning.  After another relaxing coffee session we took to the camp flat and the fish were pouring across.  We lined up like blue herons and stood and cast to the carp as they came.  They weren't exactly cooperative but I finally had one pick up my crayfish imitation and he took off like a freight train.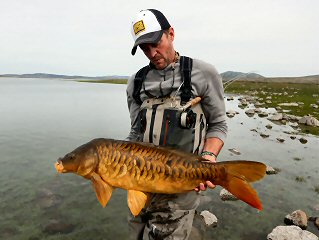 Carp are the ultimate test of you fly equipment.  My Winston was bent all the way to the cork and the smooth drag of my new Bauer Reel tired the fish before he got too deep into my backing.  Everything worked like a champ and soon I beached the carp.  It was an amazingly colored mirror carp around 18lbs.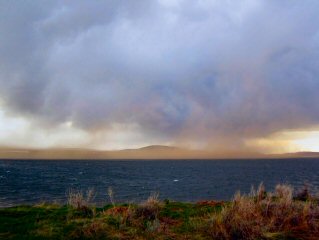 Six of us fished hard all day long and only two other carp were landed.  The constants schools of carp showed little interest in our flies and the few that looked were finicky and turned away without eating.  My theory is they are schooling to spawn and eating isn't in their plan.  At 7 PM a violent storm sent us hunkering to our vehicles and fishing was over.
Nonetheless I have my Idaho license and my first local fishing trip of the year under my belt.  There will be plenty more to come however Sunday its right back on the road again.  This week I'll be speaking in Georgia on Wednesday night to the Atlanta Fly Fishing Club then on Thursday at the Cohutta Fishing Company.  And yes, there will be some unique fishing mixed in!