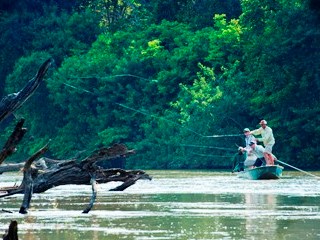 This is my sixth fishing trip to Africa.  Although only two were hardcore tigerfish trips, my three Nile Perch exploits to Egypt were filled with tigerfishing as well.  Tigerfish are the most widespread and popular game fish of Africa.  Many anglers are aware of this; however what they don't know is that there are at least four subspecies of tigers and perhaps more.
The tigerfish of note are the Zambezi (Hydrocynus vittatus), Egyptian (Hydrocynus forskahlii), Tanzania (Hydrocynus tanzaniae) and the goliath tigerfish (Hydrocynus goliath).  I've caught all of them except the goliath which inhabits remote parts of the Congo River in the Congo.  The Congo monster that is believed to reach 100lbs is on my hit list.  I simply haven't found a way pull off the logistics of going to the Congo yet.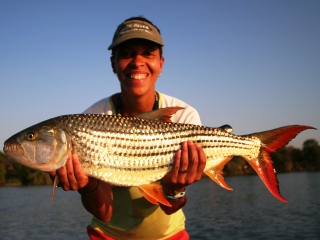 The most commonly sought after tigerfish are the Zambezi tigerfish.  I've fished them throughout much of the Zambezi River system in Zambia, Zimbabwe and Namibia.  I've also chased the Zambezi's in the Okavango Delta in Botswana.  They're awesome vibrantly striped tigers that sometimes grow over 10lbs.  My biggest was 13lbs and came from the Kafue River in Zambia.  This is a picture of Granny with her first tiger of 9lbs on the Chobe River in Namibia.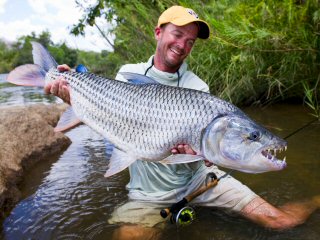 Being in Tanzania, we're obviously after the Tanzania tigerfish.  If you saw the movie "Connect" than surely you remember I was the lucky guy fishing for them in the flick.  Tanzania tigerfish grow considerably larger than the Zambezi tigers and commonly get larger than 15lbs.  The big boy I landed at the end of the movie was 20lbs!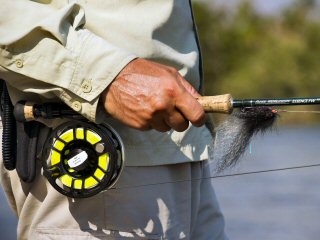 I have my group well prepared for these unique Tanzania tigers.  Everyone will be casting at least 8-weight rods.  I prefer my 9-weight RX Ross with a sturdy Ross reel.  Last time here we stuck to fast sinking Scientific Anglers Tropic Express 300-grain lines.  These worked fantastic but this trip I intend to experiment with some lighter lines and even some poppers.
As for leaders there's no messing around.  The rivers are full of logs like a Wisconsin musky river, therefore I've advised everyone to fish 4ft of straight 40lb mono.  Sounds ridiculous but remember we flew 10,000 miles to get here.  World Record setting is not on the menu.  We simply want to hold some hefty tigers rather than go home telling stories of the ones that got away.  Lastly, wire shock tippet is a must.  We use 40lb RIO Knotless wire.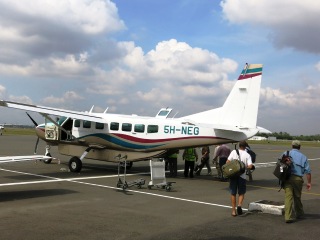 We've had an action packed first day in Tanzania.  We awoke in Dar es Salaam and had an early breakfast at the Sea Cliff Hotel.  Then we caught the charter to the bush followed by an hour jeep ride to camp.   Logistics went smooth all the way to camp with flight and jeep rides.  We had lunch and the usual orientation.  Then if you can believe it we got back on the jeep and traveled another two hours to the Ruhudji River camp.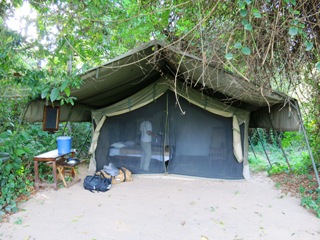 The way it works here at Tourette's Tanzania tiger fishery is there are two camps.  Four anglers fish a camp for three days then flip camps.  The waters will never get over fished like at many lodges around the world because four anglers a week do little damage to such a vast and remote fishery.  Furthermore, each camp has many beats and beats are never fished more than once a week.  This is an extremely well organized fishing unit.
We arrived in Ruhudji River camp at 4 PM.  You'd expect jet lag to be killing us but there's so much going on.  Our bumpy jeep ride provided plenty of wildlife sightings consisting of various antelope-like critters such as puku, eland, waterbuck and a little tiny guy they call duiker.  We also saw yellow baboons and ververt monkeys, several mongooses and a wide range of colorful birds.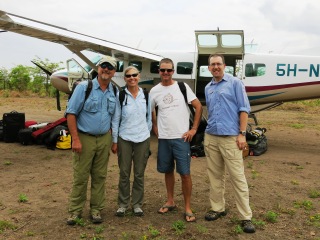 I'm hosting a very small group of three folks I know well.  First is my brother-in-law Don Rose.  This is Don's first international fishing trip and he and I are tent mates.  Also along are my friends Mark Del Frate and Linda Newquist from New Mexico.  I met Mark and Linda while speaking at the New Mexico Trout Conclave many years ago and we have since fished together on the Amazon.  This is their first time to Africa.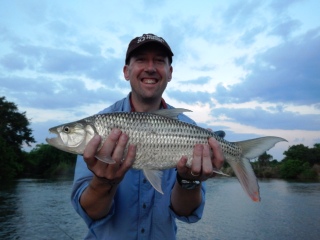 We managed an hour of fishing before dark tonight.  It was the perfect amount of time to work out the kinks after all the travel and get a feel for the boats, guides and just overall, be ready for show time tomorrow.  It was a very pleasant evening with lots of tigerfish strikes and a few hook ups.  Don already has his first tiger under his belt, a baby for around here of 5lbs.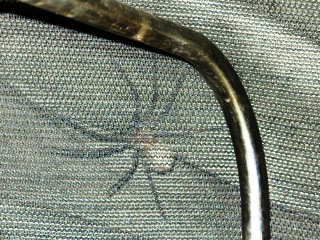 Finally I'm putting my head down.  Don and I are in a tent about thirty feet from the Ruhudji River.   Its inky dark out and the sounds of cicadas, frogs, night birds and a distant herd of elephants busting trees reminds you you're in the Africa you dreamt about as a kid.  We also have a bit of wildlife in our primitive dark unlit bathroom.  It's a rain spider behind the shower head.  A spider the size of your hand that we've named Julius.  As long as he stays there things should be fine.
For information about this incredible trip feel free to CONTACT ME.
Be sure and visit Tourette Fishing – Fight it in Africa.
And ask about my future hosted trips through Yellow Dog FlyFishing Adventures.