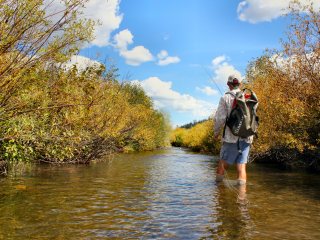 I spent too much time in the boat last week.  Indeed it paid off with the One Fly victory but today, if Granny and I were going to fish, it had to be unique.  We went for some Idaho brook trout in the middle of nowhere.
The middle of nowhere took us on a tiny unnamed stream lined with willows twelve feet tall.  A place in the Yellowstone Country you should never wander.  If you're insane enough to be there, the bear spray better be on your belt ready to fire.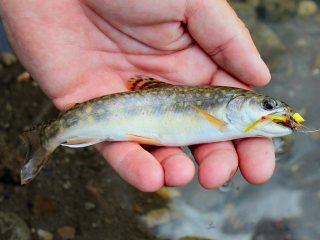 We forgot out bear spray, and as we plucked 5" brook trout from under the overhanging gold tinged willows I got that feeling.  It's a terrible feeling that we were being stalked.  It raises every hair on your body.  It's a sense I'm lucky to have in my arsenal as it's saved me several times.  We couldn't see the grizzly or smell the bear but I knew.  It was time to roll.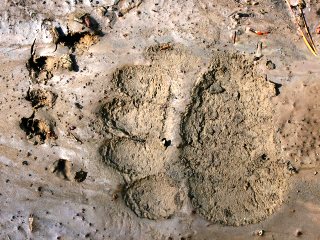 We made a bunch noise and busted straight back down the center of the tiny stream to the Explorer.  Once in sight of the truck we both got that sigh of relief.  Everything was cool.  I guess my instincts were wrong this time.
As I broke down Granny's Ross Rod there it was next to my tire, fresh grizzly tracks that weren't there when we got there an hour earlier.  I wasn't wrong.  That was a close one.  Don't forget your bear spray!