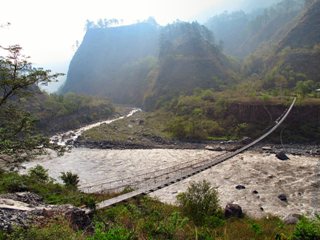 There's a massive dam project underway on the Puna Tsang River.  The project is tough to look at as you drive along, not only because it's a real mess, but also because you're nearly head-on with gigantic dump truck after dump truck.  And if you veer too much away from the trucks you're likely to drive over a cliff.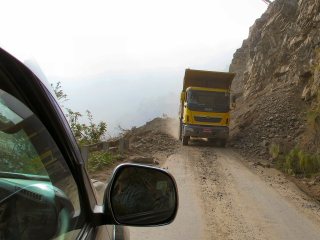 When completed the spectacular dam will provide hydropower for a huge part of Bhutan.  For an angler it's upsetting but Bhutan is trying to catch up with the times and provide electricity for its people.  We really can't argue with the process because we come from a country with many dams and we all have electricity and the rest of the comforts for that matter.  Much wiser is to help advise the Bhutanese to build the dam in a way that's least harmful to the environment.  Of major concern to me is the effect on mahseer runs.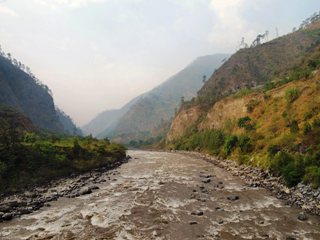 It took two hours to pass through the construction.  Once through, we followed the mighty river for a long ways.  The river was off color to say the least and appeared unfishable with the fly.  That being said however, I've learned from my friend Misty Dhillon of India that mahseer have evolved to handle such conditions.  Therefore when it came time to stretch our legs, we fished an area where a small tributary came in.
The tributary was far from clear but in comparison to the Puna Tsang; it was worth a try right where it dumped in.  Before thinking of casting, Jigme made numerous calls to orchestrate our fishing permits.  Once that was in order we were free to go.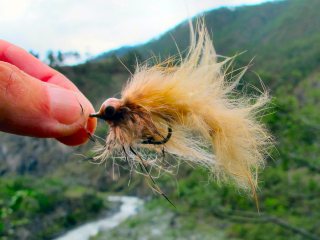 Mahseer are one of the larger freshwater fish.  Golden mahseer once frequently surpassed 50lbs and they've been taken up to 100lbs.  These days a fish over 10lbs on the fly is more than respectable.  This size fish in fast water is a chore to land so I rigged up my Winston 9-weight, my Abel and a Scientific Anglers 250 grain Streamer Express.  In my experience, brown flies smaller than what you would expect work best.  Just before I left, my friend Brent Dawson, founder of Warpath Flies, sent Dawes and me a care package.  The flies are absolutely perfect.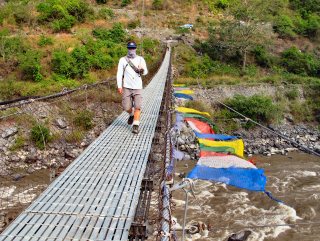 We swayed our way over the river on a suspension bridge.  Then we hiked down to the mouth of the tributary.  No one had much confidence due to the lack of clarity except me.  Dawes has made a trip to India and a previous trip to Bhutan without yet catching a mahseer.  I told him to take first crack.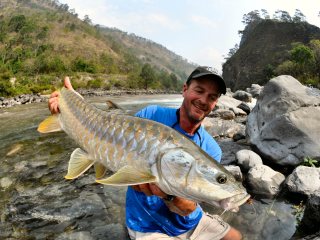 On Dawes's second cast he ended his mahseer quest catching a tiny golden.  Despite being small it was a mahseer and he notched the species to his list.  I moved in to make a cast after a high five with Dawes.  It wasn't two casts and I was hooked up.  This was a bigger fish and he stole line from me quickly.  I bolted downstream chasing because the way the river was raging, if I let much space between me and the fish he'd be gone for sure.  Soon the backbone of my 9-weight and the cranked drag of my Abel allowed me to beach the respectable golden mahseer.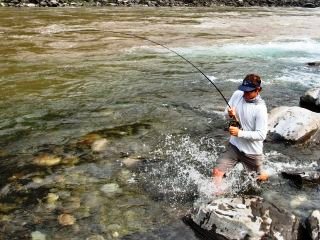 We cracked off a bunch of photos.  This was an amazing start to our mahseer search – two fish at our first stop only three hours into our week long quest.  Dawes stepped back into the honey hole and in one cast hooked up to an even heftier mahseer.  For some reason, Dawes was using a 6-weight and it wasn't easy for him to hold back the mahseer.  This one took him a great ways downstream, so far that I got in the water in the last possible spot for him to land him.  No doubt if the mahseer made it into the next rapid below us he'd be gone as well as all of Dawes's line and backing.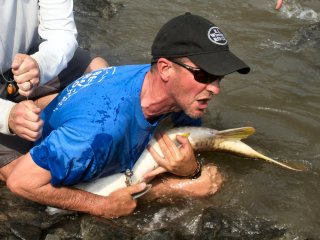 It was a rodeo for sure, but eventually Dawes slowed the mahseer and slid him into a back eddy.  Then I joined the fun and corralled the strong fish.  He ate the Warpath fly.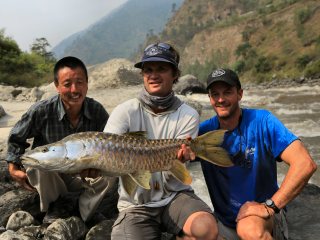 The huge scaled golden fish was long awaited by Dawes.  I gave Dawes some space to cherish the experience and went back up to the pool but there were no more takers.  Next I slipped up the tributary.  For the most part it was too fast and shallow but I found one spot with enough water.  Nothing came charging for the Warpath pattern so I decided to drop a nymph.  I'm glad I did because I caught this baby chocolate mahseer, also known as copper mahseer.  There's less known about the unique chocolates but it's suspected that they can reach 20lbs.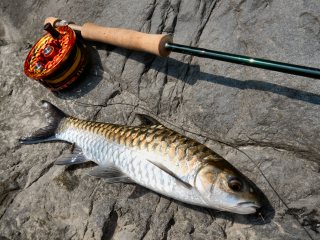 After our exceptional start to mahseer fishing we drove relentlessly for southern Bhutan.  Our car time was about 12 hours to the minute even though we probably only covered 200 miles or less.  Driving is slow and dangerous to say the least.  Tomorrow we hope to make it to the put in where we will begin an amazing float trip that's never been done before.