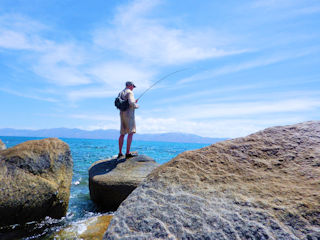 You'd suspect a fast trip back to the roosterfish beach after Sammy's catch yesterday afternoon, but to keep fishing interesting we went on a morning side trip first.  I've always wanted to catch a giant hawkfish.  He's not a big fish by any means but he's gorgeous and he lives in Baja.  Grant took us for the rocks to prowl with Clouser's and try to catch one.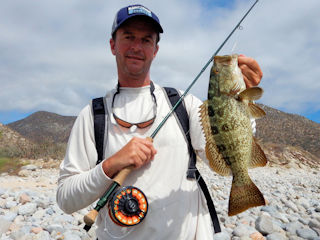 The rocks rarely get targeted by fly fishers in Baja.  It's either roosters off the beach or get a boat and go for the dorado and marlin.  All I can say is I've taken some amazing snappers, cabrilla, jacks and oddball fish exploring where others don't.  Ten casts from the car I caught my first spotted cabrilla (Epinephelus analogus) on fly.  I've caught plenty of the flag cabrilla but this spotted is a new one for the species list.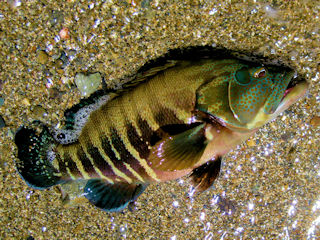 From there the terrain got more rugged but the fishing got interesting.  Sammy landed a spotted cabrilla for himself and we both caught a heap of smaller flag cabrilla, Pacific jack crevalle and I caught yet another of the rarely caught from shore, mullet snapper.  But the prettiest of all were these colorful Panama grasby we I've taken here before.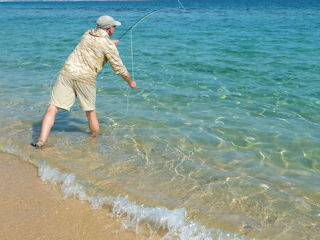 After a couple hours of rock hopping we were empty handed on the hawkfish.  You can't win them all.  At noon we packed it up and drove back to the rooster beach where Sammy succeeded yesterday.  The high sun was perfect for spotting and the dropping tide usually gets the mullet moving which in turn puts the roosters on the feed.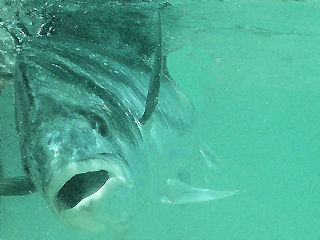 We saw a lot of roosters – I mean more than I'm used to seeing.  I got a cast within a minute of our arrival and the persnickety rooster chased my fly to the beach raising his comb and nearly spraying me with a "rooster tail" on his way back out.  It was thrilling and disheartening all in one.  I'd also get two more similar shots at roosters and Sammy had a couple as well.  But in the end the roosters won.  Roosterfish off the beach on fly is a tough, tough sport!  Hopefully manana.