Time to Break the Marlin on the Fly Curse
Categories: Uncategorized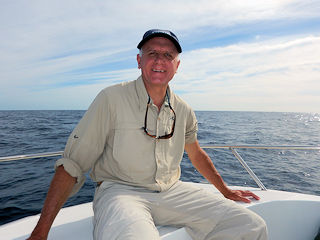 Sammy Vigneri and I became pals back in 1987 when we worked together at the fly shop in Jackson Hole.  Sammy was just starting college and I was beginning my career in the fly fishing business.  Sammy went on to be OBGYN doctor.  By the time he started his practice I'd been running that fly shop for years.  We took different paths but kept in touch and fished together when we could.  Ten years ago I sent Sammy fishing to Mexico with my friend Grant Hartman, owner of Baja Anglers.  Sammy didn't look back.  He had the time of his life fishing with Grant, bought a condo on the Pacific Ocean and now the three of us fish together down here in Baja often.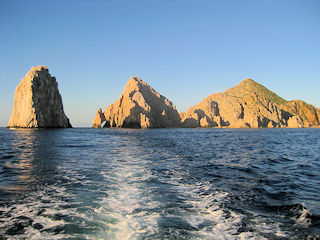 Sammy and I arrived here tired yesterday.  I've been traveling like mad all fall and working hard at home the last ten days.  Sammy always works an ungodly amount of hours.  It wasn't easy to get up at 5 AM today to make the Cabo San Lucas Marina to meet Grant and his boat crew by 6:30, but we made it and soon we were exiting the harbor past the famous rocks.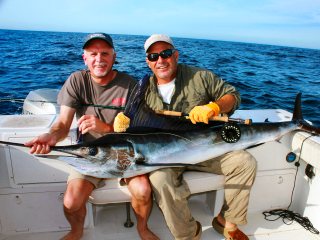 We were after marlin on the fly, a fish that hasn't been particularly kind to me.  I estimate that I have over twenty days on the water fly fishing for marlin dating back to Costa Rica in 1993.  I've since spent a week for white marlin in Venezuela, a trip to the Galapagos and a minimum of ten days with Sammy and Grant here in Cabo.  I've made less than ten casts and Sammy caught the only marlin I've seen landed on a fly.  That was this striped marlin exactly two years ago.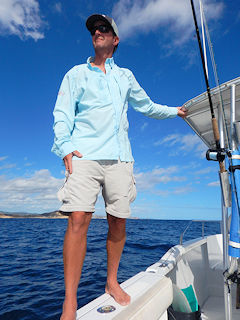 I have a "marlin on the fly" curse but this trip we aim to end it.  Grant says the marlin fishing has been good lately so my chances are high.  Furthermore, Sammy announced first thing this morning that it's my turn at the 14-weight and it's my turn until I get one.  That's a big time friend because Sammy is flicking the bill for the boat and I promise you it isn't cheap!
The way you find a marlin for fly fishing is to tease them in to fly casting range.  There's tons of ocean out there and you don't just head out and start casting.  There's two ways for teasing: you can troll hookless teasers and dead baits or you can submerge a live bait behind the boat and motor slowly along or drift.  Most boats were trolling so we chose to submerge a live green jack down deep.  I had my marlin popper fly ready to cast and kicked back and waited.  It didn't take long.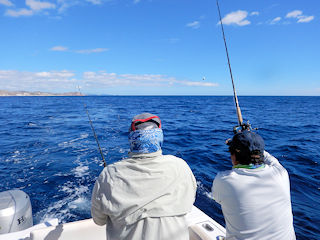 Its havoc when the bait gets hit.  It could be a 500lb black marlin, a 150lb striped marlin or a dorado.  Grant goes bonkers and Captain Alex and his mate Jacobo go into action to bring that fish to casting range.  It's a talent to keep the fish interested long enough to come near the boat.  This fish was a dorado and he came in hot.  I cast the marlin fly, stripped it once and the dorado was on.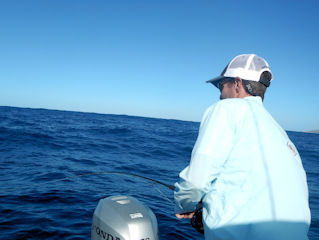 Dorado have tough mouths so I gave a couple hard strip sets.  On my second jab there was an awful pop and my line went limp.  It turns out that the leader snapped up in the butt and what remained showed signs of previous damage.  This was Grants boat rod and he wasn't happy with his crew.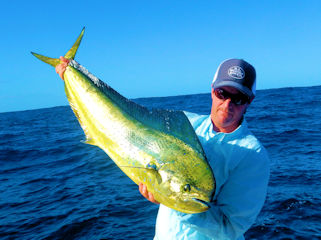 Though this was Grants 14-weight I was irritated with myself for not checking everything.  Let this be a lesson to us all.  Luckily it wasn't a marlin and fortunately we didn't wait more than five minutes for the next green jack to attract another dorado.  Everything went perfect this time and ten minutes later I was posing with one of the most common bluewater fish of the ocean.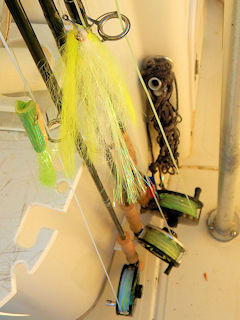 Dorado, known as mahi mahi in Hawaii and dolphin fish in field guides, provide the most action of any fish found in the oceans bluewater.  They're found all over the warm waters of the world and I've caught them in many places.  Although I caught this first one on the 14-weight marlin rig, when I hunt dorado I use my 10-weight Winston SX and a floating line with a popper.  Like most large saltwater fish, dorado have abrasive mouths and gill plates so it's crucial to have shock tippet of 40lb mono or heavier.  These colorful predators aren't bashful over tippet size.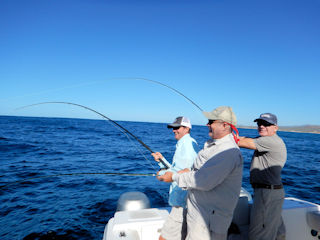 Two "marlinless" hours went by before a dorado blitz. We teased in several dorado.  I waited for Sammy to cast my rigged dorado rod.  When Sammy hooked up the other dorados went into a frenzy and I tossed out the marlin fly and Grant grabbed my second dorado rod.  Within seconds all three of us were dodging each other giggling with three dorados screaming line across the Pacific.
We landed all three of the dorado.  If dorado are known for anything its losing the life out of them within minutes.  They're also known for violent thrashing after you land them making a quick release not only difficult but extremely dangerous.  I'm happy to say we were able to release two of the three.  The third made a delicious meal for us tonight.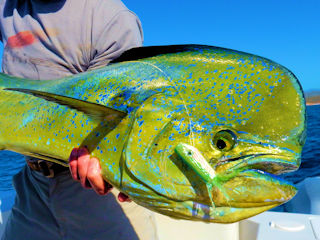 We had one other run with the dorado but the marlin weren't around.  The last three hours of the day reminded me of my many fly fishing for marlin days of the past.  When I'm after them they must be in another sea.  I've heard every excuse in the book and today was that it was too cold and too rough.  No doubt the temperatures didn't leave the 70°s and it was so rough Sammy nearly got sick and Grant admitted tonight that he was hurting at one point as well.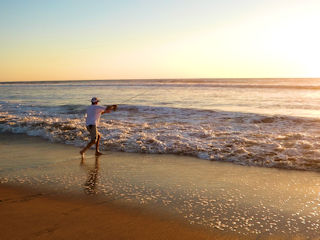 After marlin fishing Sammy and I made a few casts from the beach in front of his condo during the sunset.  After our fishless beach session, we mowed through 3lbs of our fresh caught dorado.  Yes, you heard me correct, 3lbs!  At Sammy's condo complex in Cerritos there's a phenomenal restaurant and Sammy is friends with the chef.  The chef fried 1lb and grilled the other 2lbs.  We froze the rest and we'll each take a few pounds home at the end of the week.
That's all she wrote.  It's on the dock at 6 AM tomorrow and we'll start the day searching for sashimi because the yellowfin tuna have moved in near Cabo.