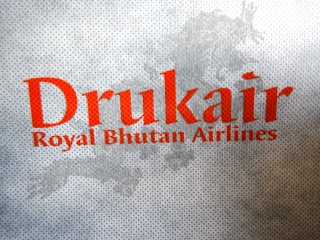 This morning was a three hour flight on Drukair from Bangkok to some city in India.  We stayed on the plane for the short layover then climbed up over the Himalayan Foothills more like a rocket ship than an Airbus 319 Jet.  We immediately saw several of the world's largest peaks – some of them over 20,000 feet!  We were in the air only about ten minutes before beginning our unique decent into Paro, Bhutan where despite being in big jet you approach the airport like your on a small Cessna on a windy day.
Once landed Mike Dawes (Dawes) and I were greeted by warm temperature and partly cloudy skies – perfect conditions to do a little fishing this afternoon to fight the jet lag.  There was a slow moving line for immigration but Mike and I had all our docs in order (unlike for Sudan in March).  Once we cleared we headed out through customs where we had a slight hang up with our raft.  About then our host Jigme walked in and cleverly talked us through with all our gear and at no cost.
Jigme is the on the ground man in Bhutan working with World Wildlife Fund (WWF).  WWF does a lot of work here in Bhutan overseeing protection of tigers, common leopards, snow leopards and hopefully soon the fish.  Like most of the small countries around the world, Bhutan's environment is always in danger from pollution, poaching, dams and more.  They are building numerous hydro dams throughout the country seriously threatening some of the last thriving populations of migrating golden mahseer.
The WWF does a tremendous job helping fight many environmental issues and teaches locals that a clean and healthy environment generates ecotourism.  In our case this week, Dawes and I are consulting the ways for preserving their fisheries for possibilities of fishing tourism in the future.  We'll be trout fishing these first three days then traveling to Royal Manas National Park for the first float ever for mahseer through the Park.  This epic trip ends with our own presentation to the Prime Minister himself to discus the reasons for and ways for protecting fisheries.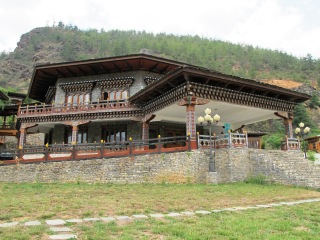 Jigme checked Dawes and I into the spectacular Tashi Namgay Resort overlooking the Paro River.  Then Jigme set off to get our fishing permits, a required item for fishing anywhere in Bhutan.  Mike and I geared up for an afternoon of fishing.
The ultimate travel tip I'll give is that no matter how tired you are after flying around the planet, when you get there, get on schedule no matter what it takes.  No quick naps.  No rest.  Get on schedule.  Bhutan is exactly 12 hours different than Idaho so night is day and day is night.  It screws with your body like you can't believe so you must fight it.  If you don't, the disoriented feeling will linger for days.
Jigme got back with our driver Sangay and off we went to fish the Paro River.  Dawes has been to Bhutan before.  He had a look at trout fisheries in January of 2013.  January wasn't the best time but he had reasonably good fishing so honestly we're expecting good action.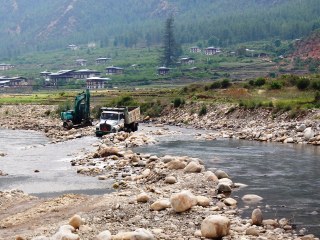 In most underdeveloped countries rivers are places locals toss their garbage.  It's absolutely horrid to see as I travel the world but its everywhere.  They appear to do the same here in Paro but there are rules against it and thankfully its not as bad as most places.  But what is bad is the sand mining and stone mining going on every mile of river through town.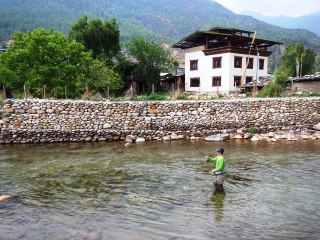 Just imagine steam shovels and bulldozers loading dump trucks with rocks right in the river – that was our first fishing spot.  I laughed however when I looked into the water and saw trout.  Trout are hardy soles.  I strung up my Winston 5-weight and tied on a size 10 orange Stimulator.  On my first cast in Bhutan I landed a tiny yet gorgeous brown trout.  Dawes and I took turns in front of an entourage of locals and caught and released about six browns before leaving the roar of the stone mining.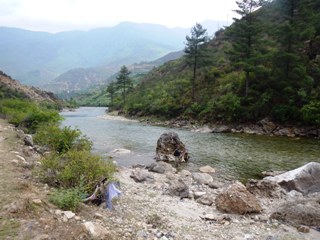 Dawes and I were doing all we could to stay awake.  Again, jet lag and a 12 hour time change takes its toll.  We drove downstream out of the city of Paro and spotted an area in a canyon Dawes and I wanted to try.  Fishing was our only hope to stay awake.  Dawes headed upstream and I went down with my dry fly rig.
The section of river was beautiful.  Certainly there was some trash from Paro that drifted down but overall it was a pretty spot with crystal clear water.  I scanned from above and sure enough counted over a dozen brown trout.  One was particularly nice and tight to a rock.  He appeared to be nymphing but I felt that my Stimulator would do the job.  It did and I landed the scrappy 13" brown.
Although we didn't find a big one, these browns are colorful and wild.  Word has it that they were stocked here in the 1930's by one of the Kings who loved trout fishing.  Whatever the details are, Dawes and I were the lucky Americans to enjoy the excellent trout fishing that still exists today.  Between the two of us we caught about 30 browns ranging from 7-14".
My head is bobbing as I try to load this blog at 8:30 PM.  We just finished up a few brews and dinner and its time to call it.  We'll be trout fishing the next two days before heading south for mahseer, the main adventure of this trip.
Stay tuned!