Made it to McKenzie River Lodge in Labrador
Categories: Uncategorized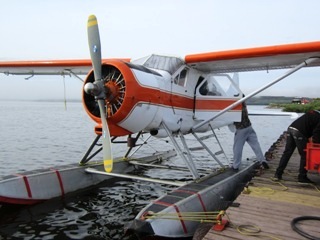 With the Otter Seaplane down Labrador Air Safaris brought in a 1954 De Havilland Beaver to fly us to McKenzie River Fly Fishing Lodge.  I was comfy with our replacement plane being that I lived off a Beaver much of June on the Selwyn Lake pike trip.  Unfortunately with the smaller plane not all of us could fly in together.  Instead Granny and I flew in with John, a lodge guest from Maine, and heaps of gear while Paul Ostiguy, his son Dave and a film maker named Guillaume Lapierre (Bill) of Ninja Media flew in later.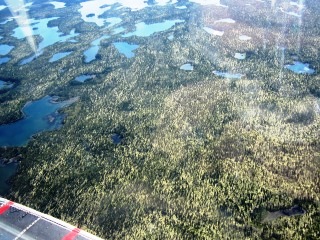 For once since we arrived to Labrador it wasn't raining and although cold and cloudy, we were cleared to fly and left the hotel for the Beaver promptly at 8 AM.  We weighed in and took off utilizing our chance to fly.  Like much of northern Canada the landscape consisted of lake after lake and on every inch of ground between the trees were blankets of lichen.  There's so much lichen between the trees that it looks more like fresh powdery snow than a composite organism.  The flight north to McKenzie took 1 hr 25 min.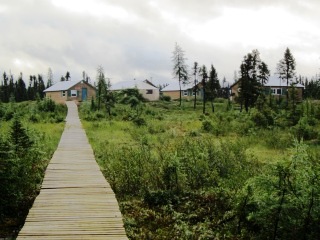 After a smooth landing on the lake we were greeted at McKenzie Lodge by fishing guides Andrew and Simon.  They led us up a plank boardwalk to the lodge.  Our plan was to get settled later and get on the water ASAP.  We met the chef "G" and he made us a tasty brunch of chicken soup while giving us the rundown.  Then the guides told us what to expect for our afternoon of fishing.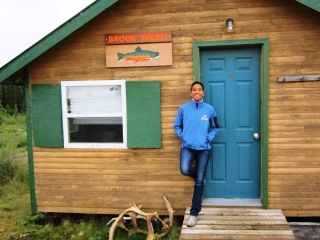 McKenzie River Lodge is located overlooking Andre Lake in the untouched wilderness of Northern Labrador.  It took seconds to realize you're in an amazing place.  The lodge is clean and cozy.  Sleeping cabins are separate and hold up to three anglers.  Granny and I tossed our bags into the Brook Trout cabin being we both have goals of catching the biggest brook trout of our lives.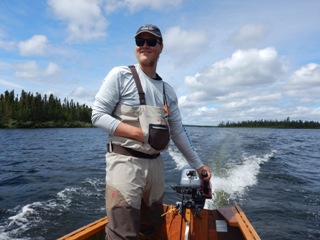 Our guide is twenty year old Andrew Murphy from Bromont, Quebec.  Andrew will guide us all week.  You'd never know it after today, but this is Andrew's first guide job.  He met Paul about five years ago at a fly fishing club and stayed in touch.  Paul says right out of the blue Andrew hit him with a request to be a guide at McKenzie earlier this year.  Without experience Paul was reluctant to hire him but knew what a great kid he is and he gave him a chance.  All I can say is that had he not told us this was his first guide job we'd have assumed he'd been guiding for years.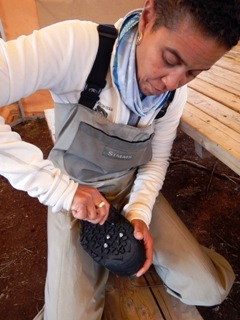 There's only one hitch that goes with fishing in Labrador, and that's slippery rocks.  Andrew advised me that my Simms vibram sole wading shoes needed cleats added.  I always bring my cleats with me and as I set up the Winston's Granny screwed some cleats in for me (it turns out the wading isn't too difficult).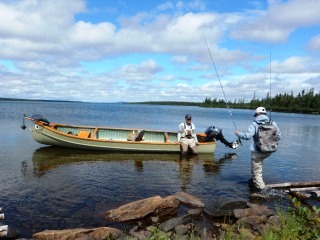 While most our fishing this week will be wading, our means of transport from place to place are these classic oversized and motorized canoes.  They're neat boats all made of wood.  One of the reasons for them is they're easy to drag up and down shallow rapids.  It's a good thing Granny and I stay in reasonable shape to help with this!
Being today was essentially a half day; we fished on McKenzie River pools near the lodge.  Before arriving at them, there's a deep channel connecting Andre Lake to the McKenzie River with a sweeping current and a few holding rocks for ouananiche salmon (landlocked salmon).  Andrew suggested we swing a few flies through to see if we could get lucky.  I kicked back in the canoe and watched Andrew guide Granny through her first experience swinging a fly.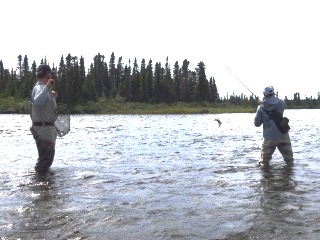 It didn't take but three casts before a salmon went airborne and I heard my Ross Reel singing.  My new Winston Boron III Plus was bent and Granny bubbled with excitement.  I reached for the camera and followed the battle.  One of the reasons I love fishing so much is that I caught landlocks at an early age in New Hampshire.  Their amazing acrobatic fight addicts anyone to angling.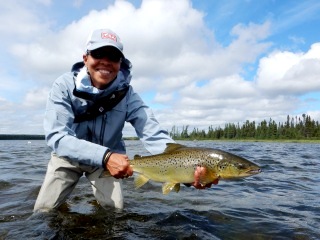 This ouananiche didn't disappoint.  He jumped several times and ran Granny up and down the channel before Andrew finally got the net under him.  The beautiful salmonid wasn't big for the McKenzie but anywhere else you'd do a back flip over him.  This was Granny's first ouananiche!
Fishing didn't get worse like it so often does when it starts so fast.  We arrived at Pool One on the top of the McKenzie and I tossed a black sculpin pattern into the tail of the run.  I stripped twice and came tight.  I could see the colors immediately.  I had a fantastic brook trout and landed him fast with my 0X tippet.  We were a half hour in and Granny had an unexpected landlocked salmon under her belt and my first brookie already rivaled my biggest ever.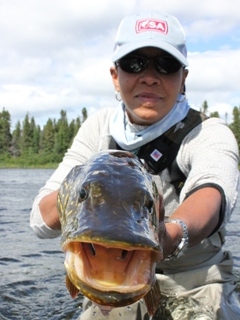 Fishing came down to earth after that brookie but we each picked up a few more of the dazzling char over the next couple hours.  After we thoroughly fished one side of the pool we waded across to the other.  Granny, who was into her "swinging" of the fly now, swung it right into a pike.  There's lots of current here and you wouldn't expect the toothy predator to appear but she landed him and I snapped off a few nice pics.  By the way, Granny was lucky once again because we were brook trout fishing and naturally didn't have any wire tippet to the fly. This pike was strangely almost toothless.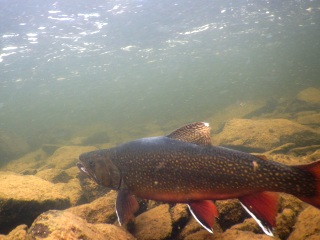 Granny retired to the canoe at the end of the day.  Andrew suggested I hike with him down to a pool they call Ledge Rock where they've caught several brookies up to 5lbs this season.  It was some of the fastest water on the stretch and I wasn't feeling confident as my sculpin ripped through the pool.  But as my fly hit the water on one of my last casts of the day I hooked up.  I knew right away this fish was big and even better, because he didn't jump I knew it was a massive brook trout.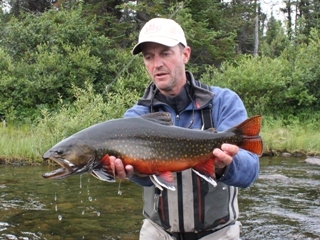 Brook trout remind me of cutthroats in that they rarely jump but can throw their weight around more than other trout.  My fish used all his tricks to keep us from seeing him.  He stayed deep and ran up the pool and down the pool and eventually burrowed down into the deepest part of the pool.  I hoisted on him hard knowingly taking a chance at breaking him off or pulling my fly loose.  But I trusted my gear and knots and soon Andrew was digging with the net.  This time for absolute certain, I had the largest brook trout of my life!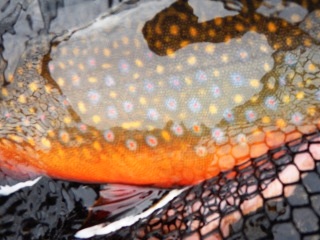 Today was the first of five days and already our goals of catching the largest brook trout of our lives have been fulfilled.  Based on Andrews experience this season, the brookie at the end of today will likely be my largest.  We didn't weigh him but he probably tops the 6lb mark (pics never do a fish justice!).  It was an astonishing fish, not only for his size but his extraordinary colors.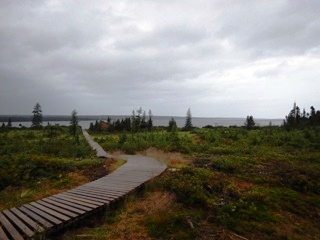 We just finished a nice dinner family style in the lodge and the minute we finished heavy rain started and we all ran to our cabins.  Now we have huge wind along with the rain.  We'll see what tomorrow will bring . . . .
A special thanks to Paul Ostiguy and McKenzie River Fly Fishing Lodge for bringing Granny and I to Labrador!