Focused on One Fish at St Brandon's Atoll
Categories: Uncategorized
I've cycled through fishing friends and today I was back with Scott.  This means at the end of today the trip is more than half over.  Damn these journeys go fast.  You wait and wait and wait and count the days till the trip for months then bang – the adventure is gone!
At the halfway point I always remind myself of goals I had beforehand and check up on how I'm doing on them.  For this trip I had three goals and deep inside I hoped to achieve two of them:  1 – Catch a yellow permit.  2 – Catch at least three new fish species.  3 – Catch a bonefish over 10lbs.  At this time #1 and #3 are looking challenging.  And #2, I'm close with the brassy trevally and the island trevally, but I need that third.  What a dream it would be if it were the Indo-Pacific yellow permit!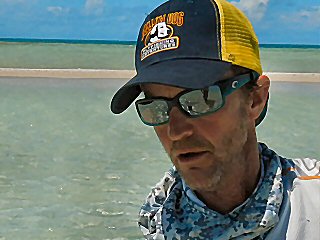 When I shared my goals with Scott and todays guide, Craig Richardson, we came to the conclusion that I was only fishing for permit.  Which means only casting to permit no matter what swims past me.  I hate this situation however I've been through it before.  Most recently was last year in Gabon chasing the giant African threadfin.  I succeeded but it's the true test of an angler's mental strength.  Few anglers can focus like this when surrounded by so many other great fish.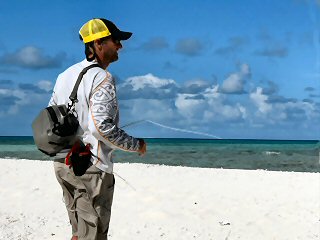 The first flat we went to was a half hour away and is called Big Willies.  Its home to giant bonefish and has a very good area for permit.  Craig sent me directly to the permit spot and he and Scott walked the rest of the flat.  Craig carried Scotts 12-weight rigged for GT's and Scott carried his 9-weight and banged off two 7lb bonefish quickly.  I remained on point.  Frozen like a stork and sadly watched several bonefish pass one of which was the biggest I've seen all trip.
As I waited for a permit to swim to me, I heard Scott catch two more bonefish.  How nice it would be I thought to myself.  Then Scott took it a step further and picked off this electric-colored bluefin trevally.  I stayed stubborn but the permit never showed on Big Willies.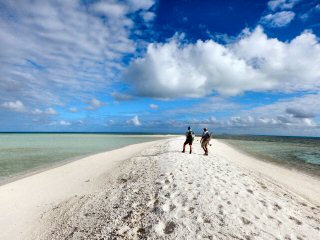 Our next stop was at a flat called Ollies.  Ollies is unique in that it's a long narrow sand spit island with a coral scattered flat on one side and a sand and turtle grass flat on the other.  It's a gorgeous piece of St Brandon's real estate and to our delight Craig quickly pointed out a lone permit of significant size.
I liked everything about this situation.  The permit was huge.  He moved slowly and the hard to see yellowish fish was feeding and searching for crabs happily.  And the wind was behind me making for an easy cast.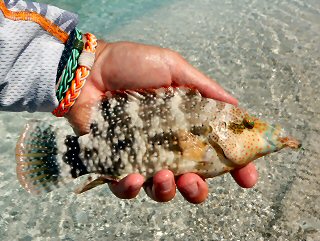 Everything began perfect.  I crept to within about 75 feet and cast my white crab pattern exactly a foot in front of the permit.  As it sank he surged forward for a look.  I felt a grab and strip set only to see the permit run for dear life.  My fly was intercepted by a wrasse.  As much as I'd love to add a new species to my list, I believe this is a floral wrasse which I caught in Farquhar.  (Damien Brouste – if you're out there I'd love your opinion).  Permit 1 – Currier 0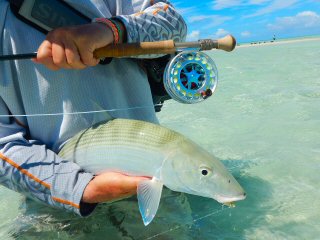 Next Craig took us to Shark Fin which is a tiny island of sand shaped like a shark fin.  It too has a resident school of permit and they were there.  The problem is the ten or so of them were with a school of hundreds of bonefish.  The chances of a permit getting my crab fly before a bonefish – slim to none.  I made my attempt and soon the permit were long gone and I was unhooking a beautiful St Brandon's Atoll bone.  Permit 2 – Currier 0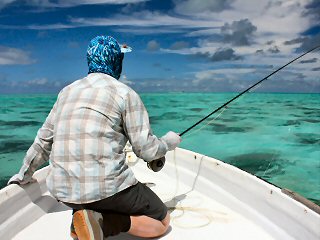 Next we went to Yellow Dog and the same thing happened to me with a mix of bonefish and permit together.  But before we hopped out of the boat, Scott got a shot at a huge giant trevally in some of the most beautiful looking tropical paradise water you've ever seen.  This GT is one Craig knows by name and no one has hooked him.  As we drifted in to the island spit Scott stayed ready on the bow with his 12-weight.  Sure enough the monster GT greeted us but the wily beast wouldn't crack when Scott presented his fly.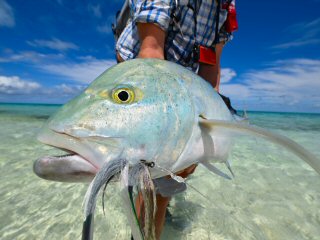 By midafternoon I'd accidentally caught a couple of bonefish but stuck to my druthers of casting to permit and only permit.  The problem was that we weren't seeing enough.  In fact, we hit a couple more spots and saw none.  Meanwhile Scott was continuing to have a blast with bonefish and he landed another glowing bluefin trevally.  I was at the point where I wanted to be done with Mr. Yellow permit!
To end the day we returned to Shark Fin in hopes I could wait out the permit lingering around the bonefish school.  All they had to do is separate from the bones just a few feet and I might have a chance.  Craig and I stood together shooting the bull and actually the permit did linger away once and I got a cast.  But they weren't at all interested.  At 4 PM Scott and I both tagged a nice bone for this double photo.
It was a good day despite my permit issues.  If you've read this blog for years than you may remember my roosterfish blues ten years ago.  That's been way solved.   And you might know that marlin have been brutalizing me for life.  There's worse problems.  I'll get one tomorrow. . . .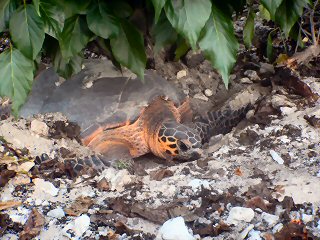 After an enjoyable Phoenix drinking ride back we were pleasantly surprised to have a sea turtle digging a nest in front of the lodge.  We stayed back but I had to sneak this photo.  We see turtle in the water all the time.  I've seen turtle tracks on beaches my whole life but never the turtle.   This was a real treat.  Next on my turtle dream list would to be around when they hatch!
There was big news at the lodge as well.  Though fishing for permit has been tough on me, Gerhard came through.  He landed this fantastic yellow permit today.  I may not be able to catch one myself but I'm good luck for my friends!
Although this may not seem like an obtainable adventure – actually it is.  Feel free to Contact Me and you can book this incredible trip to St Brandon's with us at Yellow Dog Flyfishing Adventures.