Iceland's Atlantic salmon Fishing at its Best
Categories: Uncategorized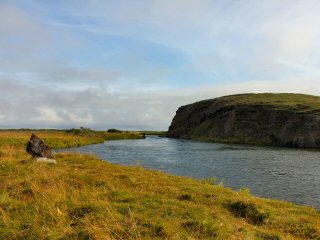 I was shocked to get a glimmer of sunshine in my eyes at 4 AM this morning.  It's been so dreary I haven't closed the curtains in my room for a week.  Despite being exhausted from my Iceland schedule I couldn't wait to get up and head for the Laxá Ađaldal with Ingo.  It was going to be a nice day and we had beat 5 this morning.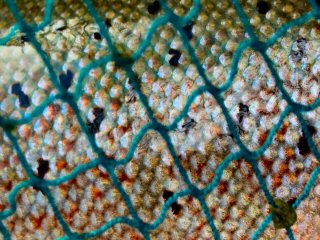 Beat 5 has the Monument Pool, where the largest Atlantic salmon ever caught on fly in the Laxá Ađaldal came from.  It was 1942, but who cares, I had confidence the next record fish might swim by when I'm there.  More exciting than the old history is the most recent.  Beat 5 is where Dave caught his huge salmon last night and many of the best fish this summer have come from beat 5.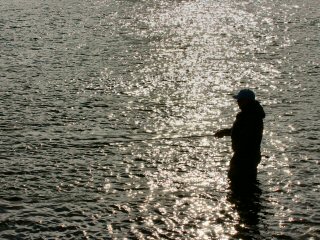 Ingo knows beat 5 well.  I know that the Sally is what I caught my monster on a week ago so that's the fly I went with.  Methodically, with Ingo directing, I worked the pool under the monument.
A salmon rolled right near my fly minutes into my pursuit.  I felt his presence behind my fly on every cast.  I thought I got a touch but that was it.  Another fifty swings and nothing.  Ingo took over and I watched expecting his expertise to come tight but he too got nothing.  That's when he came up with a great idea.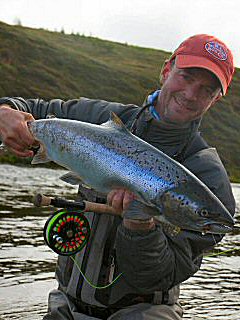 Ingo's philosophy was to try some other pools in beat 5.  He knows everyone spends most their time under the monument.  The other pools get less pressure, the fish see fewer flies, and it made perfect sense.  In the very first underrated pool of beat 5 I landed a 73 cm salmon.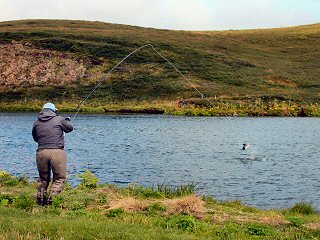 That was our first good salmon in a few days and our poise was back in a furry.  We tried several more of the lesser known pools for the next hour, leaving time to return to the Monument Pool for our last half hour of the session.  This is when Ingo showed me how it's done!
Ingo landed two amazing Atlantic salmon from his favorite pool on the entire Laxá Ađaldal.  First he stuck this 88 cm female.  This is large for a female and she showed her war scars for surviving so long.  She had a mysterious hole in one side and scars showing her escape from a net at one time in her life.  This was an amazing salmon that will live on to spawn at least once more.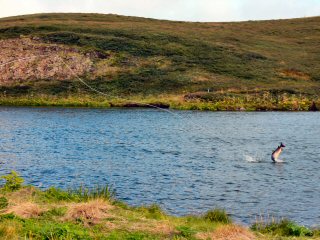 If that wasn't enough to catch one terrific salmon, by the time I walked back upstream to the pool I was fishing, Ingo hooked up again.  The fight was insane with several heavy-weight crashing leaps and runs deep into the backing.  This time it was a true monster male that measured out at 92 cm.
The colors and the hook jaw of this tremendous salmon were mind blowing.  I was as thrilled as Ingo when I scooped him into the net.  A salmon like this is why people come to Iceland year after year.  Incredible stuff!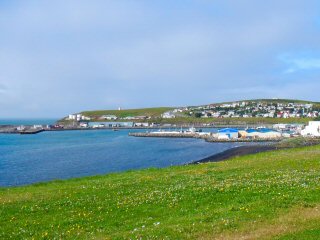 There were no naps between sessions today.  Ingo and I were pumped to the max.  Instead of lunch at the Nes we zipped 10 km up to the quaint little village of Husavik for cheeseburgers and beer at a little restaurant Ingo knows.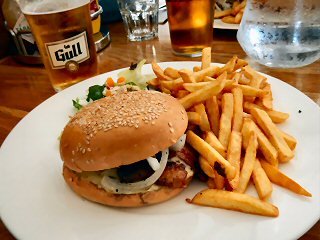 The burgers were brilliant and to wash them down with a nice Icelandic brew from a tap – I was in heaven.  From there we visited some of Ingo's friends.  Both were guides so it was nice to talk fishing with them because they have years of experience on the Laxá.
Ingo and I started to cave towards the end of break time.  Those afternoon naps are necessary when you stay up till 1 AM every night.  But, we'll sleep when we're dead.  I hadn't met the famous Pétur Steingrimsson, the man with more than 60 years guiding from the Nes.  Pétur is 85 and it took him about five minutes to get to the door after we knocked.  When the door opened I knew immediately I was meeting a legend of Atlantic salmon fishing in Iceland.  It was a great privilege to be invited into his house and we had a memorable visit.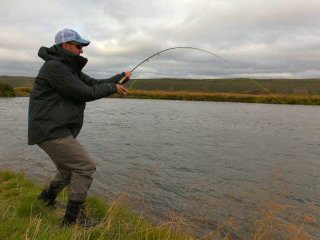 Before 5 PM Ingo and I were on beat 7, exactly where we were two nights ago after we arrived at the Nes.  Now was revenge time for me.  I touched a fish that night in the best pool but messed up the hook set.  I couldn't wait to try again.  Ten days in a row of Atlantic salmon fishing with Ingo and it was time to prove to myself I was getting the salmon techniques down.  Sure enough, I laid into a fish.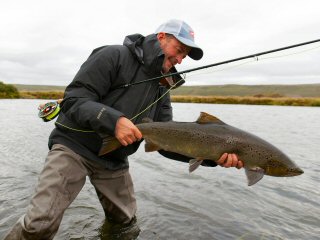 Feeling confident as ever, I put a huge bend in my Winston 9-weight and put the heat on this fish like no other.  There's a good size waterfall drop and an island about 100 feet down from where I hooked this fish.  The salmon wasn't going to be allowed that route.  Within a few minutes I gripped the tail of an 81 cm female Atlantic salmon.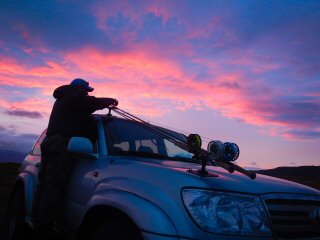 Ingo and I fished ourselves into a coma until 10 PM.  Ingo touched a couple of fish and I cartwheeled off a couple of nice brown trout from a trout pool, but the one salmon to start the night was it.  The weather went south on us again but it seemed appropriate tonight, this is Iceland.  What a spectacular day of Atlantic salmon fishing!
Tomorrow is my last day here.  Ingo and I will fish one last session in the morning then drive all the way back to Reykjavik.  I'll fly home Wednesday.  This has been a remarkable trip here with Ingo and Icelandic Fly Fishermen.  Stay tuned for the final report from the last session.  I'm feeling pretty lucky. . .