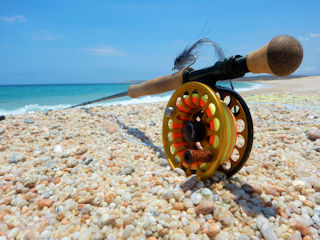 I had a good hunch about the place I fished yesterday.  Twice I came close to connecting to proper roosterfish but it didn't quite happen.  Today I had Grant and Sammy drop me off on the same beach.  In my experience great catches come after a few close calls.  The pursuit builds up then happens.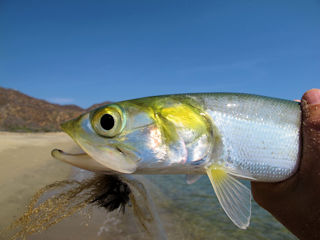 Turns out I was wrong about my gut feeling.  I made one cast to a roosterfish all day without success.  Today is a prime example of how unpredictable roosterfish behavior is and how tough roosters off the beach on a fly can be.  Of course I took advantage of a couple other meandering fish and caught a pufferfish and this handsome ladyfish.  Anyone who comes to Baja should enjoy some ladyfish action because for their size the jump filled fight is incredible.
Grant and Sammy checked on me every couple hours.  They brought me cold beer and tried to persuade me to join them.  They weren't seeing roosters either so I stayed stubborn and remained on my beach.  But when they arrived at around 3 PM, they were glowing with excitement.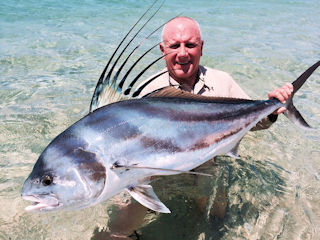 Sammy caught the biggest roosterfish of Grants entire guide season!  Sammy executed a long cast and the fish tracked his mullet imitating fly immediately.  The rooster didn't gulp the fly right up though.  He chased it all the way to the beach and ate it with his belly rubbing on the sand and inches from the leader entering the rod!
Congrats to Sammy and Grant for catching what most fly fisherman will only dream about their entire lives!  WOW!