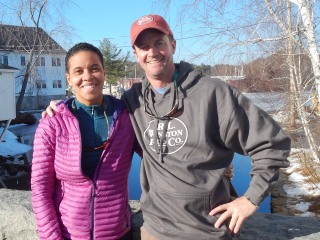 Not much to blog about lately because I've been working like a mad man.  Since the Denver Fly Fishing Show I slipped home for a few days and caught up on art and office work then traveled to Idaho Falls and spoke to the Snake River Cutthroats Fly Fishing Club.  This week finds Granny and I in New England.  We've been hanging out at the folks place in Wolfeboro, New Hampshire since Tuesday but today head down to the Marlboro, Massachusetts Fly Fishing Show.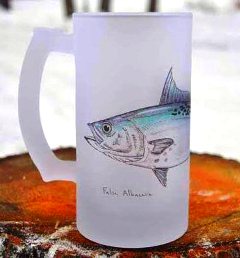 As always, expect to find me doing art amongst the fly tiers.  Bring along your Cliff Fly Box or anything for that matter and hopefully I'll have time to draw you up the fish of your choice with my sharpies.  No matter what, stop by and say hello and check out some of my new stuff.  What I mean is I have a bunch of new products including frosted beer glasses and stainless travel mugs with my fish on them.  As always I have limited supply because of flight travel.  If you're after a striper, bluefish, false albacore or the new Atlantic Salmon drop me a note and I'll hang on to one for you.
 I'll be giving presentations this weekend as well.  Here's my schedule:
Friday – 3:00 – "Fly Fishing Saltwater – Bonefish to Billfish"
 Saturday – 1:00 – "Warmwater Fly Fishing – Bass, Pike, Carp and More"
 Hope to see you there!