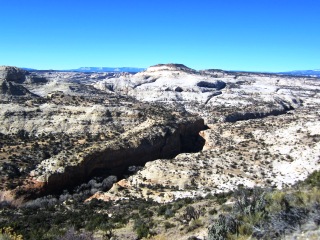 Granny and I were headed for Utah over the weekend.  Instead we spent the weekend shoveling 17" of snow off the driveway.  First it was the brutal cold now the snow.  It's too dang early for this in my book.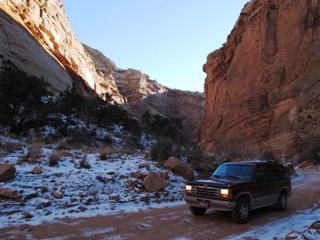 The answer to such brutal weather is head south.  Starting Monday afternoon Granny and I drove to Torrey, Utah and slept a cold night in the back of the Explorer.  Then Tuesday we continued down to Escalante, Utah and took the Hole-in-the-Rock road, 26 miles of dirt, deep into the desert and made camp at Dry Fork Slots.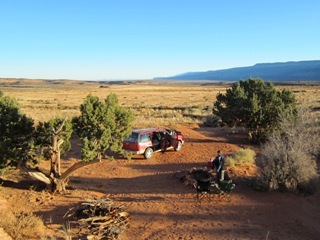 Our camp was likely the most desolate we've experienced in years.  The place was spectacular but you definitely don't want to breakdown out there.  We lit a huge fire and grilled up some dinner and enjoyed a bottle of red.  The night was freezing cold in the Explorer once again.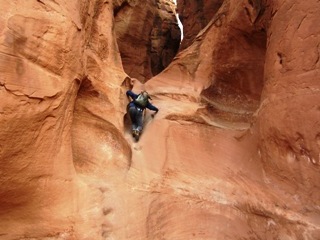 Today we hiked a couple well known slot canyons.  Until today, I never knew what a slot canyon was.  This was totally Granny's idea.  All I can say is they are really cool climb/hike/scrambles through deep dark narrow canyons that you better not do if you're at all claustrophobic.  We climbed up one called Peek-A-Boo then bushwhacked across the desert and entered the top of another called Spooky and descended down it to the end.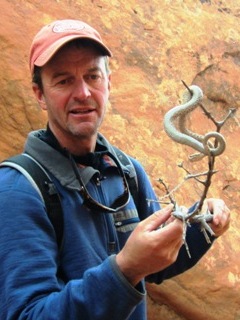 You should also avoid slot canyons if you dislike rattlesnakes and black widows (probably scorpions as well but that's the one thing we didn't see).  I was squeezing myself through a tight hole and just where I was about to land my right foot was a baby rattler.  I pulled back just in time and once I caught my breath realized I needed to move him before some other hikers weren't as lucky as me.  I finagled my way around him while Granny kept an eye and waited.  I went all the way out of Peek-A-Boo and found a stick then came back in and caught the rattler and moved him out.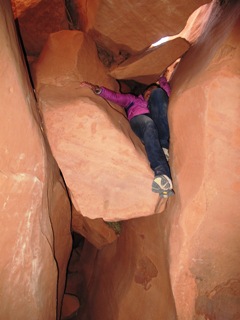 And yea there was a black widow and the slot canyons were wild.  We slipped through some tight places, dropped down into darkness more than once.  Slot canyons are definitely an experience and the ones we did today are considered excellent.  There were some crazy tight holes we climbed through.  We had to leap off a ledge and drop down ten feet or so.  I got stuck because my backpack was on.  The day was a wild one and we didn't even fish!
After catching the sunset in Bryce Canyon National Park, we ended the day an hour ago here in Kanab, Utah nearly in disaster.  During our last fifteen miles tonight there were mule deer all over the road.  After two close calls I dropped to 35mph.  An on coming car hit a large buck.  The deer flew high in the air up over our car and landed inches behind.  Had it landed on us we'd of been screwed.  The car that hit the deer disintegrated and pieces of grill, bumper and windshield sprinkled down all over our car.  The end result another driver extremely distressed over his totaled vehicle, a few dings on my car and a new crack in the windshield and a dying deer in the road.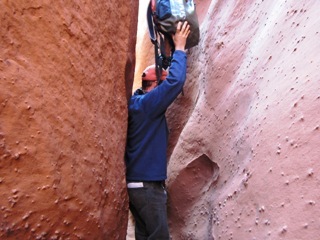 It's been a long exciting day – mostly good.  The cold weather is hard to bear camping so we're heading for Arizona in the morning.  I see some grass carping in our future.
Jeff Currier Global Fly Fishing