June 3, 2013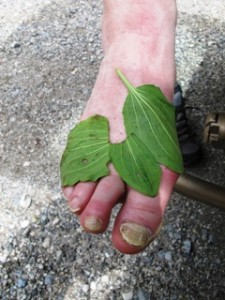 Vladi woke up to a terrible blister on his foot from his wading shoes.  We definitely walked our butts off yesterday on the Kupa River in Croatia.  Unfortunately the blister was so bad he could hardly walk and putting his wading shoe on was impossible.  Vladi gathered some special leaves from the forest, wrapped them around his blister and decided to rest the foot.  With only me fishing I thought it was a good idea to go to the Reka Baču, the river I fished on for a few hours on Day 1.  Only today we went to its upper reaches where the river is so tiny only one person can fish at a time anyway.
The main reason for my idea was because the upper Reka Baču has one of the best concentrations of true marble trout (Salmo marmoratus).  Word is they are small here but who cares, I came here to play with marble trout and before today I'd only caught two.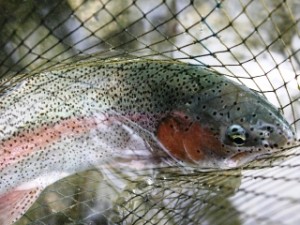 At first glance it was amazing how much the Reka Baču has dropped.  It still rains every day but just short storms and light showers – nothing like the torrential rains we saw the first days.  I'd say the river was at least a foot lower today.  In fact it was so low that we stopped and looked at the lower stretches and sure enough I spotted two nice rainbows rising to some type of mayfly.  They were a tough cast with all the overhanging bushes and trees but I put the "Currier Euro crawl" on them and got them both with a 10 foot long upstream cast.  Each were a respectable 17 inches plus.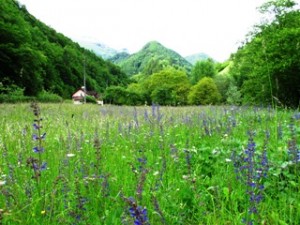 I'm sure I could have hunted down more nice bows, but again, rainbows are not what I'm here for.  Vladi and I proceeded upstream.  We crossed over several mountains and passed through some amazing little villages.  Every hillside has a neat little church on top and the wild flowers add marvelous color to each meadow.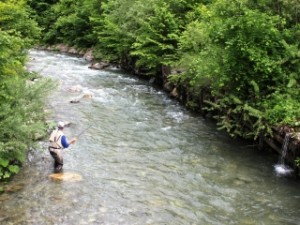 I spent the rest of the day wading upstream fishing a parachute Adams.  There wasn't an inch of good looking water that my fly didn't cover over a distance of three or so miles.  Usually I was prospecting blind but there were many risers as well.  I caught about twenty or so small brown trout, hybrid brown/marble trout and pure marbles.  After four days of challenging fishing today was a real delight.
Here's a gorgeous baby marble trout (Salmo marmoratus).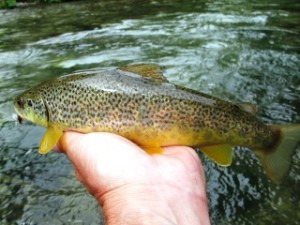 And a uniquely patterned brown trout – perhaps some marble trout ancestry.