The Crossing to St Brandon's Atoll of Mauritius
Categories: Uncategorized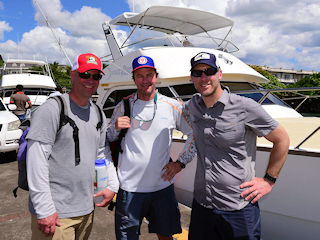 This saltwater fly fishing adventure began today.  To remind everyone, I'm with friends from back home, Scott Smith and Ben Smith, on a fishing trip to St Brandon's Atoll in the southern Indian Ocean.  St Brandon's belongs to the country of Mauritius which is a small island nation east of Madagascar.  St Brandon's is quickly being recognized as the worlds top bonefish destination and home to one of the largest populations of Indo-Pacific permit (yellow permit) in the world.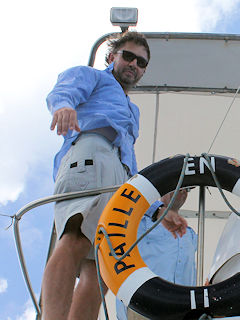 St Brandon's is a FlyCastaway destination and this adventure wouldn't be possible without my South African friends.  If you follow the blog you met several of my FlyCastaway friends when I was fishing in South Africa back in November.  My main host and friend of that excursion was Gerhard Laubscher and he's with us this trip as well.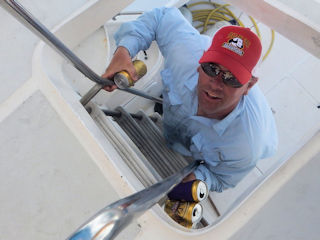 St Brandon's is a destination available to everyone and we book it at Yellow Dog Flyfishing Adventures.  There's a catch to every trip to St Brandon's however.  That's getting from main island Mauritius to this beautiful atoll.  After two days flying to Mauritius from the US, there's another 28 hours by boat to get from the main island of Mauritius to St. Brandon's Atoll.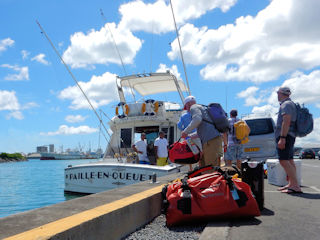 28 hours on a boat may not sound like a big deal.  A boat.  Vacation. Ocean blue.  How nice!  But I promise you, crossing a 280-mile chunk of open ocean in a 50-foot sport fishing boat is far from fun.  The crossing went like this.
April 10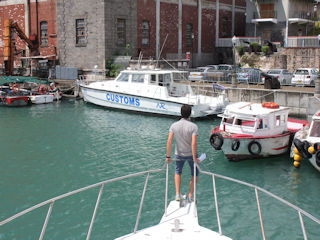 We left the Address Boutique Hotel at 9:30 AM by taxi to the Caudan Waterfront in Port Louis to meet Gerhard and other members of our group.  When we arrived two 50-foot Sport Fishers were docking to load our tackle and supplies for a week's visit to St. Brandon's Atoll.  We were planning on leaving the dock at 11:30 AM, but, like so often in foreign countries, clocks tick at a different beat.  There was waiting for fuel, paperwork, supplies and customs to deal with.  We left for St. Brandon's at exactly 1 PM.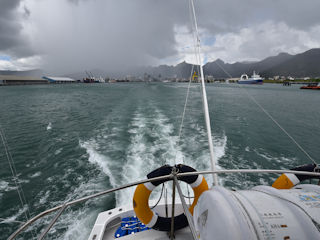 The ocean was beautiful and flat as we left the shores of mainland Mauritius.  There was actually some light rain to cool us off.  The port city of Port Louis has plenty going on with boats and buildings.  It was nice to say so long.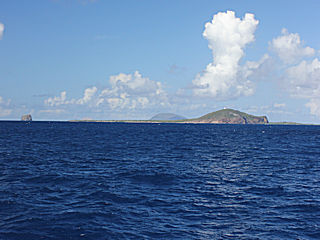 Once at sea, all you see is a stunning landscape of beaches and villages with lush green and mountains for a back drop.  As we broke away from the mainland we passed a few massive rock islands.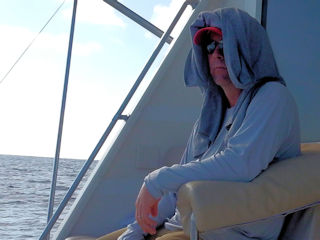 We were four hours into our long boat ride before the last glimpse of land disappeared.  Then things got lonely.  And hot.  Ben sunburns easily but with temps too hot in the cabin he had to sit outside and be creative with covering up.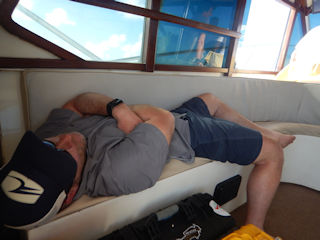 The Indian Ocean remained pleasant but keep in mind you're still on a boat in open ocean.  Even gentle rolling waves force you to hang on and the constant rocking can get to you.  If it doesn't make you seasick you fall asleep.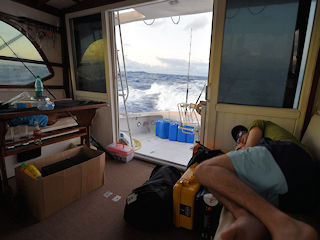 I don't get seasick thank god.  Gerhard brought one of his employees, Keegan, to do some filming and he came close to barfing over the side.  Fortunately, he was able to regain his seaworthiness and sort himself out before puking.  He too went into a deep sleep.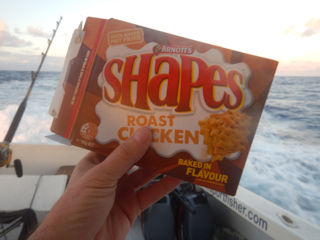 In case you get seasick or fear seasickness you should know there are some tricks.  What helps me if I feel queasy is salt.  I love peanuts, chips or crackers.  If this doesn't do the trick there are drugs for seasickness.  Look into Dramamine, a popular over the counter drug.  Ben, Scott and Keegan all said Dramamine made the difference for them.
Once lands gone there's nothing.  You might catch a glimpse of a flying fish spooking from the boat but soon we were too far from shore for the peculiar baitfish.  The open ocean isn't much different than that of a desert and no matter who you are boredom takes over.
There's only so much conversation to be had even with the best of friends.  As the afternoon passed we ate sandwiches and sipped a beer each from up on the bridge until early in the evening.  But we were clock watching as the sun was setting.  To me it seemed like we'd been on the boat for days.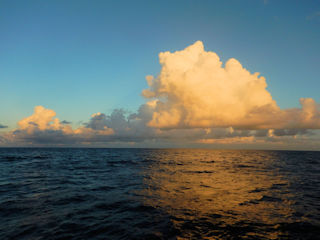 The sound of the diesel engine and the slapping waves became monotonous.  The seas were just large enough that I couldn't work on my computer or read a book.  I simply stared at the clouds and daydreamed about our upcoming fishing.
At 7 PM it was officially dark.  I thought about going to bed but I was afraid I'd be up by midnight and further bored out of my mind.  I forced myself through another very tedious two hours before climbing down below the deck to a bunk.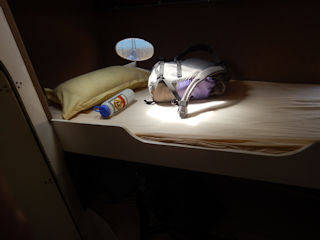 In the bunk the sound of waves slapping the hull is far louder than anything heard during the day.  You even get tossed around in your bed.  I was lucky and the ocean put me to sleep.
Even though I tried to avoid it, I woke up for the first time around midnight.  Rather than suffer being awake I popped half a sleeping pill which pushed me deeper into the night.  The next time I woke up was 5 AM.  It was still dark so I lay there in my bunk.  Would we ever get there I thought to myself.
April 11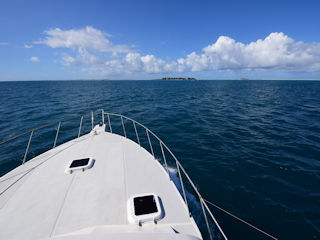 At 7 AM I returned to the bridge for sunrise.  The captain said we were lucky to have such gentle seas overnight.  This being said, I promise you after 18 hours on the boat small waves or big waves, it didn't matter.  The crossing was getting old.  We muscled through another four hours then finally St. Brandon's Atoll came into view.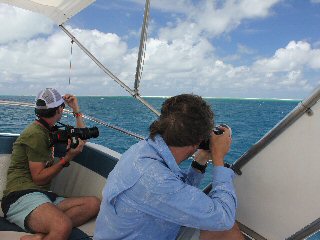 Setting eyes on St Brandon's brought us new life.  We were going to be on the ground soon.  But even after the first view of St Brandon's came we traveled another four hours to the north end of the St Brandon's Atoll where we settled on Rafael Island and where the FlyCastaway Lodge is built.  These last four hours nearly killed me!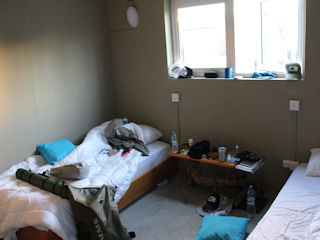 We anchored the Sport fishers then got shuttled to shore by the guides on small boats.  After the traditional welcome drinks and an orientation Scott and I tossed our crap in our room and dove into our tackle.  It was time set up some rods with hopes of an afternoon walk on a nearby flat.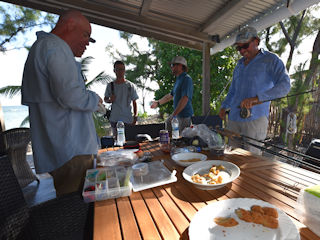 The truth of the matter is that we arrived at Rafael Island at 3 PM.  By the time we were settled it was 5 PM and we'd run out of fishing time.  Most of us still made a walk around the island.  I enjoyed the walk for the sunset as much as the fishing.  I actually got a cast to a permit which makes me confident to reaching this week's goal.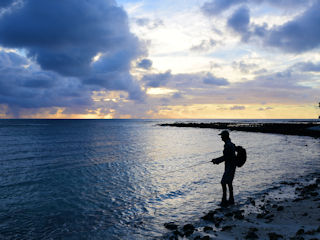 That's it for now.  I'm exhausted and dying to get a good night's rest before fishing tomorrow.  We'll have seven straight days to enjoy.  Stay tuned!
Although this may seem like an unobtainable adventure – actually its obtainable.  Feel free to Contact Me and you can book this incredible trip to St Brandon's with us at Yellow Dog Flyfishing Adventures.