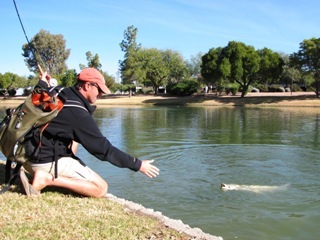 After the car ordeal Friday, Granny and I bee lined for our friends Cinda Howard and Steve Berry's house down near Phoenix.   They have a nice place in Mesa with a comfy guest room, even nicer than the back of our Explorer.  Each morning we sipped coffee on their back porch watching humming birds work the flowers and quail clean up under the birdfeeders.  It's warm like spring down here in Phoenix.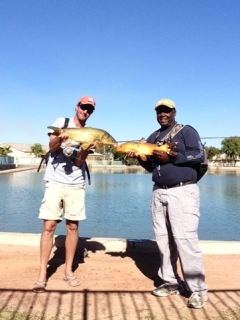 We're visiting so we can chase the carp of Phoenix.  I've been fly fishing for carp down here annually for more than ten years.  I met Cinda and Steve back on that first trip when I was speaking at one of the Sportsmen's Shows.  It took us a lot of years to get the fish dialed, but indeed we have it figured out these days.  In fact Cinda has it so dialed she's a guide for them and if you ever want to fish here you can contact her at Arizona Fly Fishing.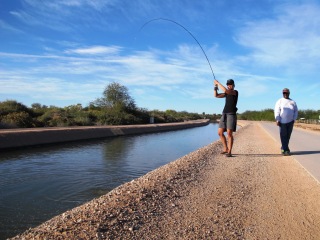 We fished hard for three days and now Granny and I are working our way back to Victor.  This will be a rare photo blog with little text as I'm limited on time.  As mentioned in the last blog, I'm unexpectedly bound for the Seychelles to do an emergency trip hosting job.  The Seychelles will be the full on blogging and should be unreal!
Fly fishing for talapia.  These African Bream don't come easy on the fly!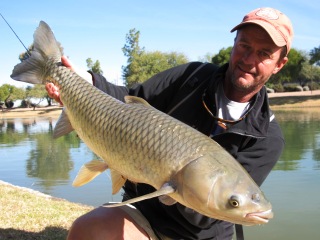 One of my all time favorite things, fly fishing for grass carp (white Amur)!  This is a nice one on my 4-weight Winston with an olive grass hopper.