Locked out of Flat Creek – You're Kidding?
Categories: Uncategorized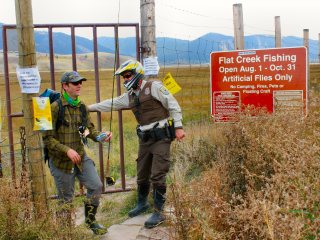 I had errands to do in Jackson today so I figured to throw in a few hours of photography on Flat Creek on the National Elk Refuge.  I badly need some rising fish photos and thought I'd creep through the tall grass and get a few shots from close range.  I invited a couple friends because perhaps I'd get real lucky and get a shot of an enormous cutty eating their fly.  Well guess what, we got kicked off the Refuge because of the Government shutdown!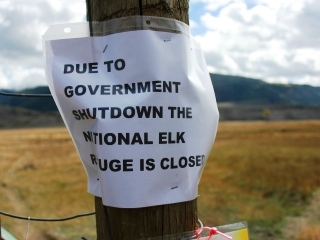 I don't watch the news.  I don't care to keep up with shopping mall shootings or the latest junk show in Washington.  News is simply depressing.  Well today Washington's latest junk show and depressing news hit home.  We've been locked out of three of our nearby incredible fall fisheries; Flat Creek (National Elk Refuge), Jenny Lake (Grand Teton National Park) and all of Yellowstone National Park.
Idiots!  You got to be kidding me!