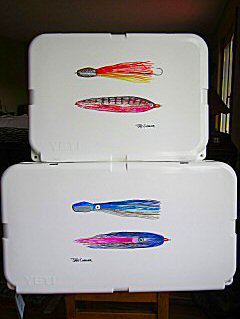 It's been nice being home.  I've filled my time with bike rides, hikes, trips to the pub with friends and catching up on work.  I've also been doing a spring cleanup like never before.  Granny and I will be having a Yard Sale on Saturday April 23.  No doubt, I've accumulated some great stuff from tackle to camping gear.  Just a reminder, I ran a fly shop in a top outdoor store for 23 years.  And Granny still works around high-end kitchen supplies.  If you're around the sale will be well worth a stop.  If not, feel free to Contact me to arrange a viewing beforehand or see what we have.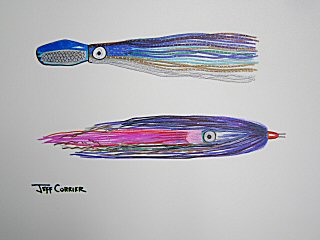 One of the coolest things that happened the last two weeks is I joined the Yeti Ambassador Team.  I've been using Yeti coolers for years and can honestly say there's not a cooler near in comparison.  Coincidentally, I was asked by a friend to decorate a couple coolers with some billfish flies and teasers.  Adds a little color if I do say so myself!
Next on the agenda, a trip to Kentucky to visit some friends, fish and enjoy Keeneland!  (See Kentucky 2013).