"Monsoon Currier" Strikes – Stuck in Kuujjuaq
Categories: Uncategorized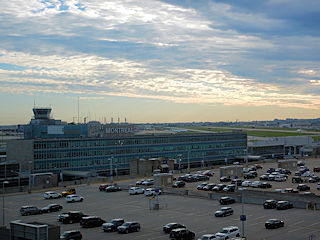 It didn't matter that I was on Idaho time.  I slept lightly in my Montreal Airport hotel and got out of bed at 5:40 AM well before my wakeup call.  I took one last look at email and set my Fantasy Baseball team for the week then broke down shop.  I was as excited for this trip to Inukshuk Lodge.  Perhaps more excited than normal because Nunavik is such a unique area on earth.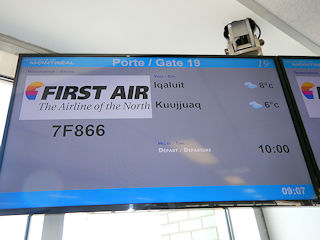 Lots of warm clothes are required for this adventure so I have two large Simms bags with not just one, but two pairs of waders.  At this point in my life I do not like to be cold so if I fall in this week I'll have a dry back up set.  I checked in at the First Air counter then after a god-awful Burger King breakfast (who knows when my next meal will be) I meandered through security and found gate 19 to Kuujjuaq.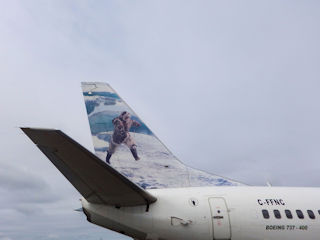 The flight from Montreal to Kuujjuaq takes 2 hours 20 minutes.  The plane was a comfortable 737-400C with an Eskimo jumping on the ice painted on the tail.  We entered from the tarmac through the back of the plane.  I took a window seat in the emergency row hoping for some good views.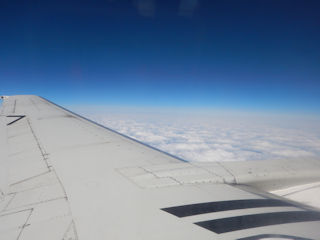 There were a few views but it was mostly clouds all the way.  From what I saw, you don't have to go too far north of Montreal before hitting beautiful wilderness.  As we got close to Kuujjuaq I noticed the forest slowly giving way to tundra.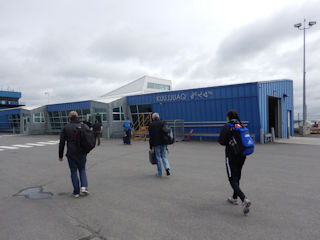 It was a bumpy landing into Kuujjuaq.  The clouds were thick.  The wind was howling and when we touched down the temperature was 45°.  It was cold but not cold enough for me to start digging for my jacket.
Getting our luggage was the usual foreign country chaos.  The locals were excited to be home and there are a few adventure tourists anxious to get their bags and run.  My two honker bags came out towards the end and it was a relief to see them.  Bag shouldn't get lost in one flight with no stops but travel can be cruel sometimes.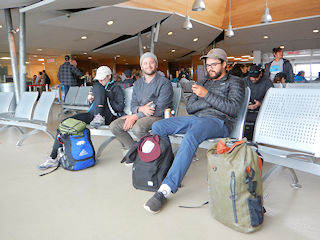 There's three others on my flight this morning that are going to Inukshuk Lodge; Paul Ostiguy's daughter, Marissa and Jerome Charest and David Tremblay of Wildcats Fly Fishing.  Marissa is only 19 and simply going up to have fun fishing with dad and help organize things at the lodge.  The Wildcats Fly Fishing boys are filming a TV show for Wildcats Fly Fishing and promotional video for the lodge.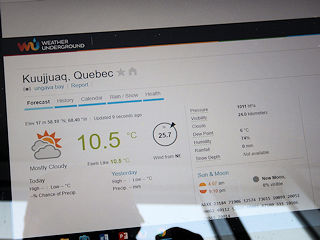 Little did my new friends know – but they just joined a journey with "Monsoon Currier".  Once to Kuujjuaq we were supposed to immediately board a Twin Otter for a 1-hour flight to the Lodge.  But wouldn't you know, there is a storm between Kuujjuaq and the lodge and we can't fly right now.  So far, we've been sitting here about four hours waiting.  Long enough that I wrote this July 23 AM blog and able to post it with barely enough internet!
That's the update.  Hopefully there won't be another blog until after the trip.  which will mean the weather cleared and we flew to Inukshuk Lodge and the day by day accounts will come starting on the 31st.  CROSSING MY FINGERS!  Or in about 20 hours you'll have a full tour of the Inuit village of Kuujjuaq.
Once again, travel can be a challenge but when you go "off the grid" you take a deep breath, relax and deal.  The rewards following great patience are usually worth it all!
A special thanks to my friend Paul Ostiguy, the proud owner of McKenzie River Lodge in Labrador and Inukshuk Lodge, here in Nunavik, for making this trip possible!
Jeff Currier Global Fly Fishing