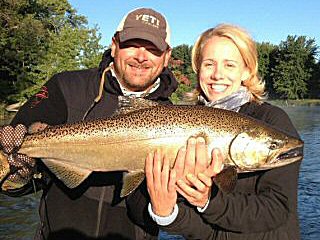 Dave Barkman and his wife Amy started D-Loop Outfitters in 2012 based in the heart of Michigan's Manistee National Forest.  Their business includes the comfortable lodging we've used the last few days, a fully stocked fly shop and a guide service permitted to guide the waters and forests of the area.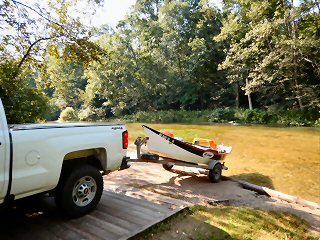 Dave guided this area many years before D-Loop became his own business.  Terry Wittorp has known Dave since his early guiding days and they've become excellent friends.  Today Dave took the day off to take us fishing down one of Michigan's treasured trout waters, the Pine River.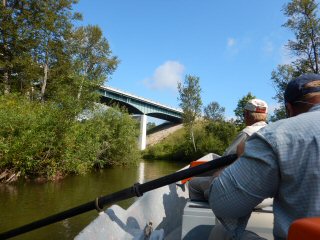 Originally the Pine River was a tributary to the Manistee River where we've been smallmouth bass fishing the last two days.  Now a reservoir separates the two.  Above the reservoir the Pine River is considered a top trout fishery.  We launched Dave's drift boat around 10 AM and pushed off and drifted under the highway.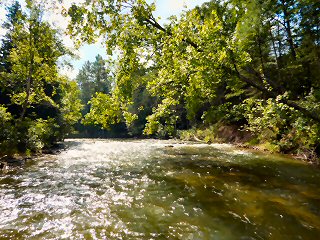 It's truly a spectacular little river.  Where we started was scarcely wide enough to maneuver the drift boat and there was barely enough room for a back cast.  Most of this upper river gets fished by wade fishers and casual kayakers and canoers with spin rods and lures.  Gradually the Pine widens enough to dig the oars and hold a boat.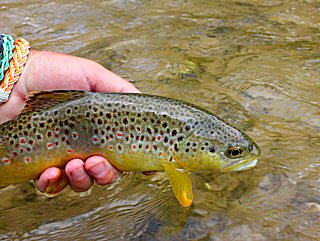 Dave told us before we even left for the river, "The Pine is either on or it's not.  There's no in between."  Well, wouldn't you know, we hit the Pine when it was off.  Other than one small rainbow and a few of these colorful little brownies our trout fishing wasn't happening.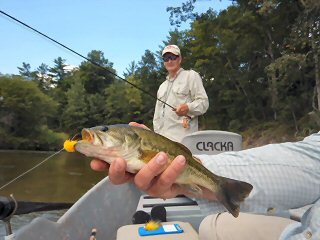 But when I'm fishing, every outing brings a little of the unexpected.  First of all, Terry caught a largemouth bass.  Dave has never caught a largemouth on the trout fishing section of the Pine.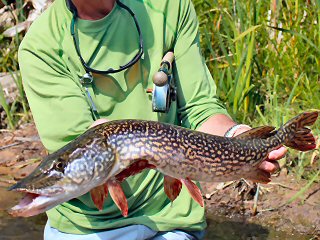 The next odd occurrence, Dave sees about one pike a year on this section.  Sure enough, I tossed into the perfect brown trout lie only to stick a pike.  With no steel leader this was like yesterday, try to gently lead the toothy critter into the net before he knows he's hooked.  We succeeded and this turned out to be one of the prettiest northern pike I can recall.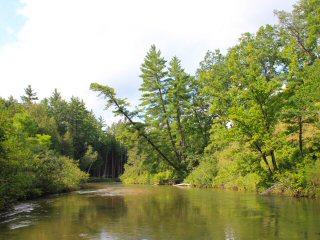 The fishing my not have been great but it was another fabulous day.  There's certain places I fish on this earth that I know I'll return to – the Pine River is one of them.  Not only is this river one of the most beautiful but I can see the potential for some huge wild brown trout.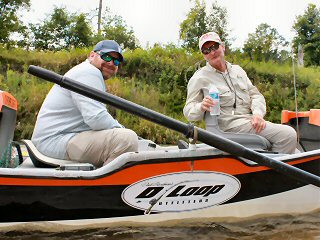 It's been a wonderful four days here in the Midwest.  A very special thanks to Terry Wittorp who made this all happen.  Now it's time to head home and hunker down for the long awaited solar eclipse.