Confluence Films Presents – "Waypoints"
Categories: Uncategorized

Although I'll be in Tanzania at the exact location Confluence Films filmed me tigerfishing in the movie "Connect", I'll be throughout fishing communities in spirit on November 8th.  Confluence is about to premiere their next incredible movie, "Waypoints".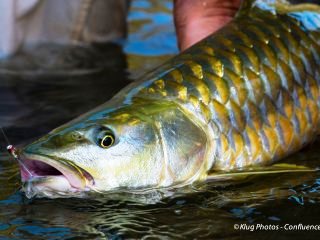 On November 8th "Waypoints" will show at various locations worldwide.  All ticket sales on premiere night go towards selected fish conservation projects.  "Waypoints" features five spectacular fly fishing locations; St. Brandon's Atoll, Alaska, Venezuela, Chile and my friend Misty Dhillon and I fly fishing for mahseer in India.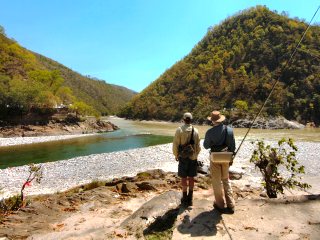 You may remember the blog when I visited Misty, owner of the Himalayan Outback and one of the most knowledgeable anglers in the world on the magnificent golden mahseer.  We floated and waded more than 100 miles of the mighty Mahakali River in the heart of the Lower Himalaya in search of a true monster mahseer.  And during every minute of the journey, cinematographer Chris Patterson and director/photographer Jim Klug kept the cameras rolling.
Both Chris and Jim feel that this is their best film yet.  I can't imagine topping their previous films.  Each one has left even the adventure angler like me drooling for more.  To learn if "Waypoints" premieres near you visit Confluence Film Tour.  And if the pictures alone don't excite you, here's the trailer –  Waypoints.

Enjoy!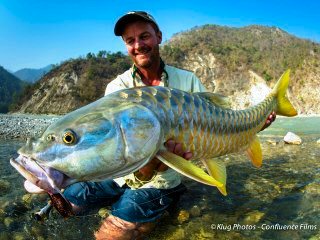 (To get a copy of "Waypoints" you can order from the Confluence Films website or CONTACT ME when I return from Africa on November 18th)