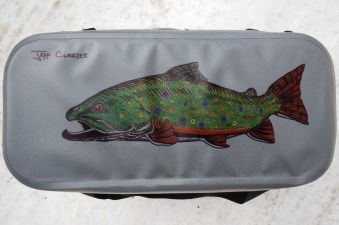 The Somerset, New Jersey Fly Fishing Show was another dandy.  The aisles were jam packed with excitement and I kept busy from opening on Friday till closing time on Sunday.  I picked up a horrendous crud that took the life out of me by mid day Saturday.  Too many handshakes I guess at previous shows – it was bound to happen.  I grit through it kicked out my seminars and decorated more than a dozen Cliff Boxes, computer cases, Patagonia Boat Bags and even a few phone covers.  I never stopped.
Now that the East Tour is over I'm dead to the world.  The crud is brutal and today was time to fight it with the heavy stuff.  It doesn't help that there's another arctic cold front here in New Hampshire.  To make it more fun, Granny and I are heading back to Idaho in the morning and it sounds like will be facing a good snowstorm back home.  I hope we get in.
I don't have another show until mid February however I'll keep busy.  Next Wednesday night, February 5th I'll be the guest on Ask About Fly Fishing Internet Radio.  I'll be talking golden dorado and my recent trip down to Bolivia.  The very next morning I'll head for the Northwood's of Manitowish Waters, Wisconsin for four days of hardwater fishing for pike, walleye, perch, black crappie, bluegill and whatever else takes the jigs.  I absolutely can't wait for the little mid tour vacation!
Expect a full report with photos from the ice – the first fishing reports of 2014!