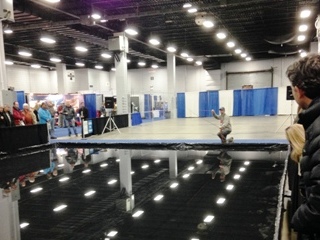 For the first time in years we had near perfect weather for the Marlboro Fly Fishing Show.  Indeed it was cold but no snow and therefore no reason for New England fly fishers to stay off the roads.  And yes, the show was excellent.
I had a blast catching up with old friends.  Many were industry folks but I saw a lot of friends from Boston Fly Casters (A top club where I've spoken many times) and even some high school pals.  One was one of my best friends from high school, Carl Close, whom I had not seen in 29 years!
All my seminars went well and I'm presently relaxing up in Wolfeboro, NH at my folk's house hanging with family.  Thursday it's to the biggest show of the year, the Somerset Fly Fishing Show that takes place Friday – Sunday.  I hope to see many of you there!