Flyfishing for Chinook Salmon on the Nestucca River
Categories: Uncategorized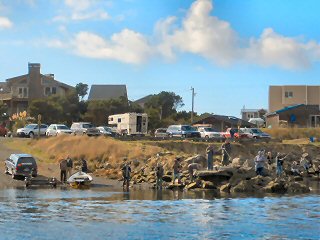 There were no secrets to today's fishing with Mike here on the Oregon Coast.  We fished for Chinook salmon right in front of the Pacific City town boat ramp on the Nestucca River.  Although the day started with a few rain showers it turned into a beautiful day.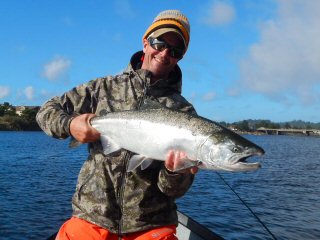 The salmon were there thick.  Big fish boiled and splashed and jumped up and down the middle of the Nestucca River.  The shoreline was covered with lure chucker's and bobber fishermen while all the boats had fly fishers.  For the amount of lines in the water few fish were caught.  But Mike and I did a good job of keeping tight.
We started strong.  I was moving slow after the epic game 5 Cubs series victory last night but such pain doesn't keep my line out of the water.  In the first hour we hooked three salmon and each landed one. The one escaped only because Mike got his running line tangled.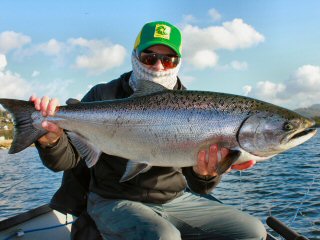 We caught five Chinook salmon today.  They were all nice fish and all put up amazing fights.  That being said, my 9-weight Jungle Rod does a heck of a job on any fish and although it came close, I still haven't seen my backing.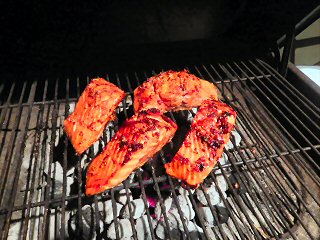 Lucky for us, one of the Chinooks we caught was a hatchery fish.  We romped him and tonight Mike took a hefty piece to the grill at our house.  I'm as stuffed with fresh salmon as I've ever been in my life.
With the Holidays coming, keep in mind that I sell great gifts for the fly fishers that have everything.  Visit my store where you can buy online both my fish art coffee mugs and beer steins.  And a friend and I are building a decal biz.  We don't have many available yet but you can order what we presently have on Amazon.  We would greatly appreciate some reviews to help us get this gig going!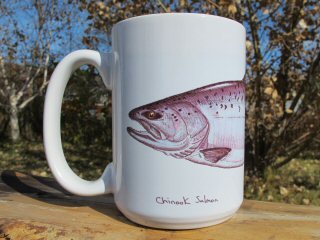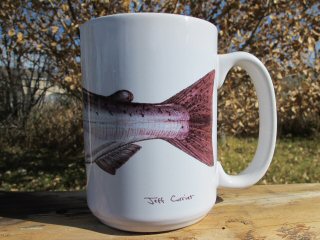 One more day of Chinook fishing starts tomorrow!