November 6, 2010

It's always nice to wake up fully intact after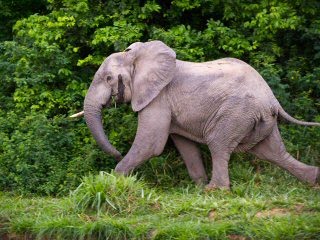 a nights camping in Africa. It was a baboon spider free night and quite honestly one of the soundest sleeps I've had in a long time. But deep inside I thought I heard some commotion in the wee hours. Sure enough, I did. The South Africans got attacked by army ants! I wouldn't have even known what to do. Actually they just ran from their tent swiping the biting ants from their bodies and ended up sleeping down by the beach without a tent. It was their only choice and I guess I'd of done the same.


As always, we were up at 4:45 am this time driving across the bush back to the Mnyera River. We stopped for some sunrise photos then proceeded through the tsetse fly infested forest. From there we crossed the Mnyera on the ferry and moved back into our original camp. We've still yet to film what the South Africans consider a big fish so after a quick breakfast we headed upstream to some new water in the hunt for a big tiger.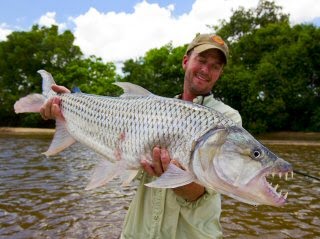 The only thing Chris could use to spice up this film segment is more wildlife. In fact we quit fishing early today just to do a wildlife drive at sunset. Fortunately along the way to the fishing spot this morning we ran into elephants, hippos and crocodiles. Chris got some great footage and it took off the pressure to find animals tonight. Once we started fishing I noticed a big difference from days before, the tigers were eating with vengeance. What I mean is almost
every strike I got ended up with a hooked tiger. The tigers weren't just striking and getting off but they were hammering the fly and getting hooked. I wasn't the only one to notice either. Keith was quick to point out the fact that the wind was gone and now the tigerfishing was improving. Boy was he right. Every time my fly landed in a good looking spot I caught a fish. I knew a big one was coming soon and sure enough I strip set into a new personal record – a 15lb tiger. It is amazing the difference between a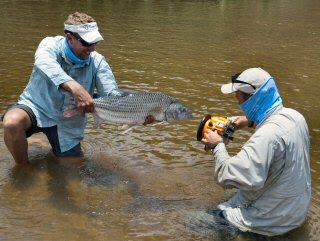 12lber and a 15lber. This fish had tremendous girth and Chris filmed the fish at every angle imaginable. Then Klug and Harris stepped in and took some fabulous still photos. Then Chris got out the underwater camera and filmed me releasing the giant tiger back to the river.

At that point we made an already great movie segment even better and it was all high fives. I was in awe. While I was preparing for this trip weeks ago in remote
Victor, Idaho I never would have dreamt of catching such a huge tigerfish on film. Meanwhile, Leonard was in croc danger while casting off a drop-off and he too connected to a large fish. Keith whom was helping us film my tigerfish screamed at Leonard for his carelessness. Fortunately all was good and Leonard retreated from the edge and remained hooked up to his hefty tigerfish. This tiger looked like the twin to my tiger and once again Chris, Klug and Harris went to work.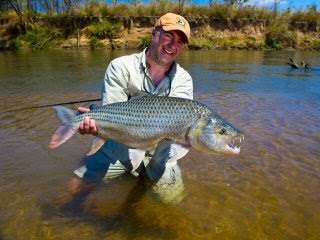 These two big fish were the icing on the cake. So much so that Klug actually put away his camera and started fishing for the first time all week. And yes he hooked up. Klug landed the biggest fish of the week, a 16lber!
Klug is not in the film so after few pictures of him with his tigerfish of a lifetime, Rob took over and Chris filmed yet another beast of a tigerfish. Man do these big tigers
have some teeth! When I was holding my big tiger I was in such la-la land that I didn't even admire the teeth. They are just plain serious! For the first time all week the South Africans were finally at peace, the big fish were eating.
Unfortunately it was time to head on out. We bolted downstream and back to camp and loaded up on the safari vehicle for a trip to the bush in search of some wildlife. Along with us was Masai warrior Michael, the guy that watches over camp at night. Michael was born in the bush and a great guy to have along when searching for African wildlife. We drove a four wheel track for at least ten miles but other than numerous pukus and waterbuck, the wildlife viewing was extremely slow. Even the elephants were somewhere
hiding.
The highlight however was Michael. Michael was a great model for photos and showed us some of the Masai traditions. He doesn't speak much English but it was really fun hanging out with him. Michael went as far as to loan me his club of which I gave some elephant crap a good ride. Then he gave me a lesson on the Masai high jump dancing. That guy can jump! Dare I say another great day in Africa!
Special Note – Because I am in the Confluence Film I will be very limited on taking my own pictures. A special thanks to Jim Klug, Jim Harris and Chris Patterson for providing most of what you see on the blog for this Africa trip.