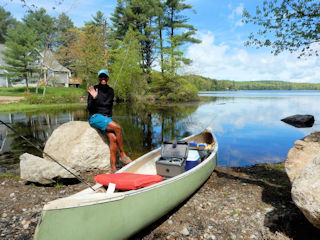 Granny and I have another lake near Wolfeboro, NH we like to fish that has some pretty dang nice largemouth bass.  We must load the canoe in my dad's old pick up to fish here.  Unfortunately, the truck won't start without being jumped.  I jumped it at mom's house then the deal was that when we finished fishing we'd call and she'd drive to the lake to jump us again to get home.  That's a cool mom if you ask me.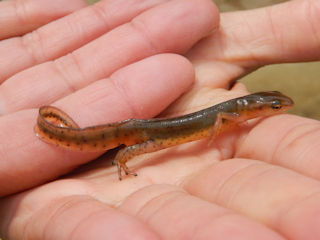 It's wet around NH this spring and our weather looks shaky for the ten days we're here.  That being said today wasn't too bad but the signs of big rains are everywhere.  As we launched the canoe I spotted many of these red-spotted newts in the shallows.
We weren't on the lake more than fifteen minutes when we were attacked by black flies.  While I've seen them much worse they were more than uncomfortable.  I can deal but Granny, like most women was getting hammered far worse than I.  She wanted to leave ASAP but I made a deal with her to fight it out for two hours.  She called my mother for a 2 PM pick up which gave us enough time to try some of my favorite spots.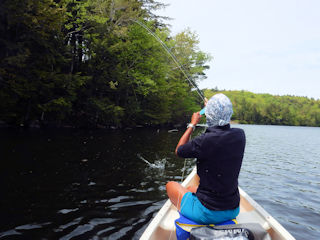 The fishing was slow.  No doubt the cool spring has delayed fishing conditions.  Most of my lily pad areas had none at all indicting it's too cold.  We scraped out only one small largemouth on the popper.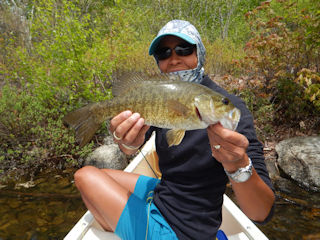 The wind kicked up strong at 1:30 making it hard to control the canoe for fishing.  We didn't mind so much only because it lessened the impact of black flies.  I rarely catch smallmouth bass on this lake but Granny boated this handsome chunk of bronze.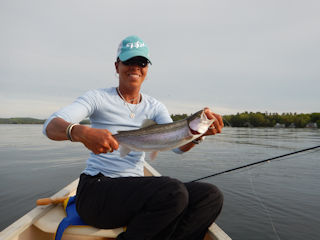 Mom arrived promptly at 2 PM.  We loaded up and returned to camp and relaxed a few hours.  Tonight we took the canoe downtown to meet mom and my sister at Nolan's for dinner.  I had Granny hold my 6-weight Winston and we trolled a flash Kreelex fly for landlocked salmon down deep on my Sonar Uniform Sink fly line.  Granny got rocked and after an insane fight landed this rainbow.  This is the first rainbow trout I've seen caught on Lake Winnipesaukee in my life.  They must be stocking them.
I'll be back on the water with my sister early tomorrow as the weather looks good tomorrow for popping for smallies.  Stay tuned. . . .