Fly Fishing Spruce Creek with Joe Humphreys
Categories: Uncategorized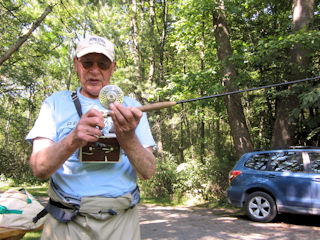 What I admire the most about Joe Humphreys is that after more than 80 years of fly fishing he still gets excited for every new day of it.  I noticed this in Ireland back in June and I noticed it today.  Joe, Jerry Arnold and I were up early and headed straight to breakfast at another of Joes hot spots, the Naked Egg.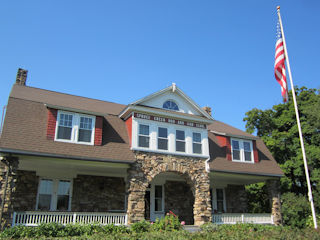 After breakfast it was a beautiful ride through the central Pennsylvania countryside.  Then we arrived at the famous Spruce Creek Rod and Gun Club.  This historic club was founded back in 1904 and is strictly for members only.  Joe has been a part of this place for eons and today treated us to fishing the private water of Spruce Creek itself.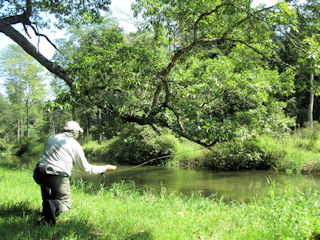 Spruce Creek is small, narrow and absolutely full of brown trout, brook trout and rainbows.  Its clear waters and jungle-like overgrowth make it a challenge to present your fly to the fish.  A drag free drift is a must here therefore pile casts, s casts, steeple casts, reach casts and the list goes on must be in the repertoire.  Oh, and how could I forget – it's also a good place for Joes famous bow & arrow cast!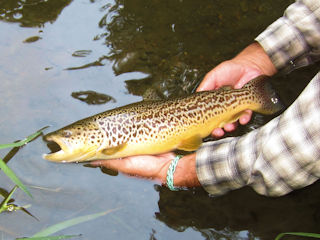 Fishing was no less than terrific for the three of us.  While Jerry ventured upstream on his own Joe and I went down together.  We took turns with each pool.  The river is manicured here like the River Test in England.  While Joe fished I took photos.  When I fished Joe grabbed seat on the provided benches.  This gorgeous brown trout was my best of the day.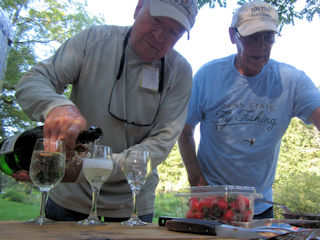 While the fishing was tremendous it was Joes way of celebrating our visit together that will always be the most memorable part of the day.  Rather than fish ourselves into the ground till dark, we rapped it up at around 6.  We didn't leave the river however, we prepared for a picnic dinner.  First in order was to enjoy a bottle of champagne with strawberries and whipped cream with every sip.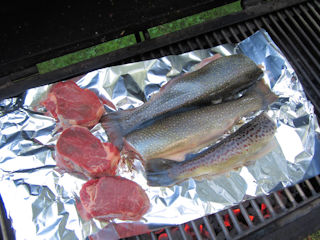 During the day, Joe required that each of us kill a trout of no more than 13".  I know most of my readers are catch and release as am I, but there are times when a fish for dinner is a special treat.  Jerry took a small brown and Joe and I whacked brookies.  I can't tell you how nicely the fresh trout went with our fillets!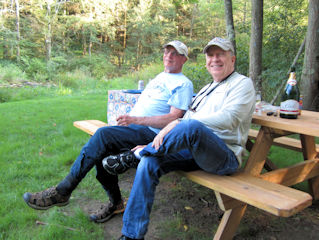 We were three happy guys by the time dinner was done.  The night was so nice we couldn't pack it up and leave.  Instead we relaxed.  The birds settled while the crickets and frogs revved it up.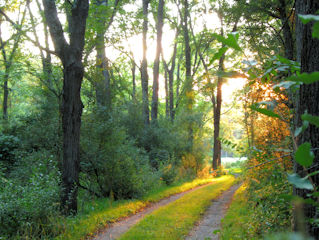 The drive out from Spruce Creek was stunning.  The dirt track along the creek was enchanting with the sunset rays poking through the hardwood forest.  Then there were the herds of whitetail deer.  It was pretty darn nice.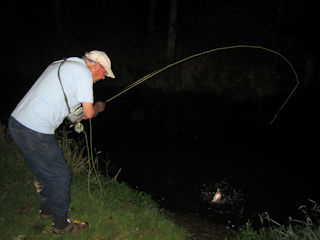 We're spending the night at the Spruce Creek Rod and Gun Club.  I love these kinds of old places.  We sat on the porch for about a half hour and sipped a bottle of red wine in the rocking chairs.  At 9 PM Joe stood up and said, "let's go night fishing".  Night fishing in Pennsylvania is another of the many things Joe is famous for.  In a half hour he landed on big brown trout and two suitable rainbows on one of his special stonefly nymphs.
Stay tuned for tomorrow!