Fly Fishing for Arctic Char in Ungava Bay
Categories: Uncategorized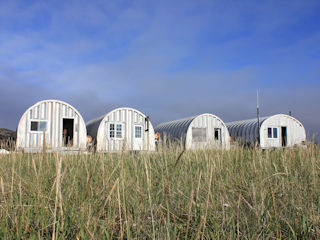 The first high tide of the day wasn't until 11 AM which meant we couldn't get the boats in the water until 9 AM.  Then there was a debate as to whether or not we could stay out all day until the next high tide.  Days are getting shorter in the evening by about ten minutes a day (characteristic of the far north in late July) so we figured we'd need to be in by 10 PM.  That was exactly two hours before the next high tide so it was feasible and we went for it.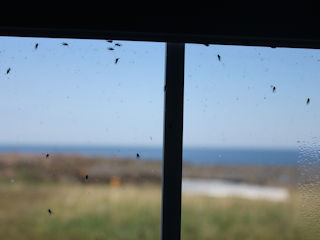 Our day started gorgeous.  Yesterday was mostly sunny but cold.  Today was sunny and warm.  This of course meant masses of black flies and mosquitoes.  The tundra is famous for torturous bug problems and the threat was there the minute I got out of bed starting with the ones that somehow made their way into the cabin.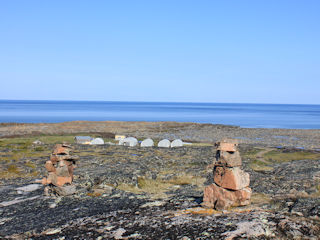 As always, my day started early.  Paul and Ludo are on the same schedule and while Ludo made us breakfast Paul and I made a short hike up behind camp to take a photo.  We spotted my first two Beluga whales right out in front of camp.  If they weren't moving and blowing they'd have passed for icebergs they're so white.  Turns out we weren't the only ones to spot them.  Johnny May and his family were in their boats hunting them within minutes of our sighting.  The Inuit people are serious about their way of life.  Luckily the Belugas escaped.
It was a casual morning around camp waiting for tide to rise enough to launch the boats.  After my first full day of Arctic char fishing I have a better idea of how to attack them than I did 24 hours ago.  I gave my gear a once over to improve my chances.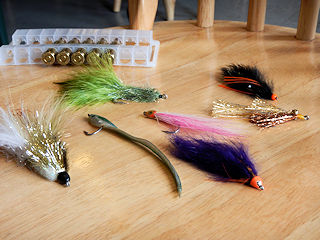 Yesterday I fished my Winston 7-weight all day.  It was great with my SA Sonar Sink 25 Cold 250 gr line that got me down a few feet to where the char seem to hang out.  Today's key was using the right flies from the get go.  I explored with different patterns yesterday but learned that by far the number one color was purple and the second-best fly was the one with lots of flash.  I kept my two fly rig in action with each of these flies.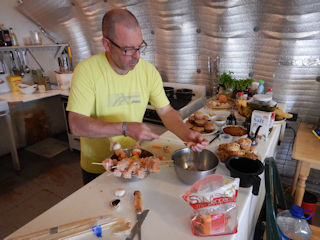 While Burt was my guide again my fishing partner today was Ludo.  I first met Ludovic Vrac at the Somerset, NJ Fly Fishing Show this past January.  I was stoked to actually get a full day fishing together.  Ludo is one of Paul's main staff guys not only here this week at Inukshuk Lodge but Ludo also helps Paul at his McKenzie River Lodge up on Labrador with the giant brook trout.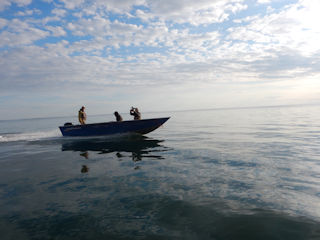 It was a spectacular boat ride.  Ungava Bay was glass like a small New Hampshire lake.  Tropical ocean doesn't get this way often let alone the cold ocean.  Burt went full throttle across the bay while Simon and the Wildcats boys rode side by side to us.
Our first stop was to Ely Island.  Indeed, we wanted to fish here because this is where I landed the double last night.  But first thing at task was to see if the polar bear was still there.  He wasn't.  That meant all eyes on alert.  It's not fun when an apex predator is hiding on you nearby.
Ludo and I cast like machines around Ely for an hour with no luck.  The tide levels were so much different that we couldn't even recognize where we caught the char last night.  I can't explain how drastic the difference between high tide and low tide is in Ungava Bay.  Again, learning and dealing with tides as to where to be for the best fishing will be the ultimate challenge here for Paul and his guides.
Weather conditions were so good we decided to make a long run.  Burt chatted to Johnny May a few days ago about a place to catch rock cod – a nice addition to the Inukshuk Lodge menu if we could get some. Ludo and I were all about it so off we went to a far-out island.
The tide was now dropping and all kinds of rock island came in to play.  We had to keep our eyes wide open not to hit rock.
We weren't exactly sure we found the correct spot when we got there.  It was 60 feet deep and dropped fast according to the fish finder.  I'm not a cod expert but deep water and rocks made sense so off to work we went.  Even Burt fished by dropping a jig all the way to bottom.  I landed a nice char that was suspended down 10 or so feet to kick things off.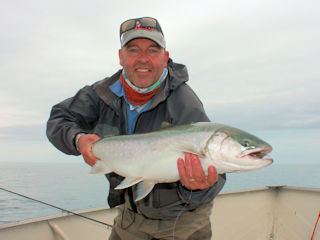 We didn't expect the char out in the deep but they were there.  Ludo followed my char by landing one of his own.  This was a dandy and our biggest so far of the trip.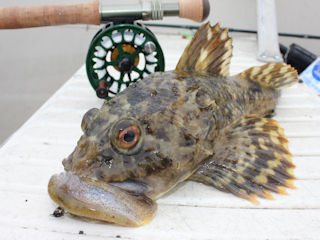 When I fish I stand on one of the seats in the boat so I can see well into the water.  I like to see if anything is following my fly when I bring it in.  I also watch Burt's lure come in and he had a weird fish follow.  Burt mumbled, "Get out of here you damn sculpin".  I figured if Burt doesn't want him I'll try for him – new species for my list, right?  I dropped my fly down.  The fish was gone so I let it sink deep hoping to find him.  I did.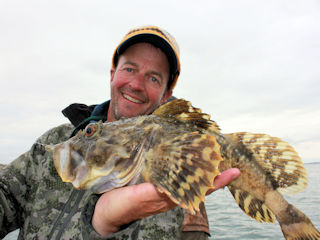 It felt like I had a small trailer tire on for a fight.  I simply lifted and reeled and soon the sculpin came to the surface.  Despite Burt's dislike for this fish, I requested he net it for me so I could photograph him and for sure identify the fish when I get home.  Burt gave me one heck of a shocked look but he netted it and I photographed the heck out of him.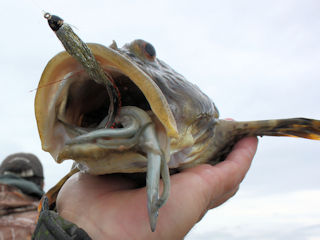 During the photo shoot the fish began to regurgitate his lunch.  He'd been scarfing down sand lances and at least a dozen puked up on the floor of the boat.  I released him in order not to stress him anymore.  The nifty looking fish is either a longhorn sculpin or a shorthorn sculpin.  After some research, I'm going with the shorthorn (Myoxocephalis Scorpius).  This new species is getting me mighty close to the "400 species on fly" mark.
My purple egg sucking bugger continued to be deadly throughout the afternoon.  I picked up a total of four more Arctic char and two of these were on one cast again.  If you add up the "two at a time" char of today the net weight was even heavier than yesterday.  The big fish was this one here that is easily more than 8lbs.  All I can say is Ungava Bay is incredible!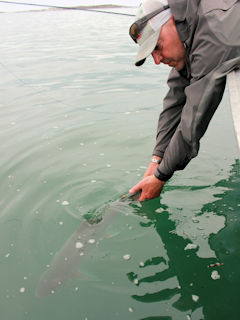 The weather deteriorated in the early evening with cold mist and strong winds.  We would've loved to of gone in around 7 PM but with the low tide we were stuck at sea.  We fished, shivered but had a great time and were able to beach the boats right at dark at 10 PM.  Man were we exhausted.
Simon and the Wildcats boys stayed around Duck and Bird Island all day and also had a good run at the Arctic char.  Here are a few pictures of their excellent day.
Simon and Jerome with a double Arctic char!
Here's the first slightly colored up char we've seen.  He's long but thin.  Perhaps he just arrived in Ungava Bay from freshwater after a long winter and in two weeks he'll be full fat and healthy with a stomach full of sand lances.
Until tomorrow. . . . . . .
A special thanks to my friend Paul Ostiguy the proud owner of McKenzie River Lodge in Labrador and Inukshuk Lodge in Nunavik.