August 3, 2013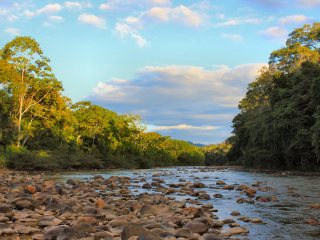 "Never give up" is a motto I've used all my life.  I've used the saying with everything from school, sports and especially in fly fishing.  I've used it many times on this blog when things weren't going well.  May 12th in India was my most recent "never give up" miracle.  Excruciating days upon days of trying to catch a large golden mahseer for Confluence Films next film, "Waypoints" paid off.
As I write, it's the middle of the night over South America.  I'm three glasses deep in the red and everyone on the plane is out like a light except me.  Why?  I'm too amped for sleep even though the Bolivia trip is 2,000 miles in the rearview mirror.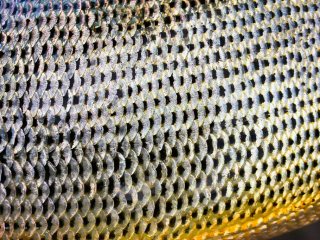 Here's why.  Yesterday was the last day of fishing.  Today was pack up and leave day.  The trip was over and I didn't catch a huge golden dorado or land a pacu.  Sure, it was an absolute dream to fish in Bolivia.  My friends treated me and I caught fish any angler would die for.  But deep inside I wondered if I'll ever make it back to Bolivia.  Will I ever fish waters famous for monster dorado or cast to a pacu again?
Last night the Pluma Lodge host Maurisio suggested I sneak one last hour of fishing in this morning before the journey home began.  Who knows right?  Anything can happen.  There was little time because our grunt for the jungle landing strip was scheduled for 10:30 AM.  Our bags needed to be ready by 10.  I didn't get packed last night and fishing also meant putting on what is now wet, muddy, stinky gear again for a mere hour of fishing which would probably lead me to the camp pool.  Fishing has already proven to be tough so what were my chances in the pulverized camp pool?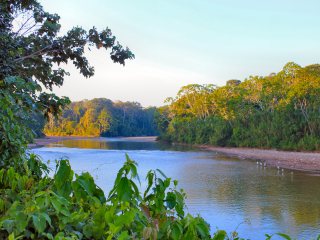 As I sucked down my first cup of coffee and watched the sunrise from the Pluma porch I became very "Un-Currier Like" lazy.  I tied on a new piece of wire shock tippet and a fly but that's as far as I got.  Maurisio and I started chatting and next thing we knew I'd blown off my fishing.
By 9:45 I was feeling guilty of my actions.  Here I was on the Pluma Lodge porch staring at the water and checking out my Fantasy Baseball Teams.  What a waste!  But it was too late.  I was packed, in my flight clothes and ready to head for Idaho.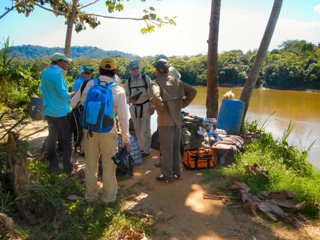 We left on time and after our sloppy four wheeling through the mud to where the boats pick us up to take us to the plane we found ourselves standing on the banks of the Secure River.  Our boat wasn't there yet so naturally as a group of anglers we stared at the water.  Man, I wanted just one more day.  Maurisio suggested I set up a rod.  My tackle was truly buried so Dale offered his.  The gang coaxed me on and next thing you know I was rigged and tromping down a rugged jungle wood strewn hill for the river in my flip flops.
When I got down I cast to all the likely spots.  I'm freaking wrecked from all the hiking we've done the last few days and wasn't my usual agile self.  I got snagged and had to maneuver for an angle to free my fly.  That meant back in the jungle, hopping more rocks and sinking to my knees in mud.  I trashed my only clean pants for flying and had to reach in the muck to retrieve my flip flop but luckily finally got the fly loose.
During this little fiasco the boats arrived.  100 yards upstream the guys were loading.  I knew they'd pick me up so I made another cast.  This cast will go down in history!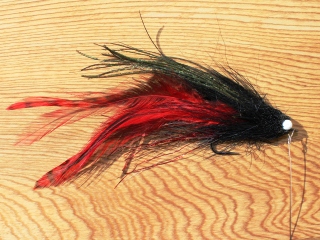 My fly swung through the murky tailout below me.  I stripped and swiped my rod to give the massive black and red fly some action.  That's when a huge dorado grabbed and jumped.  Things like this happen so fast that I barely saw this fish.  But he was big, bigger than any fish I hooked this week.
This event unfolding was overwhelming.  Here I was fishing because our boat transport was late and I was hooked to my biggest fish of the trip.  And unlike any golden dorado I've hooked this week, this one didn't jump again.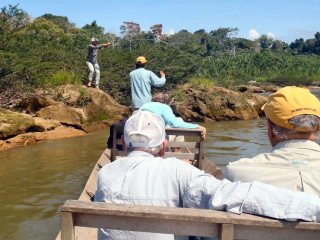 By now the guys saw I was connected.  They began hooting and hollering.  Surely they thought I had an ordinary dorado.  Soon they realized however by the way I danced on the rocks I had no control of this fish.  He had to be big.
It took about three minutes for the boat to get to me.  Honestly I expected to have a nice 15lb dorado in hand by now, but the fish continued fighting deep. The boat bounced off the rocks several times while my line narrowly escaped the twirling motor propeller.  I survived a risky leap into the boat, kept the rod bent and off to the other side of the river we went.  This was an amazing moment because now the entire group, two locals and Maurisio were all with me.  This was becoming the ultimate group effort.
The other bank was a shallow gradual gravel beach, ideal for landing a big fish.  We beached but the boat swung over my line as the fish surged upstream.  The motor prop was still running.  I was pulling with all the tension I dared and our Tsimane boat man lifted the engine prop within a second of total disaster.  A miracle was in the making.
Another hurdle behind and it was up to me.  I was out of the boat and had to land my fish.  All this time passed and other than the first jump, this hard fighting dorado had not yet showed himself.  The entire gang stood waiting for their first glimpse.  I was too far away to see but when they got it, all I heard were a lot of "Holly ****s!"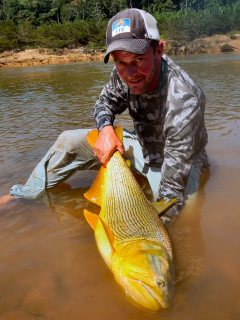 I got my first view the first time I beached the burly dorado.  He was flipping huge!  "12 kilos", the locals shouted, "Maybe 13!"  I was shocked.  I couldn't believe this was happening.  Six days of relentless angling with nothing like this – amazing.  It wasn't over though.  Three times the fish up righted himself from the shallows and booked back for the deep spraying me with his rooster tail.  Finally on my fourth attempt I pounced and corralled the monster.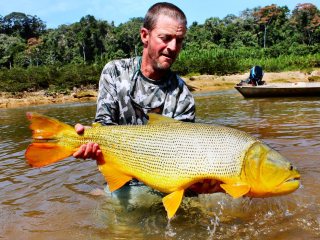 This massive dorado was long and his belly drooped around my grip.  He was a muscular beast.  My fly fell out so I gripped his tail with all my might.  He thrashed and tossed me around.  If he slipped from my grip there would be no pictures.  But I held on and this fish will go down as the miracle on the last cast.  A cast that never would have happened had I given up!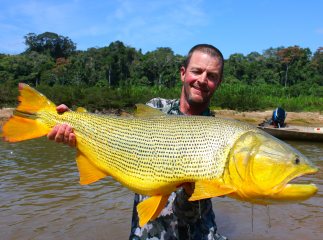 It was a celebratory boat ride to the landing strip.  I chugged a Pacena Beer and we talked about the extraordinary episode the whole way.  I was soaked, muddy and stunk of dorado for the plane ride but I never noticed.  I not only caught the biggest dorado of my life but also one of the top fish of my life because I was fishing on complete bonus time.
That's a rap on Bolivia.  What a great ending.  I'll get home late tonight only to grab my camping gear and head to the Gros Ventre with Granny and the family tomorrow.  Stay tuned and "Never ever ever give up . . . .!"