Huge bummer along with today's blog.  Though I shot numerous photos and even had a chance to preview them on my camera – I accidentally deleted them all.  First time ever done such a bonehead move.  I'm so lucky these weren't from some far corner of the earth.  Luckily, Adam Tate shot a few of his own so it's not a total loss.  Enjoy the read!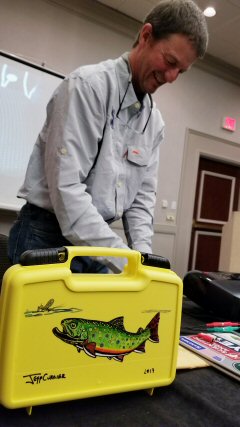 I'm just home from a fun filled 40 hours in Texas.  Monday night I delivered my PowerPoint presentation, "Warmwater Fly Fishing" for Dallas Fly Fishers and Tuesday night, "Four Seasons of the Yellowstone Trout Bum" to Fort Worth Fly Fishers.  Both nights were action packed and I met some great folks.
Tuesday day I was free until my evening gig.  Lucky for me, Fort Worth Club Speaker Chairman, Adam Tate, took me fishing.  Adam knew from reading my species list I'd never caught a smallmouth buffalo (Ictiobus bubalus) and he suggested we attempt to add this unique fish.  I must admit, I've been excited for this day for months!
Adam picked me up at my hotel at 9 AM.  It had been hot and sunny in the Dallas area and was forecasted to remain this way through my fishing day.  I packed accordingly.  But as you know, with the nickname "Monsoon Currier", the weather changed.  I stupidly travelled without waders and brought the minimal warm clothes.  The day was overcast with temps in the 50°s while the north wind blew furiously.
We drove below a dam on the Trinity River.  The Trinity River consists of numerous dams and I couldn't begin to explain which we were at.  Even if I remembered how to return here I wouldn't on my own.  The busy roads twist and turn like downtown Boston and this lifelong country boy would be no less than a menace behind the wheel.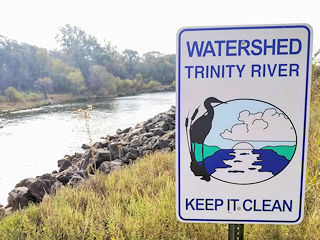 When we arrived at the surprisingly scenic spot I had a choice, be a whimp and not fish or freeze.  Naturally, I followed the fully wadered Mr. Tate for the river in my shorts and flipflops, convincing myself that because being from Idaho, this mere Texas cold wouldn't be a problem.
By my observation, the smallmouth buffalo (a sucker) is North Americas closest fish species to the common carp.  And he's a native.  Common carp are not.  Being a huge fan of carp on the fly, catching my first buffalo has been a goal.  I used my usual carp rig of my 5-weight Winston and floating line.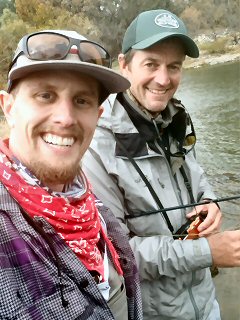 We didn't pursue the buffalo immediately.  Instead Adam handed me a chartreuse bugger concoction and suggested I make a few cast with it below the dam.  I never streamer fish with only a one fly so I attached Adams fly on the point fly and hung a small olive wooly bugger up top for my dropper.  On my very first cast I caught a petite largemouth bass.
To get in the best position to cover the water below the damn required wet wading up to my kneecaps and crossing an algae covered submerged cement barrier.  Flip flops were a true test for my wading agility across the slick manmade rock.  I was dreading the thought of a falling in.
Once I got in position it was well worth it.  I pummeled small white bass one after another.  I went as far as to catch two at a time which is becoming a habit these days with my fancy two fly rig.  But that wasn't my best catch to start the morning.  I caught the unimpressive yet rarely caught in the mouth on fly, gizzard shad (Dorosoma cepedianum).  With or without catching a buffalo, Adam led me to a new species for my list.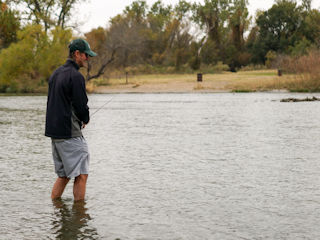 We wore out the fish below the damn.  Soon the charm wore off and it was time for the buffalo.  I type roped the slippery cement back to shore then we hiked downstream.  By now the wind was howling and I was shivering.
We arrived at a shallow tailout below a fast-flowing pool.  Due to the clouds, the lighting was next to impossible to see far into the water.  This was a bummer because like carp, buffalo don't exactly eat flies well.  It helps tremendously to see the fish and knowingly present the fly right in their face repeatedly.
For poor visibility I recommend yellow lenses for your polarized glasses.  I'm a Costa man and they make some fantastic styles.  Sure enough, despite the lousy conditions a few large figures took shape.  I was about to cast to some smallmouth buffalo.
I've tossed at buffalo before.  Most recently on the Etowah River in Georgia.  But that day I was after the redeye bass and wasn't properly equipped.  The best flies for buffalo are nymphs and although anglers have opinions, word on the street says luck has more to do with having a killer fly.  I started with a red-colored Crazy Charlie looking fly.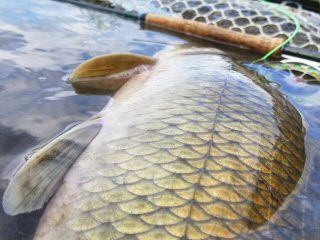 Adam and I both struggled.  Even with the proper eyewear, spotting the buffalo was an eye straining task.  It seemed that nearly each time you focused on buffalo a gust of swirling wind arrived and the riffle blocked out the view.  When it cleared again the fish you were after was gone.
By 1 PM I was frozen solid.  Adam and I took a break in the car for ten minutes and powered through some soggy sandwiches.  In order to make my event on time we had to leave at 2:30 so despite the cold we didn't warm up for long.  I was running out of time for my first smallmouth buffalo.
The afternoon light still wasn't great but had improved.  Soon we both had more fish in front of us than we'd had all day.  Between the two of us we likely put flies on their noses 100 times.  I was getting restless and though my fingers could hardly function with the cold I changed nymphs several different times.  At 2 Adam hooked up!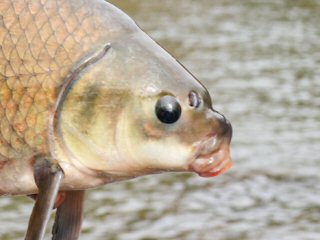 I reeled in and headed for Adam.  The way I saw his rod bending and the fish exploding through the tailout I was expecting to watch a long heavy battle.  Instead, after the first run the buffalo remained close to him and made numerous short runs and none far.  Within about three minutes Adam had the smallmouth buffalo in the net.
No pics!  All of Adams fish were on my camera.
I was engrossed with this unusual fish.  This was only the second buffalo I've seen up close.  He has a wide body and large scales similar to a common carp.  His lateral line actually splits his midsection scales in half.  And his eyes are crazy big and black.  Almost reminding of eyes of a permit.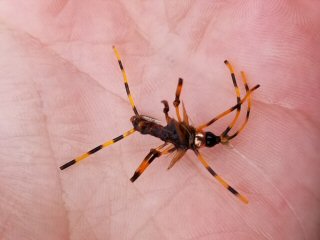 By the time we released the handsome fish the clock was winding down.  I had about ten minutes to lock down my first buffalo.  If you follow the blog you know these can be my glory moments.  I tied on a stonefly nymph tied by my friend Frank Smethurst – one I've taken a few mirror carp on over the years back home.  On literally my first cast with the fly I hooked up.
According to Adam it's common to snag buffalo while trying to catch them on a fly.  And if that was the case, this fish wouldn't have made my list.  By luck however, this buffalo jumped and I could clearly see I had him fair and square.
My fish was by no means a dazzling fighter either but his first run was a furry.  He ran a circle around me then bullied me upstream.  Once he knew he was hooked however I backed him down towards a small island and Adam broke out the net.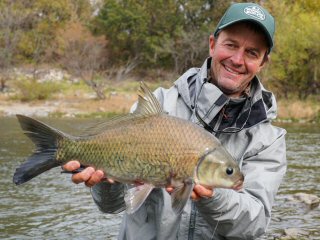 Adam used his camera and phone to photograph this one.  That's fortunate because if he didn't we'd have no pictures to show.  I posed with my long awaited smallmouth buffalo then released him.  A new species on the fly!
It was an outstanding trip to Texas.  A special thanks to Adam Tate for looking after me so well.  And a huge thanks to the folks of Dallas Fly Fishers and Fort Worth Fly Fishers for taking an evening from your week to catch my presentations.  I recon I'll be back again soon.
Don't forget Christmas is coming fast.  Check out my new fish decals.  There's a chance for some free decals too!  And as always – my coffee mugs and beer steins are the ultimate gift for the angler who has EVERYTHING!