November 27 & 28, 2016
November 27, 2016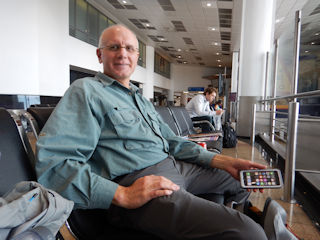 After a wonderful week in South Africa and Lesotho chasing yellowfish with my friends of FlyCastaway, Sunday I headed for the Seychelles to begin my host trip to Farquhar Atoll for Yellow Dog Flyfishing Adventures.  The day started at the Johannesburg airport where I met my longtime pal, Sam Vigneri.  Most of you know Sammy from our many Baja Mexico trips together.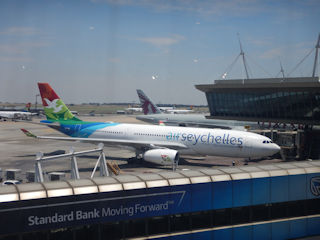 We left Joburg on Air Seychelles on a 5-hour flight.  Sammy flew from Casper, Wyoming so he was jetlagged and exhausted from 30 hours of travel and he passed out on takeoff.  I did my usual, typed and edited photos to finish up my blogs from yellowfishing the entire way to Seychelles.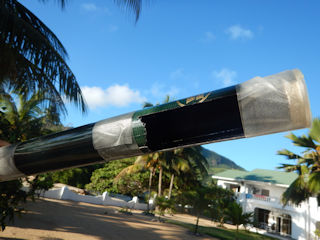 We arrived in Mahe, Seychelles, cleared customs then took a taxi to the Jamelah Guest House and settled in at around 10 PM.  The comfortable accommodation is on the beach and there's a flat within walking distance.  Though tired, I dug out a rod and reel to be ready for morning fishing.  This led to a near heart attack when I found the case of my Winston 9-weight, the most needed rod for the rest of my trip, shattered in my luggage by the airline.  Miraculously the rod seems to have survived – whew!
November 28, 2016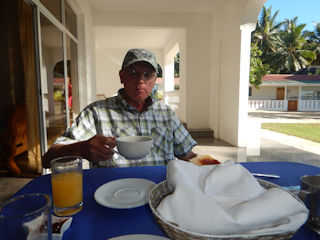 Morning came and Sammy was dealing with an 11-hour time change from home.  I dealt with it last week.  My advice, get on the schedule.  No matter how tired you are, get up when you're supposed to and stay up all day.  You can suffer miserably and beat jetlag in 24 hours or pamper yourself with extra sleep when you arrive but then deal with lingering effects for a week.  I got Sammy up and on to breakfast and coffee despite his request for sleeping in.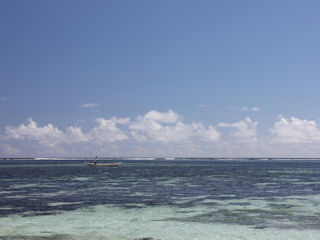 The flat was easy to see from the beach front of Jamelah.  The confidence crusher however were the locals fishing it with small nets and masks and snorkels.  Nonetheless, this was an opportunity to get our flats skill senses in order so we went for it.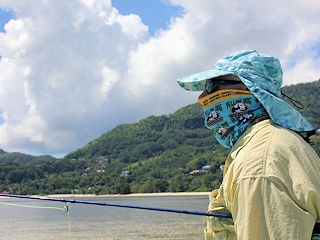 Sammy was rejuvenated once his feet hit the water.  The tide was low but from 10 AM till 1 PM we had a chance to see some fish.  I hung with Sammy to help him spot fish.  We tied on a crab and perched on the point of the flat.  We had high hopes.
Some fish came by.  Most were the odd mini fish that showed no interest in Sammy's fly.  Then we had some species of surgeon fish which rarely eat flies.  Last but not least, a small school of milkfish came along.  This species is high on my "hopes" list for this trip.  They're extremely difficult to fool because they eat algae.  This wasn't the right conditions to catch them and we didn't.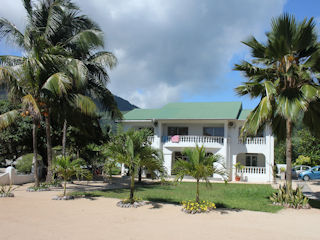 When we returned to the Jamelah after fishing.  I checked my email only to find very sad news.  Two of my guests, friends from home, had their flight from Jackson, WY to Salt Lake City cancelled yesterday morning because of snow.  This in turn caused them to miss their flight from LA to Dubai and on to the Seychelles which in the end they miss our charter flight Wednesday morning for Farquhar.  The tragic thing on this kind of a trip is that when you miss the charter you miss the trip.
My friends missing this trip should be a lesson to us all.  Always purchase trip insurance.  Trip insurance is required for all Yellow Dog trips and the helpful staff takes care of this for you.  Luckily my friends are covered.  But again, I am sick over this and can't imagine how bummed they are right now.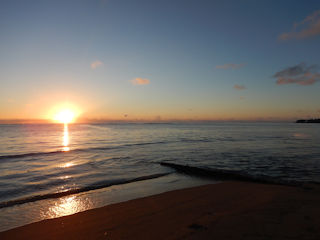 There's not much to do in Mahe if you're an angler.  Sammy and I lounged around the rest of the day and grabbed a meal down the street.  Tomorrow the rest of my clients, barring any additional travel problems, will arrive.   Wednesday we'll head for Farquhar to begin this amazing trip.
The Seychelles are truly one of the great saltwater fly fishing destinations left in the world.  To learn more, or even better, join me on my next trip here, contact me or Yellow Dog Flyfishing Adventures!