Arctic Char, Atlantic Salmon and Lamb Chops
Categories: Uncategorized
The weather changed last night.  We woke up to the patter of rain and rattling wind.  No one jumped from bed like yesterday.  I made us coffee around 8 and we sat around and enjoyed the precious brew.  We have eight more days of Atlantic salmon fishing here in Iceland and it doesn't hurt to pace yourself.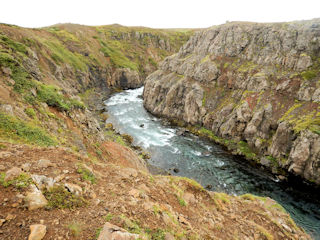 Today we had the lower beat on the Hafralónsá River which entails the rugged lower canyon and the wide open landscape pools around the lodge.  We started with a ten-minute drive to the lower canyon.  Granny and I were quick to wonder how in the heck the boys of Icelandic Fly Fishermen planned to get us down there to fish.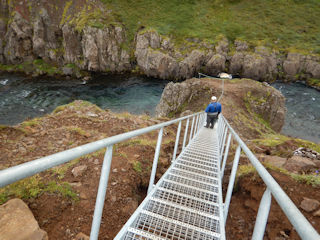 But there are tricks to accessing such places.  Icelanders have been fishing for Atlantic salmon long before we Curriers arrived.  And because Atlantic salmon thrive in the turbulent gushes in canyons, over time routes to the pools have developed.  Pools 22 and 23 are famous for holding big fish and to our disbelief there is a long steep staircase part of the way down.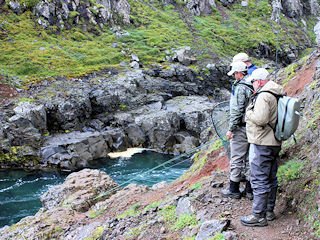 In these two pools Siggy has some pets just like I have pets on my waters back home.  Once we all found a piece of stable ground to stand on we stared at the water and in pool 23 we spotted three respectable grilse.  Like several of yesterday's pools, this one was tough to cast from so I got the honors.  Unfortunately, these salmon wouldn't pay an ounce of attention to the several flies I swung in their faces.  Eventually they caught on to our mischief and all three fish disappeared.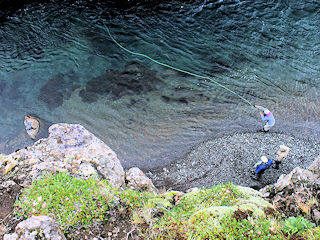 Pool 22 was Granny's turn no matter what.  Although a scurry to get down to a casting position, she could do it, and once there it was a short cast and easy swing.  Siggy and Ingo went down with her.  I climbed up and balanced on a ledge hanging on to a rope overlooking her.  I could see at least a dozen salmon and in easy range were three monsters.  The spectacular pool was deep and rich in blue color and crystal clear.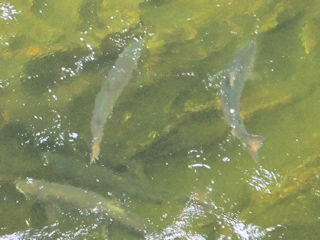 Granny went to work alongside Siggy.  From my position I could see her salmon fly swing.  Each time it passed over the big salmon I could see one of them wiggle with excitement.  Finally, on about the tenth swing he came up a grabbed her fly and swam back to bottom.  Granny did nothing nor did Siggy or Ingo say anything.  After three seconds I couldn't help but scream, "Set!"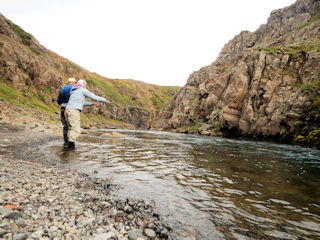 The three of them looked up at me like I was crazy.  It was amazing.  I watched clearly one of the large salmon rise up and engulf her fly, swim all the way to bottom with it and because nothing was done – spit it out.  I was horrified.  But they couldn't see from down below and Granny couldn't feel any tug at all.  I say it all the time in my seminars, fish can cunningly take your fly and spit it out without you ever knowing.  I guarantee it happens all the time.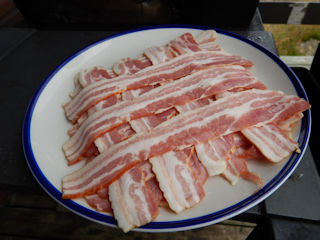 That was it.  The salmon of the Hafralónsá are hard to fool and not one other fish in that pool made even a slight move to any of the many flies they tried.  I was more bummed than anyone because that was my ladies fish of dreams! We returned to the lodge for lunch and naps.  The Icelanders made us grilled bacon sandwiches – a delicacy after a tough cold morning!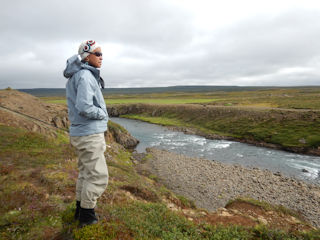 We were sluggish getting ourselves together for the evening session.  We fished on pools 1, 0 and 00 near the ocean.  They looked promising but after working them hard for over two hours and not seeing a fish the confidence levels for everyone plummeted.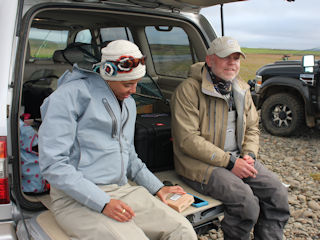 The four of us sat.  Granny and I drank an Einstök while Siggy and Ingo had a smoke.  It seemed like the day was done.  That was until Siggy said back in the truck.  It was time to return to the famous lodge pool, #8.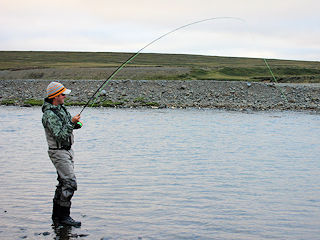 There hadn't been any sun since morning and now, approaching 8 PM, it was uncomfortably chilly.  I could have easily rapped it up for the day.  Granny in fact announced she was done and Ingo and Siggy sat in their trucks and sent me out on my own.  Lo and behold, just when I thought the fish world was asleep, I hooked and landed a very small grilse.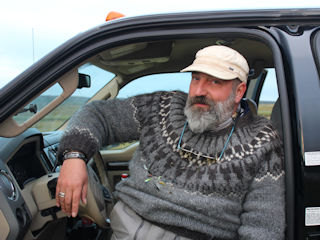 While landing my grilse I swore there was another fish following but gave it little thought.  But after I released the grilse and stood up, only six feet away from me holding in the fast current was an Arctic char.  A fish I've never caught before yet always wanted too since I was a kid thanks to a Char of the World poster that hung next to my bed.  Siggy saw the look in my eye and asked if I wanted a char nymph.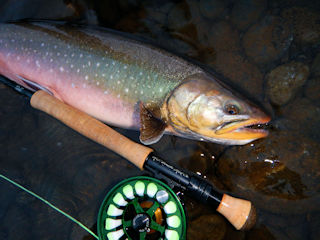 It took me a whopping three cast before I Euro nymphed that bad boy up.  Catching me by surprise was his energetic battle.  He smoked me at first then did his best to twist himself off the fly.
He was small but colorful and new species to add to my list.  My excitement probably caught Ingo and Siggy by surprise but that's because I'm learning Atlantic salmon fishers are hardcore about salmon like no other types of anglers I've met.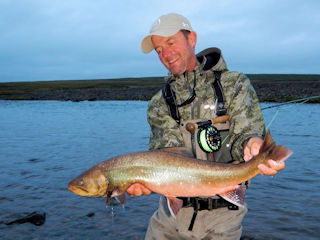 If there was one char there had to be more and I continued to nymph. Siggy made it clear they normally aren't so easy to catch and he was right.  It took a while for the next one.  The good news however was that it was a true bruiser at 60 cm.  This guy too put up an incredible battle.  It makes sense though as they do spend time at sea.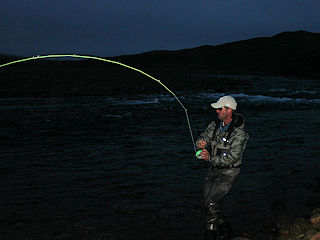 I hooked three char.  It was nearly dark at 8:45. Granny and Ingo left for the lodge to work on some lamb chops for dinner.  Once again I thought I was done when Siggy asked me to put back on a salmon fly and make one more pass through the pool for salmon.  I didn't let him down.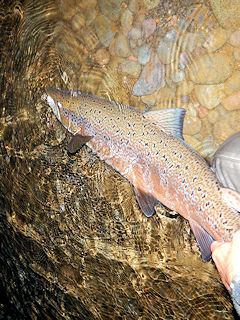 I had my game on and went to work methodically.  We saw a nice salmon jump bigger than a grilse.  I wanted him bad and wouldn't you know I got a grab and screwed it up by setting the hook.  Siggy saw and groaned.  But I didn't let it blow my concentration.  I sent my cast right back out and this time I connected!
The first minute of this fight was what makes the Atlantic salmon one of the greatest game fish on earth!  The fish took the fly lightly making me think he was small.  My lack of salmon experience.  What endowed after that was utter insanity with the fish leaping as though he was skipping across the water.  Then he charged towards me and as I was running back and stripping attempting to stay tight he jumped as though to be looking at what dared mess with him.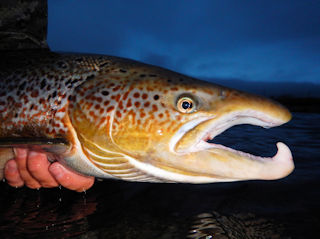 After the first minute of chaotic jumps I got control and put the heat on him with my 91/2-foot 8-weight Winston.  I eased in more pressure with the drag of my Bauer and the big fish began to tire.  There was still no guarantee I'd land him.  Each time I got him close his belly would rub the bottom and off he'd go again.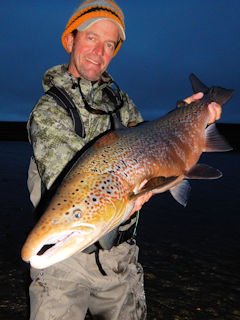 After a good ten to fifteen minutes I backed up the bank and dragged the fierce looking male Atlantic salmon to where Siggy grabbed the tail.  He was brute.  We measured him at 92 cm and I'll guess his weight to be around 16lbs.  What a way to end what was a long grueling day!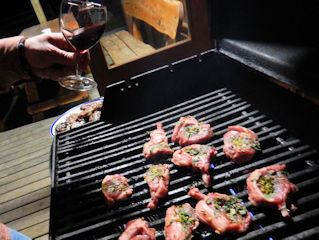 The flashes from my camera drew the attention of Ingo and Granny all the way up at the lodge.  There was some hooting and hollering even though they couldn't see what we caught.  I was soaked to the elbows from pictures so off we went to join them.  Dinner was delicious lamb chops and red wine.
Thanks to Icelandic Fly Fishermen for bringing Granny and I on this unbelievable trip.  When you're ready for Iceland feel free to Contact me.