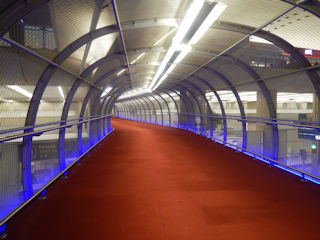 I flew to Paris shortly after I posted yesterday's blog.  It was a short hop from Amsterdam of only 45 minutes.  In Paris I learned that my upgrade to First Class was a serious deal.  First of all, there's a difference on long international flights between Business Class and First Class.  Business Class is spectacular but First Class on an Air France A380 is flat out ridiculous. There's a reason the rich and famous pay nearly $20,000 for tickets!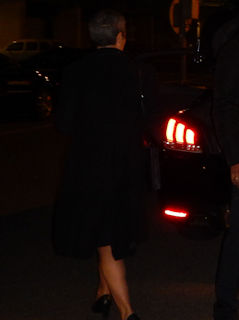 When I got to the ever so impressive and often intimidating Charles de Gaulle Airport I checked into the Air France frequent flyer lounge.  "Oh Mr. Currier we've been worried about you.  We sent someone to meet you from your Amsterdam flight but you must have got off fast", the gal at the counter said, "She will be here in a minute to take you to the "La Premiere" lounge.  The lounge I was at looked plenty good with a heck of a food spread, good free wine and beer, but the lady came and led me down a hall, into and elevator and we went down.
When the elevator opened my jaw dropped.  We were on the airport tarmac and there were monster planes everywhere.  It was dark and the sound of the jet engines was real.  There was a high class shiny black car with the trunk open.  Three dudes took my Simms pack off my back, stuck it in trunk and said hop in.  My first comment was, "Am I being kidnapped?"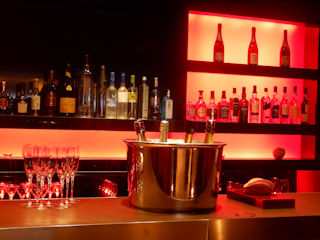 My agent laughed and took me for a five-minute drive amongst taxiing jumbo jets and parked.  We got in another elevator and went up.  This time when it opened was a lounge so nice I was immediately uncomfortable.  That is until they sat me down, handed me a menu and said order as much of anything I wanted, courtesy of Air France.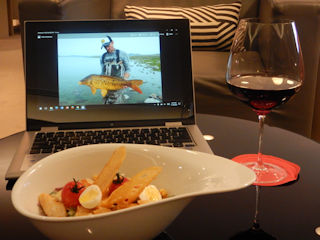 My agent left me but said she'd be back to drive me to my plane.  The statement alone seemed awkward but I said ok.  I crushed some food such as an elegant shrimp salad followed by a plate of breaded scallops cooked perfectly.  The red wine was fine.  When it was nearly time to board my plane I my agent wasn't there so I asked the gal that was waiting on me if I needed to go.  She said my agent would be for me ten minutes before takeoff.  In my mind that was cutting it close but sure enough my agent came, as did several others for the other eight First Class passengers, and in eight separate fancy black cars we were delivered not to the gate, but rather right to the stairs and on to the plane.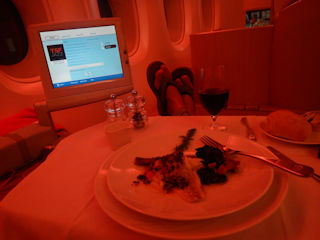 This isn't a great photo but my "area" had a bed, a seat, sort of an office space, a television and it was so big I had three windows.  Despite being absolutely exhausted when we boarded at 11:30 PM, I stayed awake for three hours and had another phenomenal meal and more off-the-hook delicious red wine.  At about three in the morning I left my zone to take a leak and just in that time I came back and my bed was made and ready for me.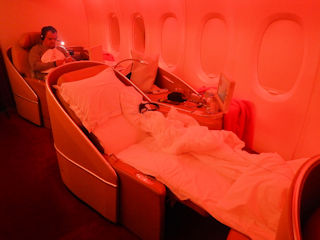 It was unimaginable for this fishing bum to spread out in a bed on a ccommercial airline flight.  But I settled in and eventually slept. The flight from Paris to Johannesburg was 10 hours 3 minutes and I likely got five hours of sleep before waking up to a delivery of my own fresh pot of fantastic European coffee followed by a breakfast to die for.  We touched down in Johannesburg at around 10:00 AM.
My friend Gerhard Laubscher of FlyCastaway picked me up.  My luggage got lost in Amsterdam however the "First Class" thing helped.  I had three agents helping me on it and my one Simms bag should arrive late tonight.  I was too tired to worry and anxious for oxygen after 48 hour of travel.  Gerhard and I stopped for Magnum Bars then to his house on the edge of the city.
Gerhard's wife Mereka was waiting for us and we had a couple beers and they fired up the barbeque.  Only two hours in South Africa and I was enjoying time with old friends and putting down a delicious steak.
I was fighting jetlag after the last bite and as I always teach, don't fall asleep because the sooner you make the big time adjustment the sooner you enjoy your trip.  Gerhard decided to piece together a 6-weight and we headed to the local golf course overlooking the cityscape of Johannesburg.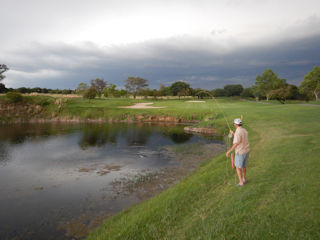 Like most of America's golf courses you aren't allowed to fish, at least during open hours.  We went incognito and made it to a pond.  A major storm was brewing which probably helped us sneak in because most sane golfers went for the club house.
Fishing was terrific.  The largemouth bass were small but prolific and we landed a dozen of the hungry-never-fished nonnatives.  Fishing was a ball and the answer to holding off my jetlag.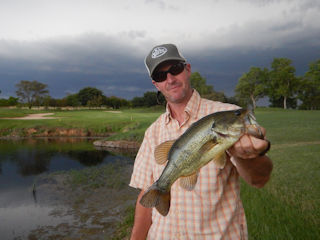 We've been relaxing at home and for me, working on the blog.  The thunderstorm approaching earlier is dead over us.  Which brings about the bad news for fishing – the largemouth yellowfish fishery we've been planning for months is unfishable.  These storms have been hitting every day for weeks and most the waters of South Africa are toast.  "Monsoon Currier" strikes again.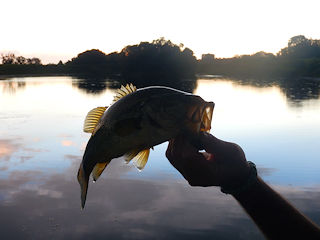 Our new game plan is drive south to the small country of Lesotho where Granny and I fished last year with my friends of Tourette Fight it in Africa.  Smallmouth yellowfish are our best chance.  Stuff happens when you travel the world to fish.  You change gears and make the best of it.  Stay tuned.  At this point I have no idea what to expect but this adventure will be fun.
Jeff Currier Global Fly Fishing