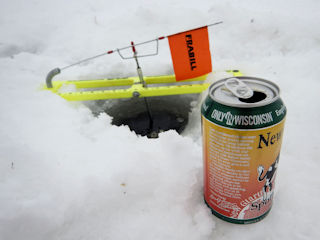 No doubt fly fishing is my passion.  But I learned every type of fishing along the journey and its likely why I know what I'm doing with a fly rod no matter what fish I'm after.  And still to this day one of my all-time favorites is ice fishing for Northern pike, walleye, perch, crappie and bluegill with tip-ups and light jigging sticks.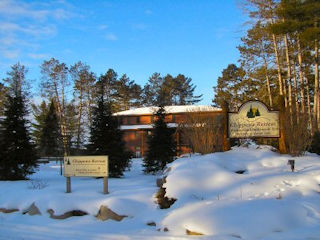 I'm up in the Great Northwood's of Wisconsin with longtime friends on an ice fishing trip as a guest of George Hillenbrand.  George has been flying us up to Manitowish Waters to stay at Chippewa Retreat Resort almost every winter since 2007.  In case you've never been, northern Wisconsin is one of the best kept secrets in the lower 48.  I studied at Northland College in Ashland from 1983-87 and can honestly say they were some of the most enjoyable fishing years of my life.
Today was a cold windy one on the ice.  The temperature was likely 15°.  Toss in the wind and for sure the chill kept things well below zero.  This may not sound fun but to make things comfortable we also have ice tents for jigging and a well built and equipped shack to keep warm in.  It helps further that George hires guides (good friends) to handle most of the cold finger work.
In comparison to other years today's fishing was slow.  There were six of us which in turn means we had eighteen tip-ups on the ice.  Each tip-up is baited with a live minnow and when a fish takes the bait the flag of the tip-up pops.  We probably had around fifteen flags total but landed only a few pike and a couple perch.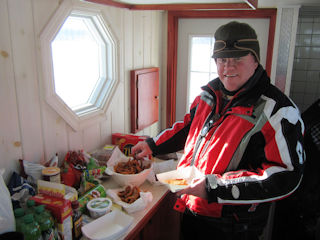 I'm a catch and release man at heart but when ice fishing in Wisconsin these fish get eaten.  Despite our slower than normal fishing we managed more than enough cookie cutter pike to make a meal.  Our head guide Joe Peska made us his normal lunch to die for of fried fish straight out of the ice hole with heaps of French fries to go with.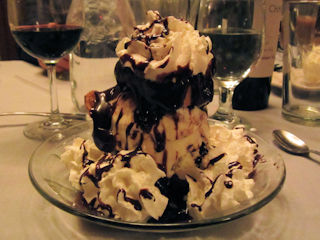 It was a wonderful day on the ice that ends with another feast.  Every night George takes us to one of the fine restaurants in the Manitowish Waters area.  George orders enough appetizers of shrimp, scallops and lobster tails to feed a group of twelve.  All six of us however managed to crush it all then we followed up with prime ribs.  After dinner out came the deserts.  I devoured this incredible creampuff desert!
I'm exhausted and feel like I might pop!  Stay tuned for tomorrow. . . . .