Success at Last Fly Fishing in Costa Rica
Categories: Uncategorized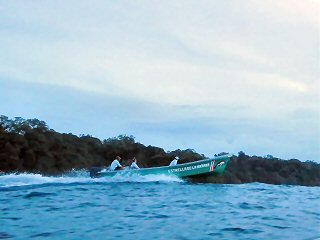 Though the fishing so far down here in Costa Rica has been brutal I always wake up feeling confident.  I think it's the reason I've had last day success before.  Once again we had a morning storm to deal with but it wasn't terrible like yesterday.  We couldn't leave at our planned 5 AM but we left at a respectable 6 AM for the mighty tarpon at the mouth of the Sixaola River.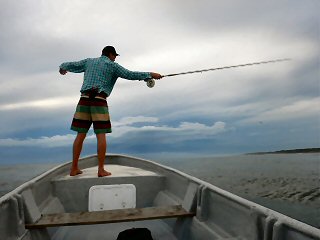 Early mornings for tarpon have always been good for me.  When we arrived conditions were better than yesterday.  Instead of 10 foot swells we had about 7 feet which seemed better.  There was also some current pulling our fly lines out at a better angle for fishing our tarpon flies down deep.  Rob and I went to work.
Once settled we saw some tarpon begin to roll.  There weren't tons but plenty more than yesterday.  I knew right then someone was going to hook up.  Sure enough Rob got one on!
I reeled in as fast as I could.  Grants boat charged near to begin filming the battle for "Atlanticus".  One fish can make a damn good fishing film when all goes well.  Robs tarpon leaped like crazy the first couple minutes before diving deep.  This is when an angler needs skill to beat down the tarpon rather than get beat down himself.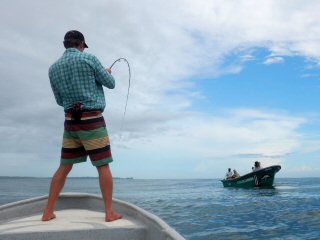 As I would expect, Rob put a hurt on this tarpon well before it put a hurt on him.  It helps that Rob uses a 14-weight for this type of tarpon fishing.  The fight lasted less than 20 minutes.  At last we had a tarpon landed!
Grant filmed for "Atlanticus" from the other boat.  I shot photos the best I could for Rob.  For someone who's never been on board for landing a gigantic fish – I can't explain how hard it can be sometimes to get photos. Large fish are impossible to hold without hurting them and a last surge by the tarpon can do some serious damage to humans as well.  Especially if it were to leap and land in the boat.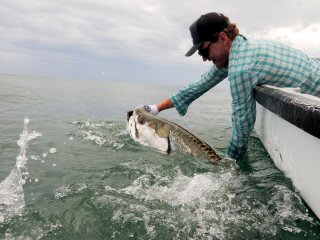 Dalmen estimated Robs tarpon at 140lbs.  They always look bigger but then again, 140lbs is a huge animal.  We released the spectacular fish still full of spite then went back to work.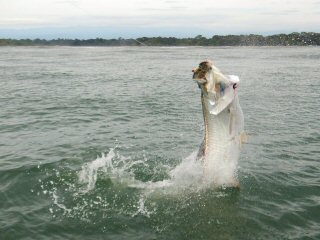 We literally went less than five minutes and Rob hooked up again.  I reeled in as fast as I could again but our lines were close to begin and his tarpon jumped right into my line before I could get it in.  It looked like a fiasco was about to start but on the next jump the tarpon tossed my fly and line away.  We were lucky.
This fight didn't last long.  About three minutes into the battle this tarpon thrashed on the surface with violent headshakes.  Unfortunately, the fly flew loose.
The pressure was growing mightily on me now to avoid a complete skunking in Costa Rica.  From my observation I was doing exactly the same as Rob.  I went back to work and finally got ripped.  Whatever the fish was he kept coming towards me making driving the hook difficult.  Then the fish woke up and dove for bottom then I knew he was on.
I knew in seconds it was doubtful I had a tarpon.  Really big tarpon often don't jump but this fish wasn't "really big".  And I felt the funny headshakes and the fish swimming in tight circles.  I had a hefty jack crevalle.  These fellas can pull every bit as hard as a tarpon but my 12-weight and I subdued in my first fish of the trip in minutes.  Relief!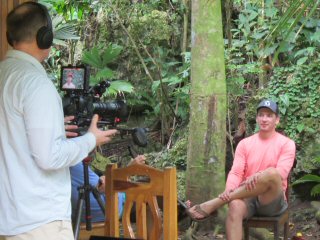 Fishing slowed down and a big storm looked to be brewing and headed our direction.  We returned in for a three-hour break.  We spent time doing interviews about tarpon fishing for Grant.  This was one of the big reasons I came down to Costa Rica for the filming of "Atlanticus".  By the time we finished working the sun was out and it was time for our last fishing session.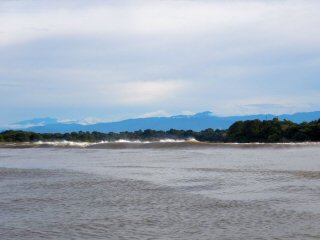 The pressure was off me for the last fishing session of this short filming mission to Costa Rica as far as catching "A" fish, but I really wanted to catch at least one more tarpon for Grants filming project.  The weather was fantastic for the first time.  Swells were small and there was barely an ounce of wind.  Rob and I fished one last time with Dalmen while Grant filmed from the other boat and Dylan fished.  It was beautiful evening with clouds over the rainforest mountains and sunlight on the breaking surf.
We only saw one tarpon roll all night but both Rob and I jumped small ones around 40 lbs.  I'd have loved to land mine but this size tarpon is always a challenge to keep on. They jump ridiculously high while shaking madly and the hook went flying as it often does.  What I did catch were two more giant jack crevalle.  One of them gave me my money's worth dropping me to my knees to my ultimate fighting position!
We rapped it up at about 6 PM.  We went to the house and in short time tossed our junk into our duffle bags and on to a minivan for San Jose.  The drive was about five hours long and put us at the San Jose Holiday Inn just after midnight.  Needless to say, I'm beyond exhausted.
It's been a great trip with great people despite fishing that certainly could've been better.  Grant and his crew and Dylan and the guides have been a joy to be with – fish or no fish.  I should remind everyone, this was one of many shoots Grant has done for his movie since 2014.  We may not have laid the wood to more than one tarpon but I saw some of his footage from past trips and I can assure you, "Atlanticus" will be an awesome part of the FT3 2018.
We catch the first flight out early in the morning.  Looks like we have about three hours to sleep.  I'll be back on the water quick fishing for Team Simms in the Jackson Hole One Fly.  It's been a few years since I got to compete in this fun event!
A special thanks to Grant Wiswell and Castaway Films for inviting me on this fantastic trip and to Jungle Tarpon Reserve and Tarponville for making our visit possible!