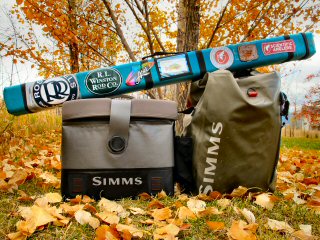 2014 has been a heck of a travel year – five new countries on five different continents.  This morning I'm headed for Miami where I'll catch up with good friend and fellow Victor resident Tim Brune.  Tim is flying in from a permit trip down in Mexico.  We'll sleep there tonight then tomorrow continue on to the small South American country of Guyana.
Guyana is one of the countries up top of South America and you'll see its southern portion dips deep into the rainforest.  As the crow flies, the area we'll be fishing is close to where I fish in the Brazilian Amazon.  But here one of the largest freshwater fish in the world, the arapaima, is abundant.  And you guessed it, Tim and I will be doing our best to land a few on the fly.
The 12-weight Winston's and several Ross and Abel's are ready to hang on for dear life.  Each rig has a Scientific Angler line with an 80lb core – custom made just for my trip.  Thanks guys!
Stay tuned for what I hope will be an amazing blog!