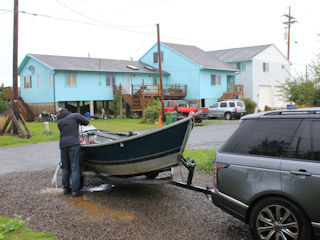 The rain fell hard last night here on the Oregon Coast.  It continued this morning as Mike and I prepared for another day of fly fishing for Chinook salmon.  So much so that we dragged our feet a bit enjoying coffee and some homemade Mike LaSota breakfast burritos before bailing out the boat.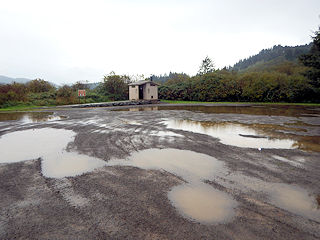 Around 9 AM the rain let up significantly despite the forecast for plenty more.  Back in Idaho a rain like last night would mud up our rivers, but here on the coast of Oregon, its good news.  It gets the salmon moving from the ocean into the rivers.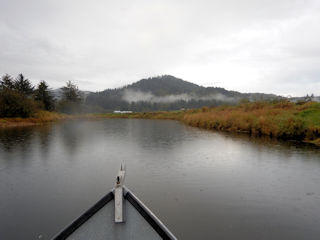 The river Mike took me on was one he's never caught a salmon on yet.  He got some Intel saying it might have some fish.  It was a gorgeous stream full of seals and an assortment of birds.  The attractive river reminded me more of a musky river in Wisconsin than a salmon river on the coast of Oregon.  We motored upstream for an hour or so but never saw a salmon roll.
One of my goals on this jaunt to the Oregon coast is to land a new species for my list, the coastal cutthroat, also known as sea-run cutthroat.  Mike suggested I break out the streamer rod and fish the banks as we drifted back downstream.  I loved the idea and went to work as the sun shot through the clouds making this river more and more spectacular by the minute.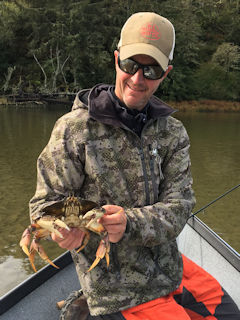 The fishing was slow as if not a fish existed.  Even the seals we saw looked hungry.  Slow streamer fishing often leads me to sink my fly deeper and deeper till I'm literally dragging bottom.  That's about when I accidentally snagged this handsome Dungeness crab.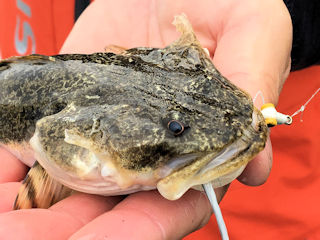 I had my shot at a couple random coastal cutthroats and missed each one.  I was starting to think adding this species might be like adding the elusive chocolate mahseer.  Mike joined the game and neither of us could catch a fish.  That is until Mike scraped this Pacific staghorn sculpin off the bottom with his Clouser.  I must admit, this would've been a new sculpin species for my species list so it left me a bit jealous!
"Currier" persistence always pays off and near the end of the day I finally caught my first ever coastal cutthroat.  Mike says this little guy is average size which surprises me.  I would've guessed ocean running cutthroats would be bigger than their completely freshwater cousins.  But in this case, size doesn't matter.  I will happily add this new species to my list.
It's time for the decisive game 5, Washington Nationals vs Chicago Cubs.  Hunt for Chinook salmon continues again tomorrow.