Relaxation After the Jackson Hole One Fly
Categories: Uncategorized
September 9 & 10, 2014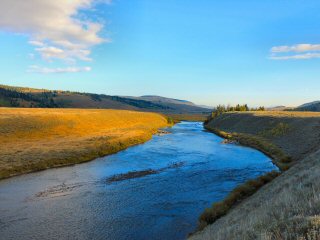 After a heavy week casting streamers from a boat for the Jackson Hole One Fly, the last thing I wanted to do on Granny's days off was throw streamers from a boat.  What my body needed was rest, relaxation, some easy going wade fishing and a campfire at night.  I wanted my hard working wife to catch some fish while I napped in the tall grass along the banks of a beautiful un-fished river.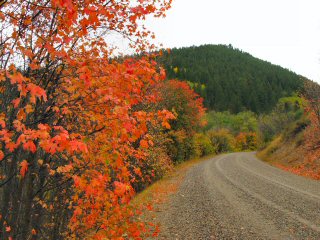 Our drive to this special location where we haven't been in years was as enjoyable as the fishing.  The leaves are changing fast now.  It seems like just yesterday I was mentioning the leaves popping on the Aspen trees coming home from a May carp trip.  Today's scenery was special to say the least.
Upon arrival the air was crisp.  Not cold, I'm still in shorts but up top I wore a sweater.  And when it came time to fish the evening both Granny and I wore our Simms waders.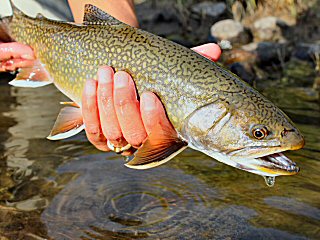 We didn't know what to expect as for the fishing.  When Granny hooked and landed a fiery brown on a Chernobyl on about her fifth cast we were stoked.  This was exactly what I dreamed of.  She went on to land two more of these brown trout and also a 12" brook trout that we even less expected.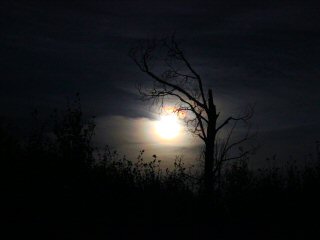 Our campfire kept us warm under the full moon last night as we listened to playoff caliber baseball through my XM radio.  What a game between the Royals and Detroit.  We didn't realize exactly how warm the fire kept us until we got up this morning.  Waiting for the coffee to brew before sunrise required a lot of layers and jumping around.  The frost was thick but man was it beautiful.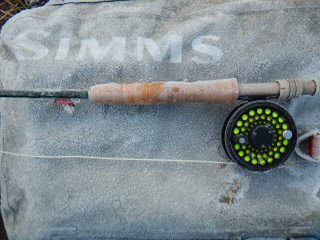 As for the fishing – I think we caught the last hurrah for trout on big flies in Idaho.  The cold nights are taking their toll on the hoppers and soon the jumbo foam won't work anymore.  We absolutely plastered lots of nice fish!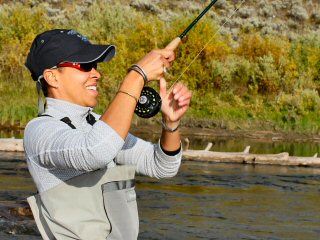 I mostly watched as Granny (have I ever mentioned she's an incredible angler?) caught what may have very well been every single trout in a particular run.  She caught at least twenty ranging from the pesky 8 inchers to browns and rainbows topping off at 17".  Every fish leaped several times and screamed her downstream.  I couldn't get my nap but staying up to watch her at work was plenty worth it.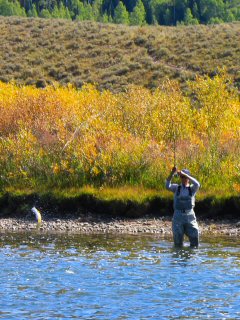 The fishing was so good that despite an aching shoulder I got in the action as well.  Soon I was going up one side of the river and Granny on the other.  Our fishing was no less than exceptional.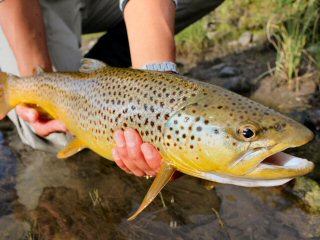 That's it for a few days.  I'm late on my bills.  My fishing rooms have spread to the living room, bathrooms and even the kitchen. I have art to get done and plenty of September baseball to enjoy. . . . even if it isn't the Cubs.  Stay tuned for a big trip next week with Granny!