December 10 & 11, 2016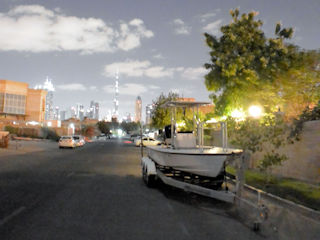 It was a little crisp loading Nicks truck and hooking up the flats boat yesterday morning.  I didn't know it got that cold in the United Arab Emirates.  It must have been only 60°.  Toss in the howling wind – it wasn't looking good for our exploratory adventure for flyfishing in Abu Dhabi.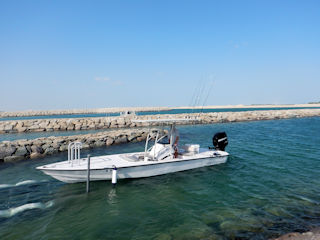 We went for it though.  Fishing the unsheltered waters of Dubai was impossible and we weren't going to sit around and visit the world's largest shopping malls.  It's less than a two-hour drive down to Abu Dhabi.  We pulled into a marina at 10 AM and launched the boat.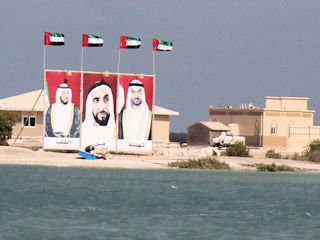 Indeed the wind was strong here too.  Luckily, some of the waters of Abu Dhabi are protected with islands and manmade channels.  There's a few buildings helping to block the wind as well.  Nick felt we could at least give it a go.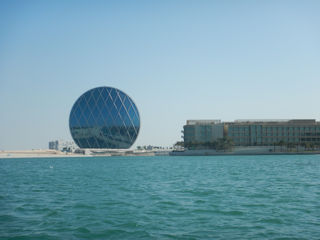 Our first move was to pick up Nicks friend, Trevor.  Trevor is Nicks partner in Ocean Active and recently moved from Dubai to Abu Dhabi.  We meandered through the peculiar water channels to another marina and picked up Trevor.  Sammy says the buildings around here make him feel as if he's fishing in a Dr. Seuss movie.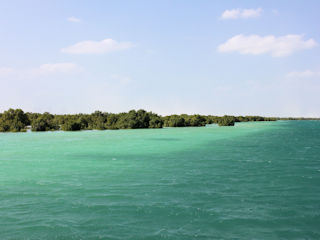 Once we got Trevor we headed out fishing.  Nick's been here a few times but admits there's plenty of exploring to be done.  Highest on his list is to find fish on the flats.  Yes, I said flats.  Here's one.  The problem for us today was the wind and furthermore, Nicks boat is too big for poling and the bottom is too soft for wading.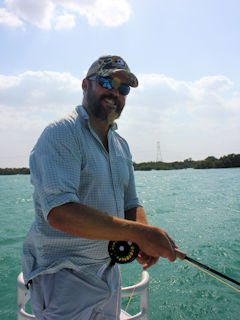 We wind drifted the edge of the flats.  We tossed Clouser's sinking them off the edges and into holes hoping to find some fish.  Casting was hectic in the wind.  Nicks has caught queenfish and golden trevally here as well as some grouper species.  Though we were chucking and stripping, all eyes were on the flats hoping to see a protruding fish tail among the whitecaps.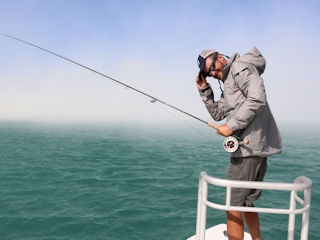 We didn't spot any fish and eventually we couldn't even cast.  The wind steadily increased and at noon it was so bad we were laughing.  That's all you can do.  The wind jumped to a steady 35 knots and gusted up a sandstorm.  We were lucky to be sheltered in a narrow channel where we waited it out.  It took at least an hour.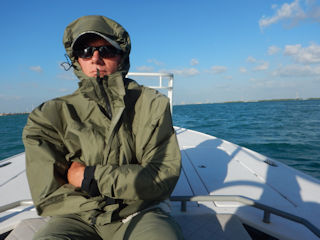 At 2 PM the wind began to drop.  As ridiculous as it sounds, 30 knots were welcome.  Although Nick and I got back after it, Sammy was not taking the weather as well.  I believe he changed my name from "Monsoon" to "Sandstorm Currier" because I've actually seen many sandstorms.  Most were far worse than this during my travels through India, Egypt and Sudan.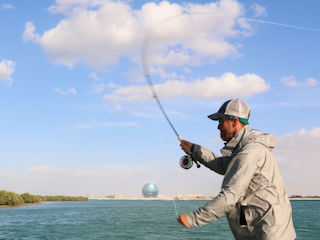 As you would expect, the Currier persistence never let up.  I could see that if I stopped trying the boys might want to pack it in.  Casting and stripping is all I did like a machine.  Like a closer having to pitch a whole game.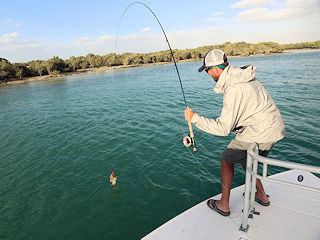 And you know it, at last I stuck a fish.  The strike not only caught me by surprise because the fishing was so slow, but also it was fierce.  It hit like a freight train then held its ground.  But only for a few seconds.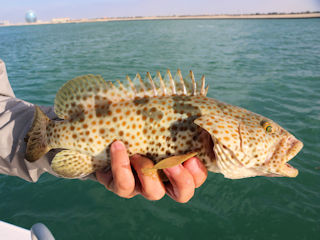 To my delight, the fish was a new species for my list.  He's either a brown spotted grouper (Epinephelus chlorostigma) or a duskytail grouper (Epinephelus bleekeri) or an orange spotted grouper (Epinephelus coioides).  We'll figure him out later.  Bottom line is that we didn't get blanked today.  And in fact I caught two of these snazzy looking groupers.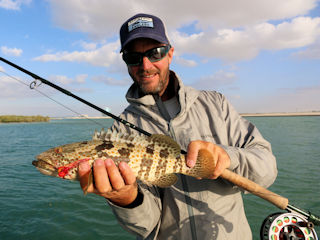 We packed it up at sunset.  Considering the conditions, we could pat ourselves on the back.  It was flat out miserable out there but we fished all freaking day!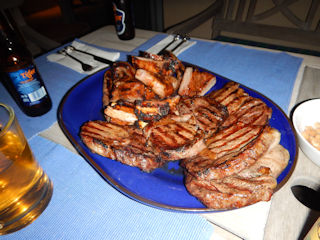 We parked the boat in a marina and headed for Trevor's house to spend the night.  Trevor and his wife have very nice apartment overlooking the water.  And you guessed it, we divulged over a barbecue to die for!
December 11, 2016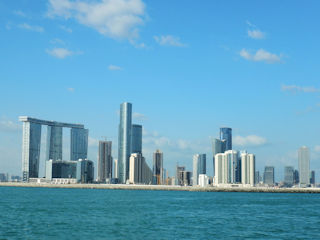 We had full intentions of fishing hard again today.  We got out early and drove the boat all the way to Abu Dhabi harbor.  At first the wind was tolerable but its strength grew fast.  By noon it was once again no less than horrible.  Unlike yesterday, today we reeled it in early and we are presently back at Nicks.  The weekend in Abu Dhabi was challenging but it's always great to see new water.  Two more days left of the great fishing trip. . . .
Dubai is a common place for a layover on the way someplace fun.  Get rid of the jetlag and wet a line with my friend Nick Bowles and Ocean Active for some queenfish and more!