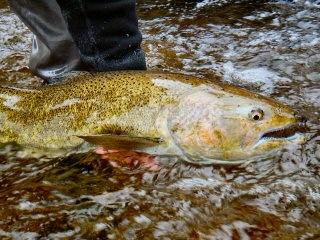 The minute I finished up my PowerPoint presentation for the Kalamazoo Valley Chapter of Trout Unlimited Thursday night, Terry Wittorp, Kevin Thompson, several other club members and I headed for the Muskegon River.  The Muskegon is one of Michigan's tributaries to Lake Michigan and has excellent runs of steelhead, brown trout and Chinook salmon.  It was time to add a Chinook to my life list.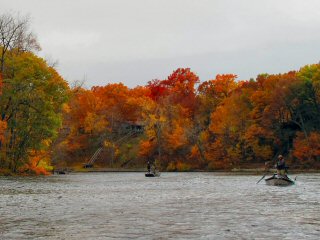 Early Friday morning nine of us launched three drift boats just below the dam.  I hopped in with Terry and Kevin and off we went into some of the prettiest fall colors you can imagine.  Like at home, the weather is unseasonably warm here and today skies were cloudy but around 60°.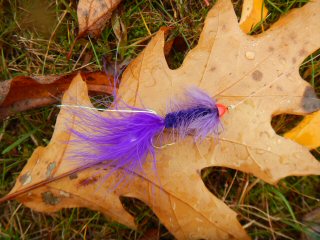 I was chucking my 7-weight Winston with two streamers.  On the bottom I had a Clouser and up top a purple egg sucking leech.  After an hour of no action, Kevin suggested we pull over and nymph one of his favorite runs.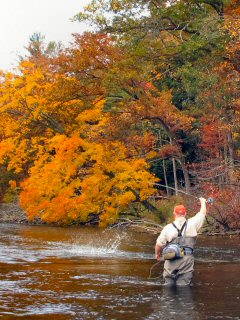 Kevin was rigged with two weighted nymphs and he drifted them under a leaning oak with its leaves absolutely glowing.  He quickly hooked up to an infuriated Chinook that jumped and ripped him downstream deep into his backing.  Terry climbed out with the massive net while I took the rowers seat just in case we needed to chase.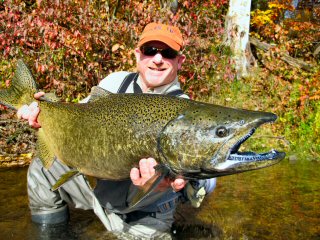 A five minute battle then a rodeo net job took place.  It's easy to understand the difficulty of netting this fish – he's huge!  While many of the Chinooks are in their last days of life, this one was fresh out of the big lake.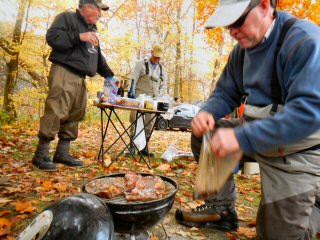 Fishing was slow after Kevin stuck his salmon.  At 2 PM we pulled off for an epic cookout lunch and at least five bottles of fine wine handpicked by Terry to match all the lunch courses.  I quickly realized that like the end of the year party with my friends (next weekend by the way), eating and drinking was our priority – my favorite kind of trip!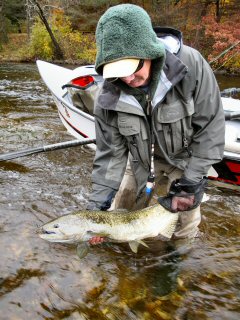 We didn't finish the lunch party until 4 PM and we had some serious ground to cover in the boats before dark.  We took turns rowing and tossing streamers and for a brief hour or so we caught a handful of brown trout.  About halfway to the take out we got into another of Kevin's hot salmon spots.  It was getting dark but he knew the trough that they likely rested in.  I tossed a cast with his nymph rig and hooked and landed a small Chinook – cross this species off the list!  The guys went on to land several more including this beaut that Terry caught.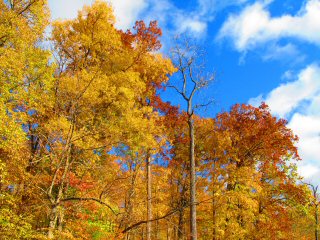 We fished both yesterday and today.  I caught my one Chinook and several brown trout on the streamer.  Today was in fact my birthday and while you'd expect to hear I fished till I dropped, it was quite the opposite.  I slugged a couple brews, sipped some of Terry's wine, ate uncontrollably, smoked a stogie and rowed for most of the day.  All the time I couldn't take my eyes off the incredible scenery.  And might I add, I loved every minute of it.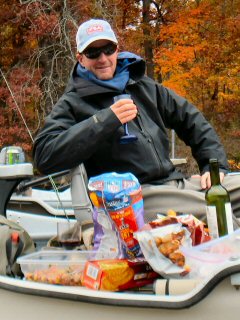 I'm on the way back to Idaho bright and early tomorrow.  My slate is full with artwork, yard work and preparations for arapaima fishing in Guyana.  I expect to get caught up and spend next weekend over in Thermopolis with my old fly shop crew.  It's another end of the year party!