Fishing Partner Cancellation Ends in My Favor
Categories: Uncategorized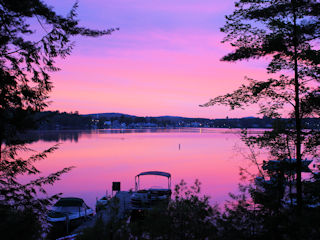 I heard the first bird chirp and sat up in my sleeping bag on the camps porch and looked out across the lake and Wolfeboro Bay. The sight was stunning with amazing pink skies and absolutely no wind. It was a mere 4:10 AM but things were perfect to start fishing. Unfortunately, last night I told my sister we were going fishing at 6 AM. Reluctantly I rolled over and tried to return to sleep. No chance. At 4:45 I French pressed some coffee and sipped it from the porch swing and waited.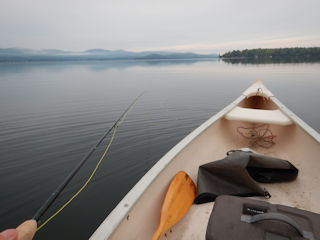 At 6:10 my sister still wasn't there. I was getting restless. Granny was already heading out on her paddle board to enjoy the morning. About then my brother in law Don entered the camp to let me know my sister cancelled because of a stiff neck. I was pretty bummed and launched off in the canoe by myself.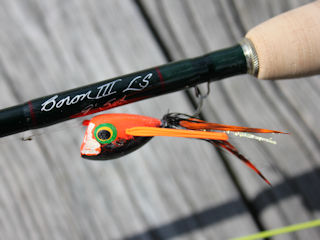 I paddled out of Wolfeboro bay towards the broads of Lake Winnipesaukee. Most of the time there's too much wind to canoe here but it was still calm. There's nothing like it. I was a kid again. There were no other boats and all I heard were birds. Most the birds were loons. I caught a nice smallmouth bass on my first cast.
I was fishing my 5-weight Winston LS. This rod is as light as a feather and in hand you might think it's too little for tossing the Ben Byng popper. But not only does it cast the big fly well, I could land the hard fighting smallies in less than a minute.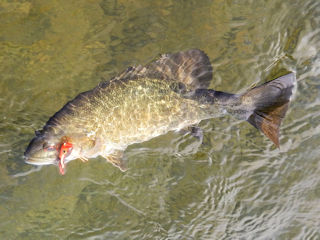 I've found that whenever someone cancels fishing with me at the last minute I have a better than average day. This morning was one of my best smallie days ever. I landed eight fish, all in that 13" to 17" range and one that may have topped the scale at 4lbs. Every fish sipped the popper.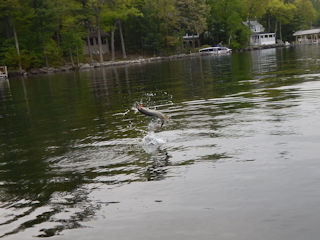 The only drawback to this morning is I don't have much in the way of photos. Fishing by yourself in a canoe makes the photography thing hard. Nonetheless I clicked off a few and this was one of my favorite shots of the morning of a nice 14 incher.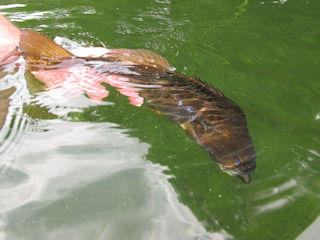 I packed it in early to spend some time with the family today. In particular, mom and I are heading to see dad. He wasn't doing too well when we visited him at the nursing home Monday but hopefully today will be better.