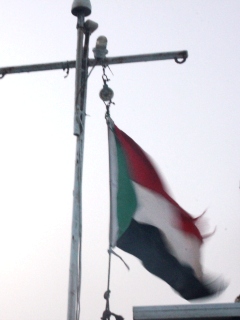 Weather hasn't just been tough on the East Coast in the US, here in Sudan the Tourette – Fight it in Africa team has been struggling with unusually high winds all season.  In case you haven't saltwater fly fished, there's almost always wind to contend with, but the last two weeks it's been terrible, consistently blowing 25 Knots.  We were lucky the first two days of this trip.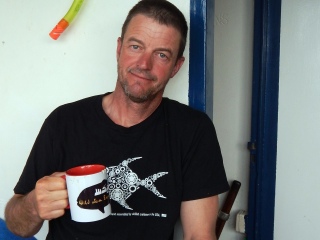 Yesterday the wind was hell and cost us an opportunity at some outer islands here on the Nubian Flats of the Red Sea.  Sadly, overnight the winds picked up more.  They went from about 25 knots to 35 and today we suffered gusts to 50!  Our Captain Adel announced at breakfast that the Scuba Libre would remain anchored behind Snake Island and no skiffs could leave for the flats.  Even in the eyes of this crazy chance taking angler, this was a smart move.  It's the first "Monsoon Currier" event for 2015.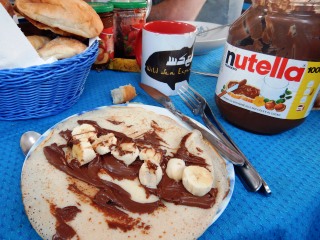 Five anglers, long awaiting a trip of a life time to the Nubian Flats, two guides and a boat crew trapped on the Scuba Libre for the day was a real downer. Our first action of the long sad day was to extend breakfast about two hours.  I've been hanging with South Africans lots the past few years and they've trained me how to make some neat breakfast snacks with nutella.  This is a banana rolled in a tortilla then smothered with nutella – absolutely delicious.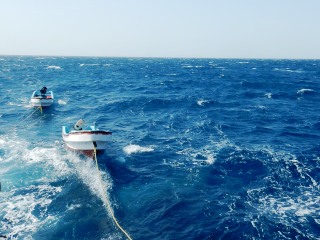 After breakfast was nap time for most.  I'm insane and noticed the back of the boat was sheltered from the wind.  I rigged my 9-weight Winston SX with a 300 grain Streamer Express and put on the Clouser.  I cast off to the side of the two skiffs we have tied behind the Scuba Libre and let the wind outside the protection of the boat take my fly a country mile out.  Then I watched the second hand on my watch and let that fly sink for a minute and fifteen seconds.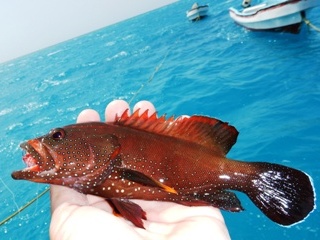 I worked my madness from the back of the boat for an hour.  On one of my last casts I thought I was dragging bottom and pulling in some weeds.  To my delight it was a new species!  I caught a tiny halfspotted grouper (Cephalopholis hemistikos).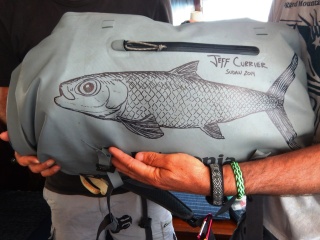 Before long everyone was taking turns casting from the back of the boat.  Nothing else was caught which led to more naps, photo editing and for me a heap of sharpie art projects.  I drew a few GT's on packs, t-shirts and on a Cliff Box, a bluefin on another fly box and best of all, a milkfish on Marks pack.  The reason why Mark got the milkfish is because he and I fished a morning together for them last year and Mark landed a monster.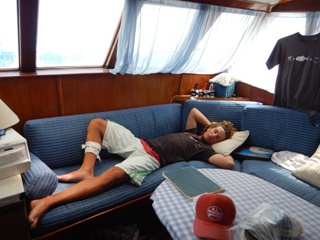 By mid afternoon there was no let up in the wind in sight.  Visions of another day stuck on anchor and even the dreadful thought of being trapped here for days and missing the once a week flight out of Sudan crossed our minds.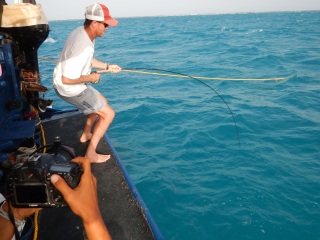 To help pass the time I continued some casting sessions off the back of the Scuba Libre.  It was tedious work that if it wasn't for the grouper earlier I'd of given up completely.  But as you know from reading this blog over the years, I rarely give up.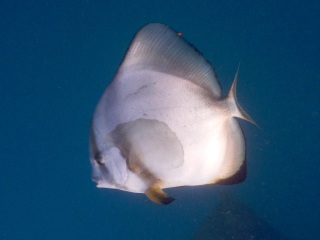 It was exactly my last cast.  In fact, my last cast was done and this time I was reeling in.  My tip of the day is that when you reel in always be prepared.  I've caught so many fish over the years reeling in its unreal.  With my rod tip down pointed towards my incoming fly I was ready right till my fly came into view.  Sure enough I saw a fish following.  It was the unusual batfish and he slammed the Clouser!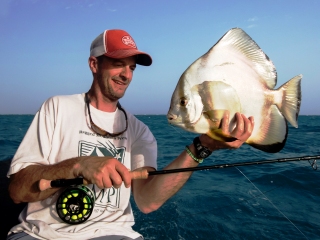 The angel fish shaped fish would appear to the naked eye as an easy fight.  This is far from the real story.  The batfish took off like lightening nearly to my backing and a five minute tug-o-war ensued.  At last I landed the unique fish.  I had a new and extremely difficult species under my belt– the circular spadefish (Platax orbicularis).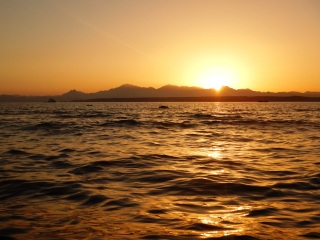 Despite my fortunate catch of the spadefish the day was long.  The wind didn't let up an ounce and boredom was at an all time high.  Another day of being trapped on the Scuba Libre wouldn't be fun.  And fear of missing our fight out of Sudan on Monday made it even worse.