May 29, 2013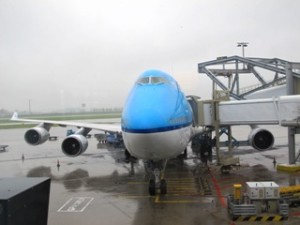 The trip began with an abrupt awakening at 3 AM yesterday to start my 5 hour drive to Salt Lake City where I began my flight travel to Europe.  From SLC I flew to Los Angeles then caught a 10 hour KLM flight to Amsterdam through the night.  Then I caught a two hour flight to Vienna, Austria, collected my bag and walked out expecting to see my European friend, Vladi Trzebunia who drove down from Zakopane, Poland to pick me up as we are headed fishing together next eleven days  .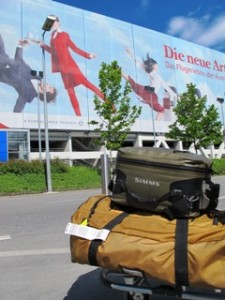 Let's just say it wasn't quite that easy.  I hung outside baggage claim and looked around for about a half hour.  No Vladi.  Then I figured perhaps I should be outside.  Still no Vladi.  Then I found a busy street corner where other folks were waiting for their ride and spent an hour, but no Vladi.   My phone doesn't seem to work here so I got hold of some Euros and tracked down a pay phone three blocks away.  Trust me, a real treat lugging a bunch of fishing luggage, I'd been up for 30 hours, jet lag was kicking and not to mention the phone instructions were in German.  Then, I get through to Vladi's phone and no answer.  Unreal!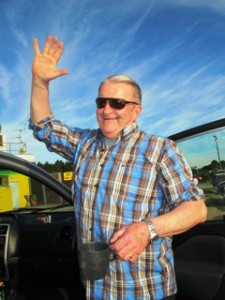 Not panicking but certainly stressing, I sat around for three hours before Vladi and I found each other.  The ordeal was not his fault as he was there on time and sat around stressing for hours as well.  Somehow these stupid things happen.  I guess we both got lost in the crowd.
Once connected it was rush hour to get out of the busy Vienna, Austria.  We were headed for the small country of Slovenia, part of the old Yugoslavia.  Slovenia is home to our target, the marble trout (Salmo marmoratus).  The drive was bumper to bumper for an hour before we reached the southern Austrian countryside where we pulled off at a rest area and feasted upon fresh Polish sausage, pickled cucumbers, tomato, and mushrooms from Vladi's garden.  Of course Vladi surprised me with a case of my favorite Polish beer, Zywiec and a heap of chocolate bars.  Soon we were on our way again.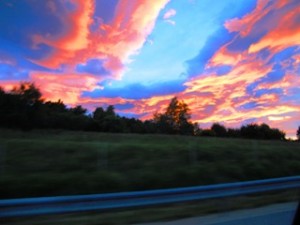 We crossed into Slovenia at 8 PM.  Due to our mishap at the airport we missed the last train-car ferry (I never heard of such a thing) through some mountain.  The last ferry was at 6 PM.  We could have waited till 7 AM tomorrow but instead we back tracked and drove an extra four hours.  At 1 AM we pulled into Idrsko 56 and checked into the Sobe pri Jazbecu apartment where Vladi and I will spend the next few days prowling the local waters.  If you look at a map just look at Ljubljana, Slovenia and go about 75 miles northwest – we're somewhere up there.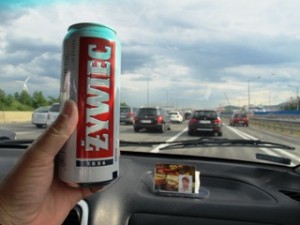 I'm absolutely exhausted from the 48 hours of travel and a few beers with diner tonight so I'll sign out now.  Tomorrow we start our pursuit of marble trout (Salmo marmatus) – of course its 2 AM now and we'll probably wake up at around noon!
Jeff Currier Global Fly Fishing