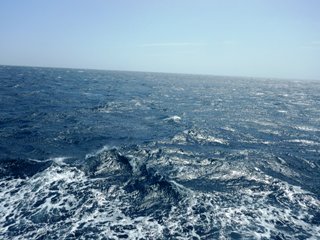 The wind never let up and now the temperature has dropped to the 60's here on the Nubian Flats for our last day.  It was so cold up top the boat where I usually sleep in my superlight sleeping bag that I moved down into sleeping quarters for the first time in two trips on the Scuba Libre.  My bed was deep up in the bow and you should have heard the waves smashing.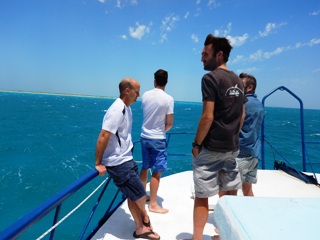 At sunrise the wind was blowing exactly the same as yesterday – a solid 35 knots.  We all stood up in the bow shivering and listened to Mark unnecessarily apologize for the conditions.  We won't be able to fish again today – our last day.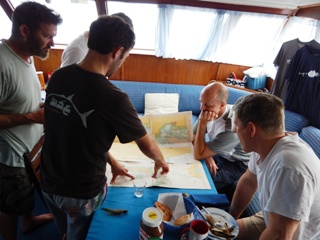 The weather obviously isn't Marks fault.  Last year at this time the weather was perfect and all Tourette Trips to the Red Sea were a huge success.  The weather has been strange all over the world and we caught a bad break here.  With fishing not in the cards, our next focus was getting to land so we could catch our flight out of Sudan tomorrow.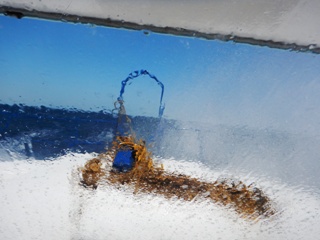 At 10 AM Captain Adel said we'd pull anchor and go for it.  He said it would be a long rough ride but the Scuba Libre could make it.  Before he could change his mind we encouraged him to proceed with the plan and soon we were plowing over and through some fierce waves.  We all sat inside the cabin wand watched the waves completely roll over the top off us through the windows.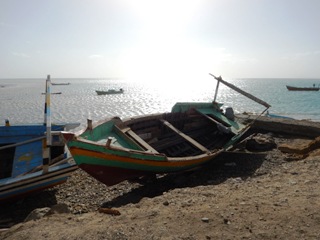 The normally hour run took five.  The sea was hairy a few times but the Scuba Libre prevailed.  Once in sight of land we were protected somewhat from the wind and the waves shrunk dramatically.  There was a small island and Adel allowed us to take a short skiff ride to it and fish a couple hours.  There were some fish but it didn't take five guys long to fish every inch and put the fish off.
We just finished up our final supper on the Scuba Libre for this trip.  The wind is still cranking but we're anchored 100 yards from shore in some fishing village in the north of Sudan.  In the morning we'll pack up and catch our bus taxi to Port Sudan then fly back to Dubai.  While all the guys are heading home, I'll meet Granny in Dubai and on Tuesday begin a whole new fishing adventure in Oman.  Stay tuned. . . .