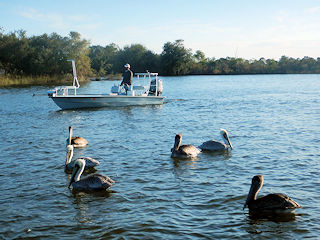 We returned to the Hopedale, Louisiana redfish flats again today.  This time we fished with Capt. Paul Lappin.  Paul picked us up at 6:30 AM and we drove the scenic route from New Orleans to the marina.  It took about an hour.  Instead of grabbing a sit-down breakfast like yesterday we grabbed one to go and got on the water quicker.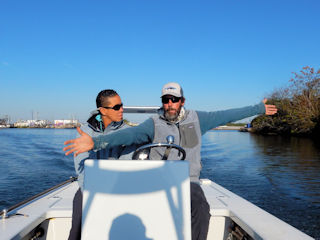 The boat ride to the flats was far warmer than yesterdays.  The sky was blue and the wind was light.  You couldn't ask for a better day to chase redfish on the grassy flats.  We traveled for about 30 minutes while Paul told us entertaining stories.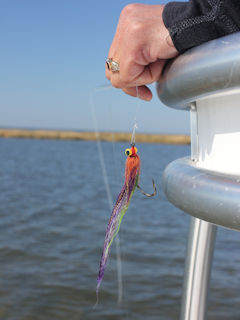 Once at the first flat it didn't take but a minute to spot a redfish.  There were two together and I dropped my fly.  The purplish/black Clouser-like fly sank inches from their face and I stripped.  I was confident thinking "Wow!  This should be a great start".  But instead of eating my fly the spot tailed fish spooked and ran as if a bomb went off.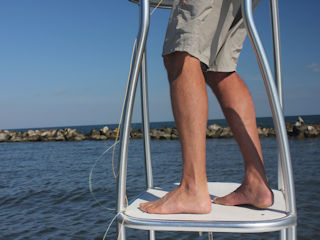 We kept seeing redfish but they continued to scare.  If they didn't scare they wouldn't eat.  I made a lot of good casts.  Paul had me change flies a couple times but it didn't seem to matter.  Plain and simple, the redfish bite wasn't on.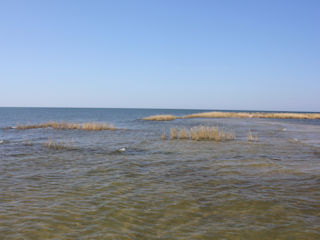 The extra weary redfish were extra weary no matter where we went.  And we saw some big ones too that we really wanted to catch.  Finally, Paul said our best option would be to move to some outer flats where the water would be clearer and colder.  It was about a 20-minute run.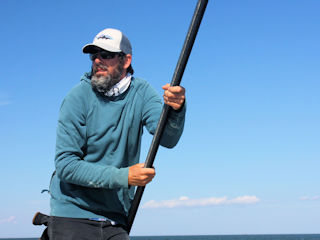 Paul's new flat was out in the middle of a huge bay.  There were shrimp boats working the area out deep and a rock jetty protruded out of nowhere.  There was some minor wind and the water was significantly clearer than earlier.  No doubt the environment was different and Paul went to work with the pole and Granny took the bow.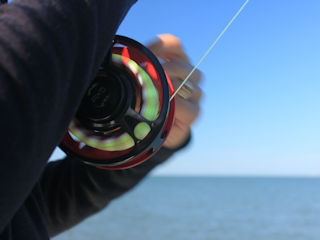 They found some reds quick and Granny fired a missile right to them.  She fished well yesterday and the skills carried into today.  I'd been on the bow for an hour with no success and she hooked up to the first fish she saw.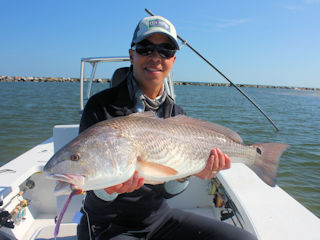 We had a good chance to hook more than one here.  The red Granny cast to was traveling with a friend.  I had a second Winston rigged and reached for it as quick as I could but by the time I was ready to cast the other had spooked off.  Soon Granny landed her second redfish in two days.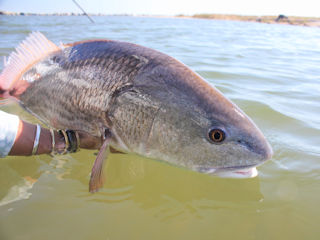 Paul's new flat was good.  After Granny released her redfish I got up on the bow and caught the next one we saw and hooked and lost another.  The bummer however was the flat was small and we wore it out fast.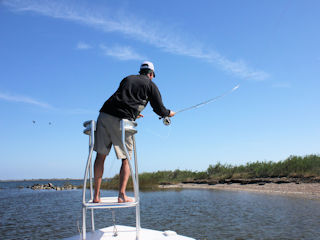 We tried at least three other outer flats but the fish on them acted exactly like the ones earlier in the morning.  Eventually we returned to the inner flats but nothing changed there.  We saw a ton of fish and they simply wouldn't cooperate.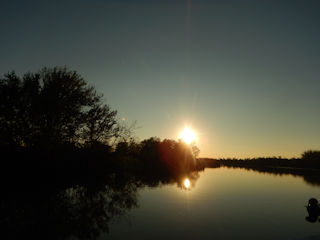 Strange how that one flat had hungry fish and the others didn't but saltwater fly fishing can me far more complex than freshwater.  The fish are heavily influenced by the tides and right now the fish don't like what the tides are dealing.  We fished until around 3:30 but today was another two-fish day.
We're taking tomorrow off from fishing.  I'll work from the hotel room while Granny carouses the town.  Friday we're back on the water with yet another new guide, Capt. Cleve Evans.  Cleve is taking us somewhere other than Hopedale and I told him we'd like to poke around for some different species.  They have a lot of black drum and sheepshead here but they are harder to fool on the fly.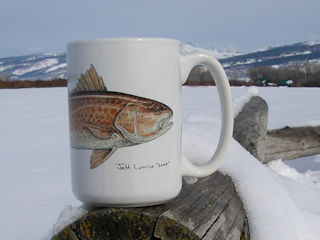 Don't forget Christmas is coming fast.  Not only can you order a painting or have me decorate a Cliff fly box, but check out my new fish decals.  There's a chance for some free decals too!  And as always – my coffee mugs and beer steins are the ultimate gift for the angler that has EVERYTHING- SHOP ONLINE!